Email not displaying correctly? View it in your browser.
New to Thoughtful Learning?
Welcome! This K-12 newsletter delivers innovative teaching strategies to your inbox twice a month. You'll find a wealth of practical resources on writing, thinking, and learning—brought to you by the creators of the Write Source handbooks. Happy reading!
Meet the 21st Century Writer
Join us in celebrating NCTE's 7th Annual National Day on Writing! Start by expanding this infographic to learn about the qualities of a 21st century writer and view some eye-opening statistics. Then dig further into the newsletter for insights on writing strategies for creative thinking, graphic organizers for critical thinking, and the motivating power of project-based learning.
Click on the image to view or download as a PDF.
4 Writing Strategies for Creative Thinking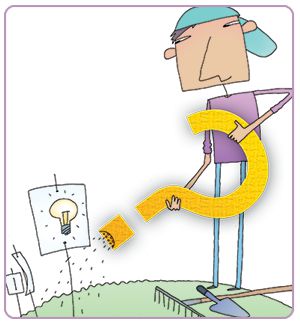 When your students think creatively, they discover new, original ideas. They open their minds to possibilities rather than seeking expected answers. Creative thinking works hand in hand with critical thinking to help students deepen their learning.
The word creative comes from the Latin word crescere, meaning "to grow." Creative thinking grows when students are interested, challenged, and motivated. You can foster creativity by encouraging your students to take risks and learn from mistakes. Also, you can use the following writing activities to help students develop four traits of creative thinking: fluency, flexibility, originality, and elaboration.
Fluency
Writer and educator Dan Kirby states, "Fluency is the first consideration. It is the basis for all that follows." By definition, fluency means "writing and speaking with ease." It comes from a Latin term meaning . . .
7 Graphic Organizers for Critical Thinking
We all want students to think critically about the subjects we teach, but how can we make it happen? What does deeper thinking look like in English language arts, science, social studies, and math?
One way to see students' thinking is to have them create graphic organizers. Each graphic organizer that follows requires your students to use different critical thinking skills (in parentheses). Read about each organizer and the thinking it creates, and then click to see minilesson activities you can present to your students to get them thinking deeply.
Time Lines (Sequencing)
When your students create time lines, they sort details in chronological order. Of course, time lines work well for historical events, like this . . .
Why Project-Based Learning Motivates Students
How can we motivate our students? Rewards? Punishments? Brownie points? Rules? What works for one student may not work for another. That's why teacher-centered strategies often fail to create student engagement.
Not surprisingly, student-centered classrooms tend to have greater engagement. One method we can use to build a student-centered classroom is project-based learning (PBL). Research provides seven reasons that PBL helps motivate learners.
Reason 1: Students gain autonomy.
In an exploration of more than 50 years of research, Daniel Pink found that autonomy of work is a greater driver of motivation than rewards (grades) or punishments (88). Conversely, rote instruction with little . . .
Join the conversation for the National Day on Writing!
Head over to Twitter to share why writing matters to you using the hashtag #WhyIWrite. We'll be sharing our own ideas throughout the day at our account @ThinkWriteLearn.
Additional Resources
English Language Arts
21st Century Learning