Email not displaying correctly? View it in your browser.
Welcome!
We deliver innovative K-12 teaching strategies to your inbox twice a month. You'll find a wealth of practical resources on writing, thinking, and learning—brought to you by the creators of the Write Source handbooks. Happy reading!
7 Steps to a Great Writing Workshop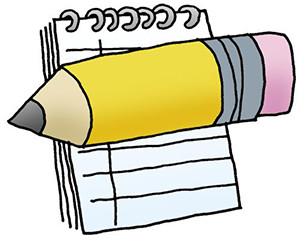 Would you like to make your classroom a stimulating community of writers and learners? Set up a writing workshop! This instructional approach truly engages students by letting them write, read, interact, mentor, and take risks—all at their own pace. Follow these simple steps to create a writing workshop in your classroom.
Step 1: Set up a writing workshop framework.
A typical writing workshop session has four parts. . . .
Text Structures Revealed
The Common Core State Standards place great value on the structure of writing, and for good reason. Recognizing text structure can help students become closer readers, and using effective structures can improve the logic and impact of their writing. However, a recent study found that standards requiring students to analyze structure are among the most challenging. This infographic will help students visualize a variety of text structures and help them understand how ideas take shape in writing.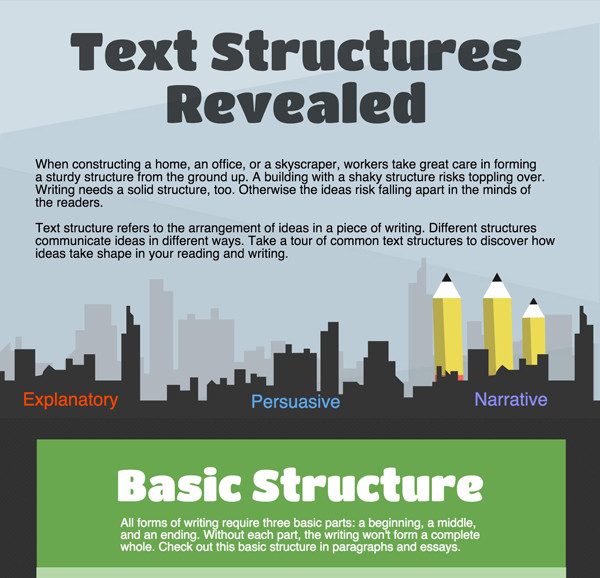 Click on the image to view or download as a PDF.
How Photojournalism Connects Kids and Community
This awesome photojournalism project comes from Cindy Smith of Karcher Middle School in Burlington, Wisconsin. Students research a historic spot in their community and create a slide show or digital story that portrays the history of the spot in images and words. You can use this project in your classroom to develop students' thinking, reading, writing, speaking, and literacy skills—all while connecting kids to the community and to history.
Steps for Implementing the Photojournalism Project
Activate your students' prior knowledge. Ask questions to get students thinking about the history of your community . . .
Do you have any interest in Pinterest? Our new page is bursting with the best teaching ideas from around the Web. We've got specific boards for English language arts, K-12 writing, project-based learning, 21st century learning, and more! Come take a peek.
Additional Resources
English Language Arts
21st Century Learning