Email not displaying correctly? View it in your browser.
Welcome!
We deliver innovative K-12 teaching strategies to your inbox twice a month. You'll find a wealth of practical resources on writing, thinking, and learning—brought to you by the creators of the Write Source handbooks. Happy reading!
Developing a Growth Mindset
We've all heard defeatist self-talk from students:
"I'm terrible at math."
"I'll never be a good writer."
"I hate history."
Of course, such beliefs make learning these subjects all the more difficult.
But sometimes positive self-talk can also be problematic:
"I'm great at math."
"I'm a natural-born writer."
"I know everything about history."
What's wrong with such statements? Like the negative self-talk, these statements limit learning because they create a fixed mindset. . . .
Using Student Models
One of the best ways to inspire young writers is to read what other young writers have written. Our "Student Models" page features a vast collection of free models written by real students in grades 1–12. This video explains different ways you can use the student models in your classroom.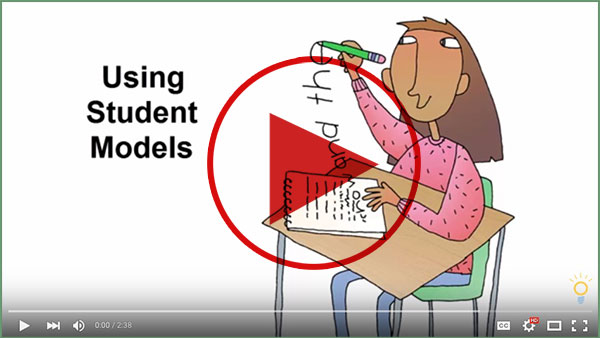 How to Improve Media Literacy
On an average day, American teens spend more time consuming media than attending school. That's the shocking conclusion of a 2015 survey: Teens (ages 13–18) spend an average of 9 hours a day using media while tweens (ages 8–12) spend nearly 6 hours a day. What's more, these estimates exclude time spent using media for school or homework!
So, how can we help students consume media wisely? How can we teach them to analyze media messages, test them for reliability, and search for bias? These three activities equip students with essential media-literacy skills. . . .
3 Wise Ways to Teach Writing
The Chinese philosopher Confucius observed that we learn wisdom in three ways:
First, by reflection, which is noblest
Second, by imitation, which is easiest
Third, by experience, which is bitterest
Confucius's insights can serve as inspiration for your writing program. Here's how.
Wisdom by Reflection, Which Is Noblest
Provide your students with many opportunities for personal writing, because it naturally leads to reflection. Personal writing includes journal writing, blog writing, personal narratives and essays, poetry, and so on.
You can make reflection an important part of your academic writing assignments, too, by having students answer questions like these about their completed work. . . .
The newly revised Write on Track student handbook is now available! This resource helps students in grade 3 become better writers, readers, test takers, and learners. This edition aligns with the new standards, teaching close-reading and on-demand writing strategies. Explore the table of contents, and take a look inside!
Additional Resources
English Language Arts
21st Century Learning
Social-Emotional Learning