Alex Bult Gallery
1114 21st St, 6-9pm
"2014 Highlights: The Holiday Show"


Art of Toys
1126 18th St, 11am-6pm
Vote in the Santa Show

Arthouse
1021 R Street, 5-9pm
Featured Exhibit: "Small Works"



Atelier 20
915 20th Street, 11a-9pm
Featured Artist: Leslie Philpott



Axis Gallery
1517 19th Street, 6-9pm
2014 Invitational Exhibition



Blue Moon Gallery
2353 Albatross Way, 6-9pm
The FoxTail Group Show



Capital ArtWorks
1215 21st Street, Suite B, 6-9pm
Featured Exhibit: Small Works





Fe Gallery
1100 65th Street 6-9pm
Michael Thalken's "Eye Amazement"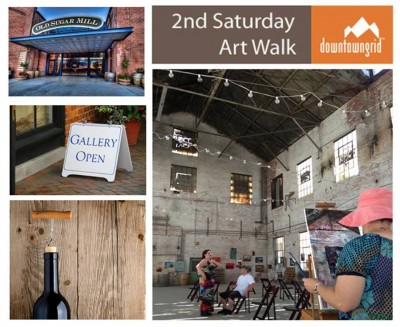 Delta Days Artwalk at Old Sugar Mill
35265 Willow Avenue, 12-4pm
Mixed media, live paintings, acrylics and more!



Delta Workshop
2598 21st Street, 3-7pm
A Holiday Trunk Show!



Elliott Fouts Gallery
1831 P Street, 11am-4pm
Featured Exhibit: Small Gems



Ellis Midtown Arts Collective
2508 J Street, 6m-9pm
Featured Exhibit: Despair to Hope


EN EM Art Space
1714 Broadway, 6-9pm
Featured Exhibit: Sugar Rush



mySTUDIO
2325 J Street, 5-8pm
2nd Annual Hangie Thingie and Card Making Extravaganza








Patris Studio and Art Gallery
3460 2nd Avenue, 6-9pm
Featured Exhibit: "Small Works"

Red Dot Gallery
2231 J Street, 6-9pm
Human Voice: The Narrative in Art



Shimo Center for the Arts
2117 28th St, 6-8:30pm
Featured Artist: Xu Jie



Union Hall Gallery
2126 K Street, 6-9pm
Brandon Bouldin: A Stranger's Perspective



Viewpoint Photographic Art Center
2015 J Street, 5:30-9pm
"Twelve Small Wonders"



Weatherstone/Old Soul
812 21st Street, 6-9pm
Photography by Bob Dreizler



White Buffalo Gallery
3671 J Street, 5pm
"Under Layers" by Kinzie Davis