Hi *|MERGE1|*,

I hope you had a great summer. I can't believe fall is already upon us. Fall is that time of year when we all concentrate a bit more on our business after trying to take some time off and enjoy the short summer. Now is a good time to go over your website and marketing materials and make sure everything is current and up to date. You want to make sure your website still reflects who you are and what you do. Have you gotten a great testimonial lately? That should go on your website, or even your brochure before your next print run. Do you have a new product, or added a new service? Make sure that's out there so everyone is aware of it. Sometimes we get so busy we forget to tell our most important salesman about it (I'm talking about your website of course)!

The Latest Craze
Share This:
is my personal favorite as far as Social Media goes. It's a way that your customers can easily spread the word to their network of friends using their favorite social media, and you don't even have to be involved.
Here's how it works.
A current or potential client comes to your website, loves what they see, and clicks on the 'Share This' facebook button (or the social media of their choice like 'Share This on Twitter', or 'Share this by email'). A post automatically goes up on THEIR facebook page with the link to YOUR website with what they'd like to say; like "check out this cool product". Let your visitors help promote your website. The nice thing about 'Share This', is that it doesn't send your potential customers away from your site, but allows them to promote your site on a social media outlet of their choice. This also saves you time from having to constantly update your Facebook page, your Twitter account, Google Plus, LinkedIn, etc.
SEO Tip #3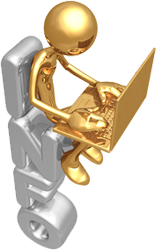 Content is King:
Sounds pretty basic, but you'd be surprised how often we have to point out that if you want your website to be found by someone typing in your key search terms, than you'd better have those keywords in the text on your pages. If you produce waterproof umbrellas or service waterproof umbrellas, than talk about your different styles of waterproof umbrellas and be specific about the geographical service areas that you cover. It's also good to try to work in any other keywords you think someone may search for. For example, not everyone would search for waterproof umbrellas, someone may search for rainproof parosols (Hopefully you get the idea). Without good keyword content, search engines wont be able to match someones search terms to your site.
Many people will first research a product that they wish to buy on the internet, and then finally decide on a specific model. Take for example your son or daughter is looking to purchase a Yamaha Flute for band. After some research you may narrow it down to a specific model number (Yamaha YFL-481H). More than likely you'll then Google a good place to purchase that flute while using the 'YFL-481H' in your Google search. If that model number is included in the title of the product name on someMusicStoresWebsite.com, than that page will show up in the search results. So it's important to be specific when incorporating your keywords into your text along with model numbers, manufacturers names, or any other relevant keywords that someone might use to search.