SEO Tip #4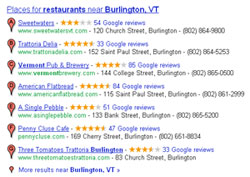 Google Places for Business:
Do you use the internet to search for products or services locally? Ever type into Google "car repair Burlington VT"? Now you might be wondering about the listings that appear under the heading "Places for car repair near Burlington, VT".
These listings can be claimed by you, the business owner, edited, updated and enhanced
by using "Google Places for Business".
So what can I do with Google Places?
You can add photos update your hours of operation, phone number, website URL and more...you can even highlight special promotions or respond to reviews from your Places for business account. Best of all - its
FREE
!
So, how do you get started?
There are a couple of ways. First, see if your business is already listed in Google Maps by searching for your service/type of business, followed by the city/state your business is located in (ie. photographer South Burlington Vermont). If you see your listing, click the "Place page" link or your business name; on the following page click the "Business Owner" link to claim your listing. If you do not see your listing, go to google.com/places and click the "Get Started" button.
You will need to verify that you are the business owner. This can be checked with either a phone call or a postcard mailed to your business address. Once verified, you can start enhancing your Google Place page for your business.