LLR 2019 Spring Equinox Newsletter
Spring Renews Us, Loving Community Restores Us
Blessed Spring Equinox!
Crocuses are blooming in the front yard of Song of Stardust House's new location. It's been awhile since I've published a newsletter to catch up a bit, click on the picture above to read a blog, you can also check out the side bar on the left to see some new offerings & services
---
Ecomagicks Community Organizing Meeting
Thursday March 28th
☽
6:15 -7:15pm
☾
Song of Stardust House

| Zoom Video Link
Many people have expressed interest in continuing a yearly event with others who attended the various Ecosexual events that LLR has co-produced from 2012-2018. If you would like to camp together at the Skalitude Retreat in Twisp, WA July 25-29th and you are interested in helping to organize this experience, please come in person to Song of Stardust House or use the Zoom link about to participate from a distance. This hour long organizing meeting is open to those who have already attended, ( any or all of the ) 2012-2018 LLR EcoSex events and are in a space of loving and clear communication with Reverend Ciacchi. Reverend Ciacchi is committed to stepping away from the work of organizing the event and having those of you who are inspired to create a collective and make it happen. Our nascent idea is to have a reunion of some kind and it is up tho those who attend the meetings and do the work to determine what other components will be created. Benjamin Pixie is graciously holding open the dates July 25-20th at the Skalitude Retreat Center but a decision needs to be made and a deposit paid by May 1, 2019.
Love, Peace & Kindness are centered here.
Parts of our overlapping communities have become divided over unresolved, (and quite possibly unresolvable), interpersonal conflicts. Open & honest communication, mediation and trauma-aware restorative justice policies, agreements and practices are in place within the LLR Community. If you are a person who feels they have been harmed while participating in LLR events or offerings, please contact the LLR Ombudsman (see sidebar) at Trouble. Esq who is available to receive information, feedback and commentary about your experience.
---

Living Love Revolution® Yardwork Party
Saturday April 6th ☽ 12-5pm ☾
Song of Stardust House | SE PDX 206-612-3511

The Song of Stardust House backyard needs to prepare for its' debut as an outdoor venue. If you have skills with gardening, landscaping, carpentry and/or creating outdoor living spaces; please consider helping us create a Temple Lounge area, a composting toilet and solar shower area in our new backyard. Dinner will be served at 5:00pm to express our gratitude and at 6:00 or so several of us will be departing for the Ayla Nereo Concert at Star Theater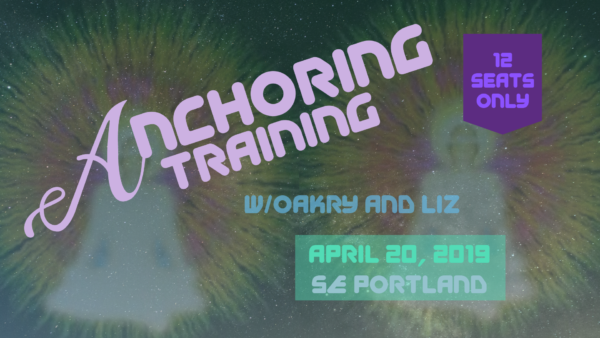 Anchoring: Grounding Group Activities
with Oakry & Liz/Leslie March
Saturday April 20th ☽ 12-5pm ☾
Song of Stardust House | SE PDX location given after registration
Cost: $40- $100 sliding scale based on your ability to pay
Learn how to stay securely centered in your body during magical workings!
Want to consistently create a group environment that is emotionally resonant and magickally protected?

Learn how to help others drop into their own depths. Improve your own ability to take in whatever learning you have come to get. Grounding generates inner spaciousness and the ability to remain neutral and energized in the face of anything.
Anchoring is a basic energy practice, frequently used by people who are Priestessing and facilitating group magicks. This ritual technique focuses on grounding a group or room in order to keep unwanted energies out and foster an embodied, and nurturing environment. It encourages embodiment and helps to facilitate learning by improving people's ability to be present. It is a preliminary practice for all group magick and psychic work in the Living Love Revolution community.

Space is limited to 12, so advanced registration is required. Register Here
---
Beltane Observance & Birthday celebrations
Wed May 1st
☽
7-10 pm
☾
Song of Stardust House | SE PDX
Come join earth-lovers and poetry weavers alike in a delicious evening of ritual, art making and joyful birthday celebration for our Beltane birthday Bulls. BYOB & Other celebratory substances, poetry and party favors. Presents for Mark Welch are optional but always delighted in.

---
LLR Aphrodite Temple® of the Infinite Rose
May 3rd-5th
☽
Start Friday 3rd, 1:00 pm to Finish Sunday 5th, 1:00 pm
☾
Song of Stardust House

| SE PDX location given after registration
Spring is in the Air and Aphrodite Sings to us through the blossoming flowers and warm breezes.
Feel the sun on your face and follow the bees to the entrancing smells of earth's re-awakening.

Living Love Revolution® Aphrodite Temples® are Aphrodisiacal Education Weekend Retreats designed as Sacred Sex Magick Rituals dedicated to the experience of Transpersonal Love and creating sex-positive, consent-oriented, queer-centric, and poly-normative sacred space.

Aphrodite's Rose is a portal, a gateway that connects us to the source of erotic life-force that flows through all of us and spreads throughout the mycelial mat of our bioregion and beyond. Our individual rose is our own beautiful budding or full glorious bloom of ecstatic, erotic self-expression that is connected to the other roses in the garden of life. We are one garden, with many roses. We will sink back and down into our own bodies and selves, accessing the portal to the infinite within us.
Learn More Here:
aphroditetemple.com
---

Exploring Psychedelics Conference
☽ Thursday, May 23 - Saturday May 25th ☾
Southern Oregon University | Ashland, Oregon

Exploring Psychedelics Website
Reverend Teri D. Ciacchi & Ian Mae will present:


Queer Ritual & Consent Protocols for Group Sex Magic & Entheogen Use
So you want to have a gender fluid consensual group experience that involves sex & drugs? How can you do that successfully in a safer/braver container, with everyone's fully informed enthusiastic consent? We begin with a few premises: 1) there are essential ritual protocols that must be put in place in order for a sacred set and setting to be present 2) group sex magic & group entheogen explorations are both portals to evolutionary, transformational societal change. We will share some of our group dynamics processes for creating queer-centric, poly-normative Temporary Autonomous Zones for rituals. We will discuss why and how ritual containers help humans stay "right sized" while traversing the unseen worlds and liminal realms brought to us by merging with entheogens. We will share our understanding of the potency and potential of group work as differentiated from working in 1:1 dyads. We will share the definitions of consent and the safer/braver space protocols developed and used by the Living Love Revolution® Aphrodite Temple® system. We look forward to sharing our embodied expertise on these topics and are open to vibrant respectful exchanges about your 1st hand experiences.


Fairy & Human Relations Congress
June 27th-July 1st , ☽ 6-11pm ☾
Skalitude Retreat | Twisp. WA

Reverend Ciacchi will be presenting
EcoMagicks: Working with the Land, The Ancestors and Deities