Getting Ministers to Take Cycling Seriously
ECF demanded National Transport Ministers take cycling seriously at the
International Transport Forum
in Leipzig, Germany earlier this month. Thanks to intense lobbying, attitudes are beginning to change.
Read More
---
Quebec: Car Crazy or Cycling Mad?
With Velo-city Global coming to Vancouver Canada, we shouldn't forget that Quebec is a North American leader when it comes to cycling. ECF had a chat to Velo Quebec about the cycling situation in Canada
Read More
---
Bicycle Sharing: The Gateway Drug
You can't help but notice it. It seems that every city already has, or is about to have a bicycle share scheme.
Read More
---
"I Now Pronounce You Husband and Bike": Marrying Cycling and Public Transport
Imagine if a public transport (PT) provider could offer a door to door trip, anywhere in a city? Well the answer is right under their noses: the bicycle.
Read More
---
The Cargo Bike: Somewhere between the Courier and the Truck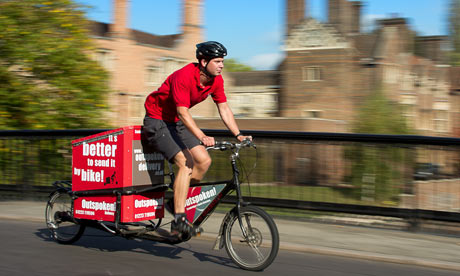 The rise of the cargo bike makes perfect sense: it's nippy enough for narrow streets, and weighty enough to take 400kg. Read this brilliant article from the Guardian about why cargo bikes are the way of the future.
Read More
---
'Super Mario' to Save Cyclists: Italian Prime Ministers Backs Cycle Safety Campaign
Italy's Prime Minister has backed Italy's bicycle advocates, demanding improved conditions for cyclists
.
Read More