CREATIVE FUTURES:
PICKING UP THE THREADS
NEWS FROM COLLAGE ARTS COMMUNITY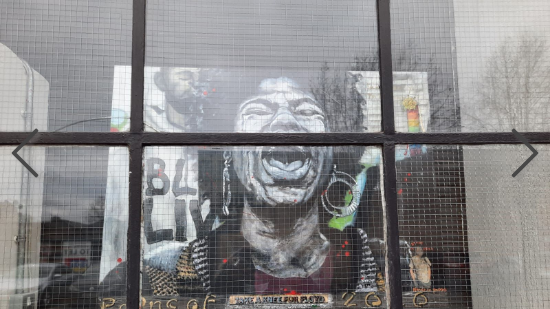 When Lockdown hit earlier this year, our workshops, performances and exhibitions came to an abrupt stop.
A key purpose of Collage Arts is to give the platform and resources to those who need it most
in Haringey and surrounding areas. Coronavirus held our community in a tight grip and we soon realised that Black and ethnic minority women were struggling. Either fighting on the frontline as key workers and caregivers, or waning in isolation. With the help of Arts Council England funding,
'Creative Futures: Picking Up the Threads
' took shape. Working with 75 women from ethnic minority backgrounds, we created five sub-projects for
written
,
performative
and
digital exploration
. We paired up our budding artists with professional actors, directors, visual artists, writers and other creative practitioners. As always, it has been
our intention to facilitate these local women to chronicle their
own
experiences
. The result of this project is a rich and
authentic constellation of stories and artworks of life during the pandemic.
Six months on, what have been the fruits of 'Creative Futures: Picking Up The Threads'?
The Lockdown Monologues are eight captivating tales written, directed and performed by Black women and women of colour of all ages. Local writers and actors responded to our

call out for their stories

.The participants received mentorship from an actor or director from a similar ethnic or cultural background. With this support, the

participants' ideas were developed into filmed monologues and montages

.

Some

wistful,

others

humorous

, all eight works are the product of deep reflection enabled by

2020: the year of imposed solitude

. Behind the scenes, some of our writers were processing and analysing the events surrounding Black Lives Matter and the painful unravelling of systematic racism and resultant police brutality. Many of the monologues tell of powerlessness in the face of grand injustice. They grapple with themes of domestic violence, police brutality, immigration status, randomness and luck. Boldly and honestly, these works confront

the external forces which threaten to derail the security, sanity and joy of Black women

.


Dawn Walton OBE, a mentor on the programme, writes: "The stories are varied but specific and urgent. A story of missing the local swimming pool during lockdown becomes a fight for women's health; birthday celebrations end in a life changing encounter with the police, a comic monologue on a bus has an unwelcome destination. The specificity of each piece gives them their universality. "

All the women have discovered new skills— writing/ storytelling/ acting/ dramaturgy and they have grown in confidence… All of them sat taller in their seats when they were done."


You can WATCH The Lockdown Monologues playlist
Runway of Life by Maxine Griffiths
The Lockdown Diaries are twelve written accounts of life during the pandemic. The opening entry, Lola Clinton's 'The Blue Sky Makes Me Hopeful' feels oddly familiar. Makeshift hospitals, mass grave diggings, toilet rolls, overpriced garden manure and dirty pans all chatter happily amongst themselves. This playful, bouncing but lucid prose, extract narrated by Lati Saka, sounds like a loudspeaker projection of one's own thinking mind. Over Lockdown, weeks rolled into months and our moods vacillated— understandably but often unpredictably. Clinton deftly captures these shifts of mild panic to paranoid obsession, all the way through to avoidant, incompetent and despairing.
Most notable is Clinton's address of our usage of social media during Lockdown and the alienating hyper-reality it places over us. Lati Saka wryly narrates that "Boris Johnson, Prince Charles, Tom Hanks and Marie's neighbours got COVID-19". Talking heads and family members alike appear to us on screen and are equally real. Clinton's timeline soon reaches the end of May, and her entries fixate on George Floyd's "live-streamed public execution". His brutal suffocation is described with alarming precision. Clinton chews over the sterile and unmediated format in which this footage was passed around. Each of us hold and rewatch the eight minutes on repeat, but never really understand the violence we've seen.
We are reminded, then, of the beauty and necessity of the diary entry. Traditionally regarded as the casual pastime of women, its apparent lack of purpose other than to privately express one's own thoughts means the diary is usually derided as a less serious artform. We now live in an age where information is not only abundantly available but usually finds its way to us before we can ask for it. Consequently, we are absorbing and reacting to endless streams of new information. Clinton's diary beautifully showcases an alert, conscientious, flowing mind as it strives to wrangle a moment of global turmoil into order.

Listen to the full reading of Lockdown Diary 1: The Blue Sky Makes My Hopeful

The 12 Lockdown Diaries have been weaved together into an anthology and in separate extracts, you can read them all here:
Twenty eight young women of colour

gathered online to share their thoughts and conversations on the transition of life before lockdown to during, and express

hopes for life after the pandemic.

This workshopping and mentoring was provided by Tottenham-based charity KORI, in response to a brief set by Collage Arts. KORI provide one-to-one support, training and advocacy for young people.



Thoughtful

,

frank

and

caring

, these discussions were transformed

into an ebook as well as an audio-visual piece

. Three vibrant and evocative pieces of art were also created by Laurie Fitzgerald, Sheila Maurie-Grey and Lydia Newman for the occasion and now displayed in the windows of Karamel (Coburg Road N22 6UJ), alongside commissioned piece of art, 'Pains of 2020' by Damel Carayol (pictured above).

The women talked about

wake-up calls

– both personal and for society. Whilst the women acknowledge this had been a difficult year, there was a great sense of optimism and hope that change was coming. As one of the women said: "I feel like a lot of us are shedding skin, really acknowledging some of the issues in the world and in our lives, I feel like we are moving towards a collective healing."

E-book link and audio visual below.

CRAFTED CONVERSATIONS: Collage Arts and KORI
EFG London jazz Festival 2020
Creative Futures Lockdown online events and workshops have been led by Sarah Buller at Collage Works. A series of events and workshops working with

young women of colour primarily 18 to 30

, transforming their experiences into

poems

,

films,

creative writing

,

illustrations

. (online showcase below).

The most recent event was a conversation between Almass Badat (creative director and DJ), Olivia Lifungula (journalist and presenter) and Jackie Adedeji (photographer and filmmaker). Through the discussion of racism in the creative industries, our audience members gained invaluable insight into overcoming barriers to their own career goals

A showcase of the work arising from this strand is on display in the windows of Collage Artspace 4 in Wood Green's Library Mall, High Road and a digital Creative Futures Online Showcase is available below