U.S. militarized violence needs to stop!
Dear Friends,

October and November have been busy months of busy times! In addition to the election season*, we survived our first quarterly taxes under a new leadership, co-hosted a discussion on war and US-based militarism following the showing of Doctober film "For Sama" and, with the help of our amazing volunteers, we also helped build railings for the tiny homes at HomesNOW Unity Village, preparing their houses for the cold/wet season! Earlier last month, we also joined forces with SUPER (Students United for Palestinian Equal Rights) co-hosting a visit of the North American Freedom Flotilla, and brought David Barsamian to speak about international struggles at UCC. See some of the pictures below (and many more on our Facebook page)!
While focusing on local actions and education is important, we need to understand how they're connected to international struggles. Earlier last month, president Trump moved U.S troops from northeastern Syria to Iraq further escalating violence in the region and sanctioning the killing of Kurdish people. While the current Turkish invasion into the country is a violation of Syrian sovereignty, so has been the U.S. occupation.

Meanwhile, several uprisings in Puerto Rico, Chile, Ecuador, Haiti, Hong Kong, Lebanon and Iraq remind us of why we strive to act in solidarity for peace and justice and resist neoliberal austerity measures as well as militarized violence at home and abroad. Our struggles are all connected! That is why this Thursday we're joining forces with other organizations in a meeting with congressmen Rick Larsen's staff to ask him to repeal 2001 AUMF (Authorization for Use of Military Force), a legislation that has been used to justify U.S. military action across the globe without congressional approval or effective oversight. If you have any questions, concerns or statements to share with Rick Larsen's team, or if you'd like to join our team, please send us an email by Wednesday morning. Please help us honor Armistice day in the pursuit of ending all wars!

In peace,

Aline Prata
*Did you know that WWU has the highest undergrad voting rate in the Nation? Congratulations to the student mobilizers for winning the "ALL IN Challenge Best in Class" award for the highest undergraduate voting rate at a large, public, four-year institution! While elections won't solve our systemic problems, voting is a privilege that must be used wisely since it can help vulnerable folks not be literally murdered, while we strive to work together in transform society - and it only takes about 10 min!
Film-screening and discussion: "An Endless War? Getting OUT of Afghanistan"

The Whatcom Peace & Justice Center & Veterans For Peace Chapter 111 are co-hosting the 2019 anti-war advocacy documentary "An Endless War? Getting OUT of Afghanistan" at 6pm at the Bellingham Food Co-Op Community Connections Building. The screening will be followed by a discussion with the filmmakers and experts featured in the documentary.

The 1 hour-long film, produced by social and environmental activist Jean-Louis Bourgeois and directed by award-winning filmmaker Bob Coen, deconstructs the reasons why the Afghanistan conflict was doomed to fail from its start more than 18 years ago and why it has dragged on for so long.

"An Endless War?" is a frank analysis of America's doomed campaign against a surging Taliban resistance, featuring interviews with former commanding officers of the US military, combat veterans, political analysts and American and Afghan peace activists – including FCNL's Shukria Dellawar, Congressman Walter Jones and IPC Fellow Matthew Hoh. Director Coen and executive producer Bourgeois also offer solutions on how the United States can exit Afghanistan and not make this an endless war.




Want to support the WPJC?! Here are a few ways you can help us:
We are currently looking for a Communications & Outreach Intern to start as soon as possible! Know someone who's interested in social justice and could use an internship to boost their resume or cover volunteer hours? Are you that person? Send us an email to set up a time to chat!
We are also searching for a Program Coordinator for Alternatives to Military Service! Want to gain leadership skills, work in an intergenerational team and support our local youth in finding opportunities outside of the military. Reach out to us and learn how to get involved!
Want to help us make the Center more cozy for the cold months ahead?! We are accepting donations of the following items:

Space heater
Mini-fridge
Microwave
Love seat/small couch

Email us to coordinate the pick up/drop off!
Human Rights Film Festival seeks volunteers




The 20th annual Bellingham Human Rights Film Festival will take place in early 2020. Get involved now to help shape the festival's program and publicity.

See bhrff.webs.com for more information on how to get involved!

10 a.m. November 9
Climate Challenges in the Salish Sea: Forum
Bellingham Technical College (3028 Lindbergh Ave)

5 p.m. November 9
For the People Fundraiser
Central Area Senior Center (500 30th Ave S, Seattle, Washington 98144)

6 p.m. November 9
Coming Back Home: stories that re-imagine environmentalism
Bruna Press + Archive (221 Prospect Street)

10:30 – 11:15 a.m. November 11
Bellingham's Veterans For Peace Celebrate Armistice Day
2116 Cornwall Ave

7 p.m. – 9 p.m. November 11
Forum: U.S. Intervention in the 21st Century
New Traditions Fair Trade (300 5th Ave SW, Olympia, Washington 98501)

6 p.m - 9 p.m. November 11
Tough Conversations During the Holidays with SURJ
Community Coop Connections Building (405 Holly Street)

6 p.m. – 7 p.m. November 13
Origins of the Tribal Journey with Philip Red Eagle
Tacoma Public Library - Moore Branch (215 South 56th Street, Tacoma, Washington 98408)

5 p.m. – 7:30 p.m. November 14
Mix It Up! Science Past - The Good and The Bad
WWU Viking Union (516 High St)

4-5 p.m., November 15
Peace Vigil
Corner of Magnolia and Cornwall

4 p.m – 5:30 p.m. November 15
From NoDAPL to MMIWG ~ Melina Juarez
LSU WWU (516 High St)

6 p.m. – 7:30 p.m. November 15
VFP and WPJC to host An Endless War? Getting OUT of Afghanistan
405 E Holly St

6 p.m. – 7 p.m. November 15
Latinx Poetry at The Alternative Library
Alternative Library (519 E Maple St)

9 a.m. – 5 p.m. November 16
WWFOR Fall Retreat Facing Climate & Nuclear Catastrophes: Act to Protect Life
St. John's Episcopal Church (114 20th Ave. SE, Olympia, WA 98501)

2:30 p.m. – 5:30 p.m. November 19
Sneak-Peak Screening of Fire & Flood
WWU Fraser Hall 201 (516 High St)

6 p.m. – 8 p.m. November 19
Dignity Dialogue: Immigrant Justice Update
Bellingham Unitarian Fellowship (1207 Ellsworth St)

6:30 p.m. – 8 p.m. November 19
Birchwood General Meeting
Birchwood Elementary (3200 Pinewood Ave)

4 p.m. – 5 p.m. November 20
The Story of the Salish Sea Map
WWU Map Collection at Western Libraries (516 High St)

6 p.m. November 20
Food Justice Forum
WWU Fraser 102 (516 High St)

6 p.m November 20
BLMB Revolving Monthly Meeting
(address sent by request to BLM Bellingham)

6:30 p.m. November 20
History Café: Remembering the WTO 20 Years Later
Museum of History and Industry, MOHAI (860 Terry Ave N, Seattle, Washington 98109)

6 p.m. – 8 p.m. November 21
Happy Hour con Mijente Seattle
The Station (1600 Roberto Maestas Festival St, Seattle Washington 98144)

6:30 p.m. – 8 p.m. November 21
Cider Ranking at Herb's Cider
Herb's Cider (1228 Bay St.)

12 p.m. – 3 p.m. November 23
2nd BTU Annual General Meeting
Roosevelt Resource Center
2303 Moore St,

3 p.m. & 7:30 p.m. November 23
Choir of the Salish Sea "Sing Your Way Home: Songs of Origin, Flight and Sanctuary"
Bellingham Unitarian Fellowship, 1207 Ellsworth Street, Bellingham

5 p.m. – 8 p.m. November 24
FUJ Celebracion: Dandole Gracias a Nuestra Comunidad
TBD


Support Local Youth Climate Organizers



1) Join the Second Climate Strike Planning Meeting (Dec. 6th)

November 14th 6:30-9:00pm at the Co-op Community Building (405 Holly St.) For more information on how to volunteer on the day of, email 350bellingham@gmail.com (put Volunteer in subject line).

2) Help Local Climate Activists to Stop the Pipeline Expansion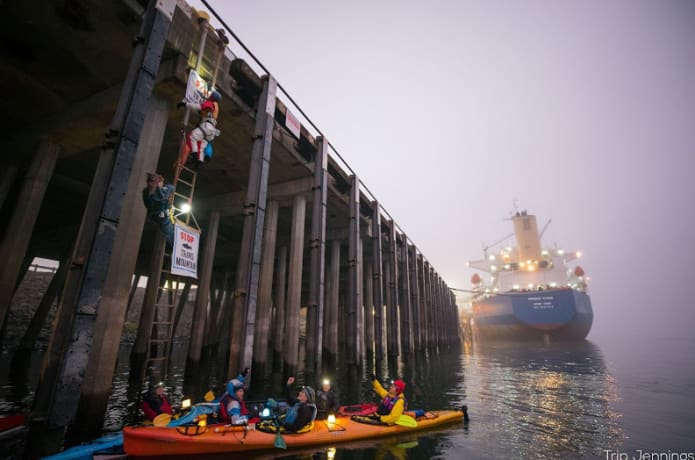 Just this last Tuesday a group of PNW locals calling themselves the Mosquito Fleet stopped a ship transporting pipeline sections for the expansion of the Transmountain Pipeline Project in Canada. They had 6 climbers, some 35 kayakers, and 5 support boats keep the ship from docking for the entire morning to make a strong statement against this project that would be a disaster for the Earth's climate and for the Salish Sea. It was an exhilarating, coordinated act of resistance to a pipeline that CANNOT be built if we want a liveable planet. It's that simple. The Tar Sands oil in Alberta is the dirtiest, most carbon emitting, most environmentally destructive source of the oil we are addicted to. They want to ship 890,000 barrels (almost 38,000,000 gallons) through our beloved Salish Sea and send 421,000 tons of CO2 into our atmosphere, daily. Not to mention the risk of catastrophic oil spill in our waters. In short, Canadian and US oil corporations are willing to trash the future of life on earth for another few billion bucks. They just launched their fundraiser, so if you have a some money to spare for the future of humanity donate to the link.


"This is what Democracy Looks like" - Update from C2C Dignity Vigils and Actions

Last Monday November 4th, city council voted unanimously to approve an ordinance which creates a work group to review city immigration policies and make specific legislative recommendations to strengthen protection for undocumented community members. This victory comes after almost three years of participatory democracy through vigils held in front of city hall to demand accountability from our local government. Monday's downtown vigils were discontinued following the decision, while Thursdays and Wednesdays Vigils will continue in front of Customs and Border Patrol at 1231 Sunset Ave in Ferndale until we succeed in breaking that link in the chain of detentions and deportations as well. We encourage you all to stand with us and to stay tuned as we move forward with the work group process.