June 2013
Introduction
Happy June everyone! I am excited to announce I am now a certified Fascial Stretch therapist. In honor of my new certification, this month featured exercise is the 'foam roller quad roll'. In this exercise you use the foam roller to massage out the fascia on your quads.

Wondering what exactly 'fascia' is? It is the most prevalent tissue in the body, the connective webbing that binds your entire body together.

Ann and Chris Frederick, the creators of Fascial Stretch Therapy explains what fascia is, and why it is important to roll and stretch out in the following way: "your fascia reacts to all stress - physical, mental and emotional - by tightening and stiffening. Since fascia covers everything from all of your organs to the circulatory system to the brain and nervous system to the musculoskeletal system and more, your whole body is at risk to react to stress by tightening and stiffening."

Still not sure exactly what it is? Take a look at the column I wrote on the subject.

Also featured in this month newsletter:
Featured Articles

Curious to learn a simple drill that will improve your posture? Click here.

Do you find yourself skipping workouts because you can't get to the gym? The solution may be setting up a gym at home. Click here for inspiration.

Do you find it hard to get yourself out of bed in the morning? Maybe the solution is an exercise to stretch out your back and work you core so you can slowly wake up. Interested? Click here!
Quote of the Month

"At every level, from the microcellular to the psychological, exercise not only wards off the ill effects of chronic stress; it can also reverse them."
-p. 79, John J. Ratey, M.D. "Spark: The Revolutionary New Science of Exercise and the Brain"

Milisa Burns
As a certified professional coach, Milisa Burns boldly and tenderly supports high-achieving women as they create success for themselves, on their terms. On the outside, her clients are very "successful", but inside they may initially be very stressed, full of questions, possibly bored and no longer fulfilled. Working with Milisa, her clients are amazed at how quickly they create peace and contentment while achieving at even higher levels than they previously thought possible. Learn more


Recipe of the Month: Broccoli & Romano Bean Bowl

Thanks to Tara Postnikoff of HEAL Nutrition for providing this tasty and healthy vegan option.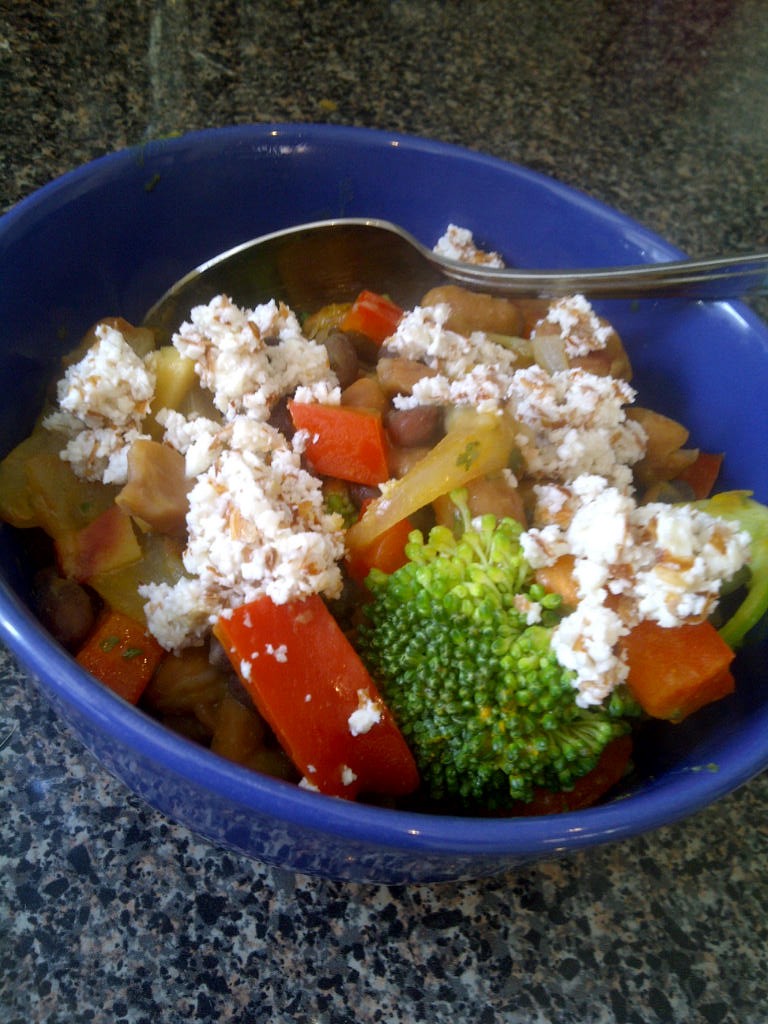 Ingredients
1 can organic romano beans, rinsed
1 can organic black beans, rinsed
1 red pepper, chopped
1 Spanish Onion, sliced
1 head broccoli, chopped
2 carrots, sliced
1 tbsp almond pulp (or rough ground almonds)
1 tbsp coconut oil
1 tbsp each of fresh oregano, rosemary & basil
1 tsp chilli flakes
1 tsp sea salt

Instructions
Thoroughly rinse beans.
In a large pot, add coconut oil and heat over medium
Add onions and peppers and lightly cook for 2-3 minutes.
Add beans and carrots to the pot. Cover and cook for another 2-3 minutes
Add remaining herbs and broccoli and allow to steam covered until broccoli is a bright green.
Top with almond pulp or ground almonds.


Exercise

of the Month



Foam Roller Quad Roll
Position yourself face down on the floor with the roller placed perpendicular to your body under your thighs. Keep your core engaged while you use your upper body to roll your legs forward and backwards so that the the roller moves up and down your thighs. Don't roll too close to your knee caps, make sure the roller stays roughly half a hand length away from your knees.


Contents
What's New
Find Kathleen on Facebook, and Follow her on Twitter!
Kathleen's Media Updates
Countertop Pushups in the Kitchen
Be more active outside the gym
Balanced workout from the seat up
What are good interval workouts?
Fix your office posture in 15 mins
Splitting a 1-hour workout
Build a home gym
What is the best workout?