eFaith Matters
Monday, May 16, 2022
Roxbury Congregational Church
United Church of Christ
Roxbury, Connecticut, USA
We are a Community Seeking to Share God's Love!
The Overview
---
Always Start the Day With Gratitude...
Thank you to all who helped this past week (Pat Fraley) and on Saturday for our Spring Church Work Day.
We accomplished a lot around the Church properties - some of which is noticeable and some not so - all important and helps to shows to others and ourselves that we remain a vital and vibrant part of the community.
---
Ukrainian Support

This past week, the Church donated $500 to World Central Kitchen and $500 to The United Church of Christ Ukraine Emergency Fund
as well as $50 for the Ukrainian Pins sold here at Church.
We are Spreading God's Love!
---
Bible Study
Sundays after worship
in the Library and on Zoom

The Book of Job and Us

Get coffee and snacks, bring your bible or grab one in the Library!
We will start about 15 minutes after worship ends,
and meet for 45 minute or until 12:30 at the latest.

For more information or questions: Jerry Smith
‭(781) 789-7823‬ - jasmith0843@gmail.com
---
The Long River Chamber Concert
was held on Sunday afternoon in the Meetinghouse.
Beautiful Chamber Music was enjoyed by many from the Community.
There are more concerts planned beginning again in the fall .
---
Volunteer Needed

We are looking for a person who would be willing to "freshen up" the paint on selected interior doors at the Church. We have the white semi gloss paint, brushes, and drop clothes.
If you are willing to do this, please speak with Rev. Peters.
---
Your
Generosity Supports
the Work of the Roxbury Church!
You can send a check to the Church Office - 24 Church Street, Roxbury CT 06783

or online by one of two ways by pointing your smartphone camera or clicking below:
Electronic Giving for Offering or Give using Venmo
or Memorials Gifts
The May 2022 Faith Matters, our Church's newsletter
is now available on the Church Website
LINK
---
We have returned to in-person worship
with Masks Optional for those fully vaccinated!
as well as on Zoom and Facebook Live.
(Note that we strive to not to be judgmental about those who continue to wear them for their safety or yours.)
Fellowship Hour with food and drink has also returned
Please still be conscious of your physical distance with your masks lowered
to eat or drink.
Rummage

Sale / Bake Sale

May 21 from 9:00 - 2:00 -- Fellowship Hall

Our church Rummage/Bake sale will be held on Saturday, May 21, from 9:00 - 2:00. We take gently-used clothing, household items, small working appliances, linens, garden items, plants, small furniture, etc. We do not take exercise equipment, computers, luggage, baby cribs, electronics, and text books. If you are undecided, you may call Sue Stauffacher at 860-354-1274 before 7:00 p.m. to ask and to volunteer to help this week, sorting and putting out items or for help on Saturday at the sale or cleaning up at 2 pm..

Items may be dropped off beginning NOW through Thursday, May 19. The door into Fellowship Hall will be unlocked all week.

Clothing donations MUST be clean and in good condition. Items must be either on hangars or folded in boxes.
Clothing in garbage bags or plastic grocery bags will NOT be accepted.

At 1:30, we offer a $5 bag sale - everything you can fit into a paper grocery bag for $5.

BAKED GOODS!
I know many of you just love to bake, so please plan to bake for the sale. Some people come just for our wonderful baked goodies :) Please bring them in either Friday or early Saturday (before 9:00 a.m.)
We ask that the baked goods be wrapped and labeled for sale. We offer free coffee all day.


Our Church This Week
If you have something for the Sunday Bulletin,
please have it to the office by Friday 9:30 a.m.
EMAIL
Elizabeth Kutepov, Church Secretary, will be in the office
Thursday and Friday, 9:30 a.m. - 12:30 p.m.

Rev. David Peters, Minister is normally in his office
Mon., Wed., Thurs., and Fri. from 9:30 -12:30
Liturgical Season:

Eastertide
---
All week - Rummage Sale set up
Monday, May 16
all day - Kitchen Rental
(Lisa & Kristen)
Tuesday, May 17
Rev. Pe
ters' day off and he will be out of the office
9:00 a.m. Kitchen Rental (Lisa & Kristen)
4:00 p.m. Piano Lessons - Hall - (Sandy K.)
6:00 p.m. Litchfield South Association meeting First Cong'l Washington

Wednesday, May 18
6:00 p.m. Cub Scouts - (Jason Mckay) Fellowship Hall
7:00 p.m. Boy Scouts (Jason Mckay) Fellowship Hall
Saturday, May 21
9:00 a.m.- 2:00 p.m. Rummage and Bake Sale Fellowship Hall
10:30 a.m. Mindful Meditation (Charlie Stauffacher) Chapel Library
1:30 p.m. Memorial
Service
for Sarah Johnson Apple lane Paviliion
Sunday, May 22 Sixh Sunday of Easter
9:30 a.m. Choir rehearsal (Sandy Kleisner) Meetinghouse
10:30 a.m. Morning Worship Meetinghouse
In-Person and on Zoom and Facebook Live
Fellowship Hour follows Fellowship Hall
11:45 a.m. The Book of Job & Us Study
1:00 p.m.Graveside Service for Charles MacMillian Bridgewater Center
Cem.
---
Save the Date...
June 12
Confirmation Sunday and Church Picnic
June 17, 18, & 19 Art Show & Sale
---
The Steeple is lighted during May
in honor of our military members
including our grandson, Ben Farrell and
grandson
in law, Ryan Wheeler.
by Doris and Chuck Farrell

To Keep in our Thoughts and Prayers – May 15, 2022
Please remember their families and caregivers as well.
Terry Alfson, Alice Shaber, Diane Meade, Stan Pasquale,
Jean Neff,
Doris Farrell, Bill Cario
Celebration of the baptism of Laurel Curren
The people of Ukraine and those fleeing in fear and harms way. For the end of warfare.
Members of the Armed Services, including Ben Farrell, a National Guard medic stationed in central Poland, Ryan Wheeler and Willy Steers.
Victims and the City of Buffalo with another mass shooting
Those affected by or fearful because of COVID-19,


We paused for a moment of silence marking the loss of one million COVID deaths in the US.




The healing of the nation amidst political and social polarization,

and issues of racial justice and equality
Afghan families being resettled here
Those recovering from natural disasters across the US
Those living with a mental health disease (May is Mental Health Month)
Prayers for this week's Mission Partner:
Litchfield South Association of the UCC
Lifted up by the Congregation:
Iracema, Kevin, Claudia, Allison & Guy,
Your Prayer Concerns and Celebrations:
Who are you praying for: ________________
For what or who are you grateful: ____________
If are willing to help with either of these - contact Rev. Peters
EMAIL LINK
May Deacon of the Month: Chris Childs
---
Lay Reader & Greeters

GREETERS READER
May 22: Joan & Mike Temple Joan Temple
May 29: Nancy & Dick Callahan Nancy Callahan
June 5: ___________________ _____________


June 12: ___________________ _____________
May 22: ____________
May 29: ____________
June 5: ____________
June 12: Confirmation Mentors - in celebration of Confirmands
Zoom Virtual Worship Tech
Control and switch between the camera and sharing the bulletin on the screen.
May 15: Jerry Smith with Barbara Cover
May 22:

Charlie Stauffacher
May 29: Jerry Smith
June 5: Elizabeth Kutepov with Charlie Stauffacher
June 12: ____________________________

Fellowship Host
As simple as some cookies with coffee/tea.
May 15: Lindsay Mulhare & Susan Zappulla-Peters
May 22: Eliz. & Aundrey Kutepov
May 29: Collette family
June 5: _____________
June 12: ____________
---

Steeple Lighting

The Steeple is lighted each month in memory or celebration.
Listed below are those who have signed up.
May 2022: Doris and Chuck Farrell
June 2022: ________________
July 2022: Jan & Bill Steers
August 2022: ______________
September 2022: ___________
October 2022: Elizabeth and Andrey Kutepov
November 2022: Dale Pinchbeck
December 2022: Diane & Charlie Meade
Steeple Lighting: $25 for the month, payable to RCC and goes into the Memorial Fund - See Rev. Peters
The Book of Job & Us - A Bible Study
after worship

Our own Jerry Smith will be offering a weekly series on the Book of Job.
The study will be held in the Chapel Library - bring your coffee and join us...

The week's themes include:

May 22 "With Friends Like These, Who Needs Enemies?"
May 29 No Session today
June 5 Robust Faith--Faith That Stands Up To Suffering
June 12 The Experience Of The Inexperienced
June 19 Out Of The Whirlwind
June 26 Job's Hope And Our Gift



You Think You're Helping
Chris Mereschuk
Uzzah reached out his hand to the ark of God and took hold of it, for the oxen shook it. The anger of the Lord was kindled against Uzzah; and God struck him there because he reached out his hand to the ark; and he died there beside the ark of God. - 2 Samuel 6:6-7 (NRSV)
As I shined my flashlight on the roadside mechanic changing my tire, the meaning of his grumbly headshake became clear when he barked, "You think you're helping, but you're not!"
Chastised, I slinked away. I thought I was being helpful, but he didn't need or want the help I was offering. At least he didn't lash out like God did against Uzzah!
David's crew hauled the Ark of the Covenant over rocky ground. When the cart shook, Uzzah reached out to steady the ark. He thought he was helping, but he was not. Oddly, this angered God, and Uzzah was immediately struck down.
How often do we offer help that the other person does not need or want? Clothes sent overseas, doors held, tasks taken over, unsolicited advice given? Our "help" ends up being condescending and insulting. Maybe we didn't ask if the person wanted or needed our help or what would actually be helpful. Maybe we're not the right person to offer help.
After Uzzah's death, David realized he couldn't care for the Ark. He stepped aside and let Obed-Edom the Gittite take over. David knew he wasn't the right person to help. Sometimes that's how we can be the most helpful.
Prayer
Holy One: I want to be helpful. Remind me to ask if my help is needed, wanted, or appropriate, or if I can help by stepping aside for the right person. Amen.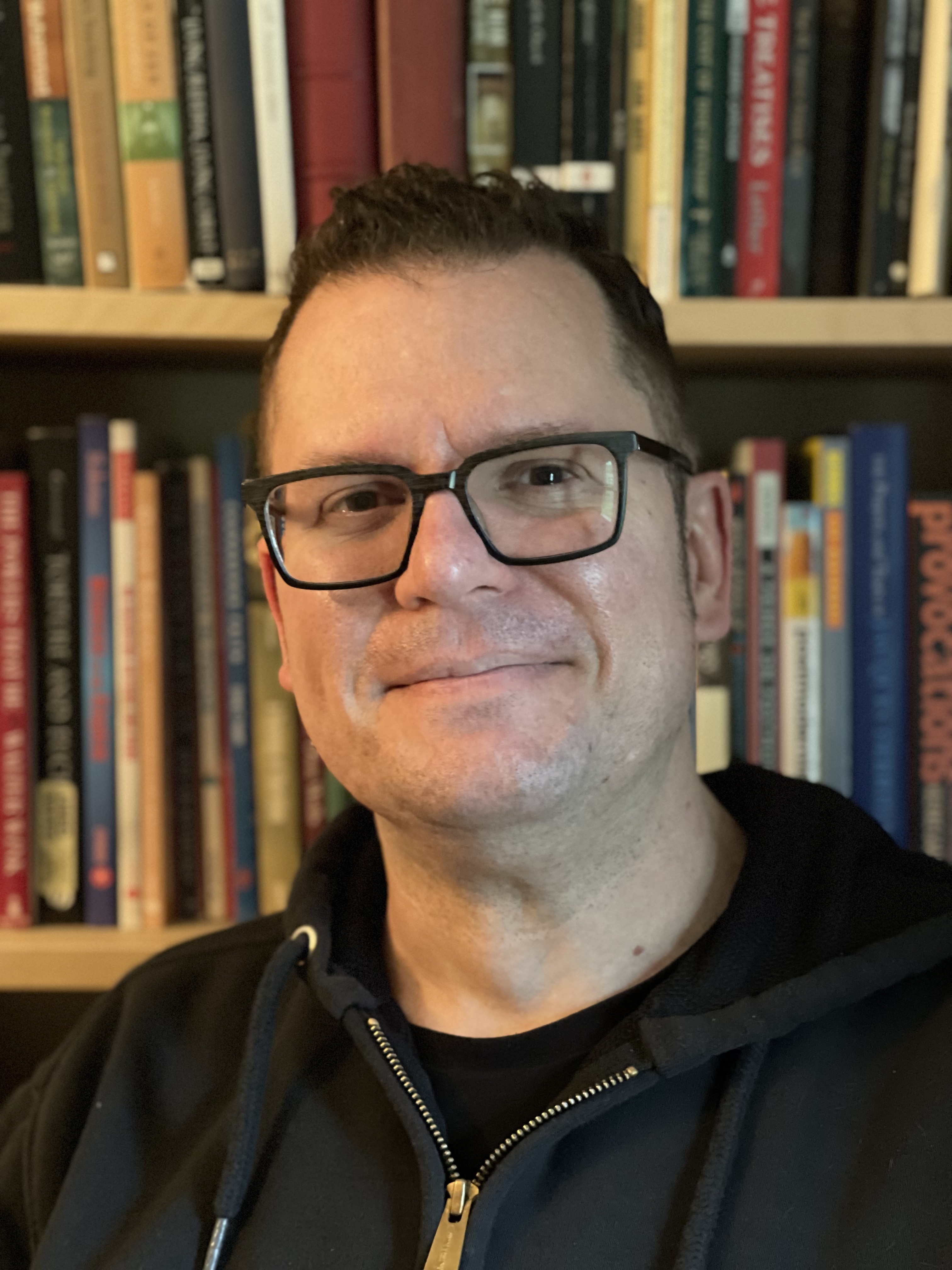 ABOUT THE AUTHOR
Chris Mereschuk grew up in CT and attended Silver Lake, and is a friend of Rev. Peters, currently is an Unsettled Pastor in the Southern New England Conference with a call to transitional ministry.
May is Mental Health Awareness Month in the UCC
UCC Mental Health Network states that "Mental illness and disability are part of the natural diversity of creation, neither a flaw nor a blessing, but one of the diverse ways of being an embodied creature. The image of God is not as a set of capabilities that can be listed and measured according to standards of exchange value, such that their absence makes someone less human; rather, it is a sign of intrinsic goodness and preciousness that is vulnerable and expressed differently in each person."



Did you know...One-third of high school students experience poor mental health, including frequent feelings of hopelessness and suicidal thoughts, during the pandemic (Jones SE, Ethier KA, Hertz M, et al., 2022*). Poor mental health and thoughts of suicide are even higher among LGBTQ+ youth.
While 1 in 5 people will experience a mental illness during their lifetime, everyone faces challenges in life that can impact their mental health.

About half of Americans will meet the criteria for a diagnosable mental health condition sometime in their life, with symptoms starting by age 24 for the majority of people.
he community can improve mental health during and after the pandemic.community. Connections with others at home, in school and in tWe can work to improve mental health in our

5 Simple Things You Can Do
to make the world a better place
for people with mental health challenges and their families
1. Be a friend. Provide companionship and compassion on the road toward recovery. Offer a ride to church or to a local support group. Listen without judgement. Pray for those you know with mental health challenges, substance use disorders, and for their family members.
2. Share your story. Has mental illness impacted you or your family in some way? Your story may empower others to seek treatment or have hope.

3. Watch your language. Pay attention to the words you use and avoid stigmatizing labels. Do not refer to people as "crazy," "psycho," "lunatic" or "mental."
4. Be a "StigmaBuster." Challenge negative attitudes toward mental illness among your friends and acquaintances and in the media.
5. Learn the facts. Educate yourself about the various mental health challenges, substance use disorders, neu- rodevelopmental differences, and other brain disorders. Check out the resources at the UCC Mental Health Network (www.mhn-ucc.org), take a Mental Health First Aid class and check out the facts at the National Institute of Mental Health (www.nimh.nih.gov), the US Substance Abuse and Mental Health Services Administration (SAMHSA) (www.samhsa.gov), the Alzheimer's Association (www.alz.org).

If you are in need of support or feel like your life is out of control, please know that we are here to be supportive. Reach out to Rev. Peters for referrals or call 211.
We are receiving financial donations to help the fleeing refugees from Ukraine in Poland. We are working with partner churches in Poland to provide aid and support.
Checks can be dropped off to the church or you can use the online donation site to give. Please put Ukraine in the memo.
100% of all donations go directly to ministries on the ground without any overhead.

For more information check out of denomination's Ukraine Appeal page:
https://tinyurl.com/yvsyj5zp

Cash 4 Causes Card Program
awakens from the Pandemic Slumber...



The popular program is back with a new coordinator
Susan Zappulla-Peters (860-355-8830 -
zappullapeters@mac.com
)
and an emphasis on the local grocery stores.

It is hoped that you would consider getting in the habit, like some,
to purchase your cards on a monthly basis.
NEW: The second Sunday of each Month will be Card Ordering Sunday.
We would like to have a set day so it is easy to remember to order
and easy for the processing...
The concept is simple.
- You buy the card at the face value (ex. $100) and we purchase a cash card from the store.
- They charge approx. 5% less and the church keeps the difference.
- You spend the same amount, but by using the card, your Church gets a 5% benefit!!

We work primarily with Stop & Shop, Big Y and Shop Rite cards

Contact Susan directly or speak with her on Sundays after worship.
She may have a few extra cards for the different stores with her.
Mindfulness Meditation Group – Saturday mornings
Feeling Stressed? Overwhelmed by the Pandemic?

You are invited to be a part of the Mindfulness Meditation Group which meets Saturday mornings from 10:30 a.m. to noon, in the Chapel Library or on Zoom. Open to any and all in the community, regardless of any religious affiliation.

The Link to join is:
https://us02web.zoom.us/j/762243509?pwd=SkFGTXlPSm5HZ1pMZnRMQ3NyZ2NrQT09
Contact Charlie Stauffacher for information at 860-354-1274.
You are Encouraged to Support these Community Events
and Neighboring Congregations:

None submitted this week

---
Classified for Congregation Members
If have items that you would like to sell or give away,
we are now offering to list that item in the monthly Faith Matters.
We are limiting it to 3 items per family. Submission must be in writing and submitted by the newsletter deadline of the 15th to the Church Office.
Deadlines:
For Monday eFaith Matters: by Monday 9:00 a.m.
For Friday eFaith Matters or Sunday Bulletin: by Friday 9:00 a.m.
Please submit events by email only to david@roxburychurch.org