eFaith Matters
Monday, September 19, 2022
Roxbury Congregational Church
United Church of Christ
Roxbury, Connecticut, USA
We are a Community Seeking to Share God's Love!
The Overview
---
---
Your
Generosity Supports
the Work of the Roxbury Church
as We Support Others and Change Lives!!
You can send a check to the Church Office - 24 Church Street, Roxbury CT 06783

or online by one of two ways by pointing your smartphone camera or clicking below:
Electronic Giving for Offering or Give using Venmo
or Memorials Gifts
You can always send a check to the Church Office or drop one off.
---
The September 2022 Faith Matters, our Church's newsletter
is available on the Church's Website
If you have items for the October Newsletter, please send them in now.
---
We have returned to in-person worship
with Masks Optional for those fully vaccinated!
as well as on Zoom and Facebook Live.
(Note that we strive not to be judgmental about those who continue to wear them for their safety or yours.)
Fellowship Hour with food and drink has also returned

Our Church This Week
If you have something for the Sunday Bulletin,
please have it to the office by Friday 9:30 a.m.
EMAIL
Elizabeth Kutepov, Church Secretary, will be in the office
Thursday and Friday, 9:30 a.m. - 12:30 p.m.

Rev. David Peters, Minister usually is in his office
Mon., Wed., Thurs., and Fri. from 9:30 -12:30
Liturgical Season:

Pentecost
---
Tuesday, September 20
9:00 a.m. Kitchen Rental (Lisa & Kristen) Kitchen
4:00 p.m. Piano Lessons - Hall - (Sandy K.) Meetinghouse

Wednesday, September 21 Rev. Peters is taking a day off today


6:00 p.m. Cub Scouts (Jason Mackay) Apple Lane





Thursday, September 22
5:00 p.m. Wedding Rehearsal Meetinghouse
7:00 p.m. Roxbury Housing Trust (Charlie Stauffacher) Chapel Library

Friday, September 23


7:00 a.m. Kitchen being used (Susan Zappulla-Peters) Kitchen


4:00 p.m. Wedding (Veillette / McGuinn) Meetinghouse

Saturday, September 24


10:30 a.m. Mindful Meditation (Charlie Stauffacher) Chapel Library



Sunday, September 25
9:30 a.m. Choir Rehearsal (Sandy Kleisner) Meetinghouse
10:30 a.m. Morning Worship Meetinghouse
In-person and Virtual (Zoom or Facebook Live)

Mission Speaker - Greenwoods Counseling
Refreshments follow
11:45 a.m. Church Council (Brian Neff) Chapel Library
October 2 World Communion Sunday
Saturday, October 8, 7 pm. Trivia Night - Community Event (Chris Childs & Joan Temple)
October 9, 1 p.m. Blessing of the Animals
October 16, An afternoon concert with Sandy Kleisner and Lynne Abeles
---
Fall /Winter 2022 RCC Events Listing
LINK
---
The Steeple Lighting
during September the Steeple is lit
by Kathy & Rich Horrigan
in memory of their son, Tyler

To Keep in our Thoughts and Prayers – September 18, 2022
Please remember their families and caregivers as well.
Terry Alfson, Bill Cario
Mike Rice and family ( who died 8/30/22 - Funeral Friday at St. Patricks)

The people of Ukraine and those fleeing in fear and harms way. For the end of warfare.
Those affected by or fearful because of COVID-19,


The healing of the nation amidst political and social polarization,

and issues of racial justice and equality
Afghan families resettling in the US, including New Milford.

Prayers for this week's Mission Partner:
Crosby Fund for Haitian Education www.crosbyfund.org

Lifted up by the Congregation:
Austin
The British people following the death of Queen Elizabeth II

Your Prayer Concerns and Celebrations:
Who are you praying for: ________________
For what or who are you grateful: ____________
If are willing to help with either of these - contact Rev. Peters
EMAIL LINK
September Deacons:
Mark Wolmer
,
assisted by
Mike Wilcox
---
Lay Reader & Greeters

GREETERS READER
Sept. 25: Beverly & Mark Wolmer Mark
Oct 2: __________________ __________
Oct 9: __________________ __________
Oct 16: __________________ __________
Sept. 25
: ____________________
Oct 2: ______________________
Oct 9: ________________________
Oct 16: ________________________
Zoom Virtual Worship Tech
Control and switch between the camera and sharing the bulletin on the screen.
Sept. 25

: Charlie Stauffacher
Oct 2:

Barbara Cover
Oct 9:
Charlie Stauffacher
Oct 16: Barbara Cover

Fellowship Host
As simple as some cookies with coffee/tea or ice tea/ lemonade
Sept. 25 Barb Cover


Oct 2: _____________________
Oct 9: ________________________
Oct 16: ________________________
---

Steeple Lighting

The Steeple is lighted each month in memory or celebration.
Listed below are those who have signed up.

September 2022: Kathy & Rich Horrigan
October 2022: Elizabeth and Andrey Kutepov
November 2022: Dale Pinchbeck
December 2022: Diane & Charlie Meade
January 2023: ____________
February 2023: ___________
Steeple Lighting: $25 for the month, payable to RCC
and goes into the Memorial Fund - See Rev. Peters
Large crowds were traveling with Jesus. He turned and said to them, "Whoever comes to me and does not hate their family, yes and even life itself, cannot be my disciple. Whoever does not carry the cross and follow me cannot be my disciple." - Luke 14:25-27 (NRSV, adapted)
Jesus would have benefited from a book or two on church growth.
If so, he might not have torpedoed an impressive, growing entourage with impossibly high requirements like, "Hate your family, hate your life, exchange all your worldly possessions for a cross." It's almost as though he was shooing people away!
Well, yeah. He was.
Look at the first line: "Large crowds were traveling with Jesus. He turned and said to them…" Did you catch that? Large crowds traveling, not following. So Jesus laid it down. He culled the rolls, separated the mesmerized masses from the faithful followers. He apparently wasn't into big church. His ego didn't need it.
Most churches in the United Church of Christ have less than 100 people in attendance on a Sunday morning. Often far less. Despite the financial and organizational challenges that come with modest-sized memberships, small church (or small groups within a big church) might be the sweet spot.
Sure, a big crowd feels nice, but a wee community of committed people is all Jesus wants.
Prayer Jesus, I'm failing on a few requirements, but I'm leaning on you, on the disciple to my left and on the one to my right, for grace along the way.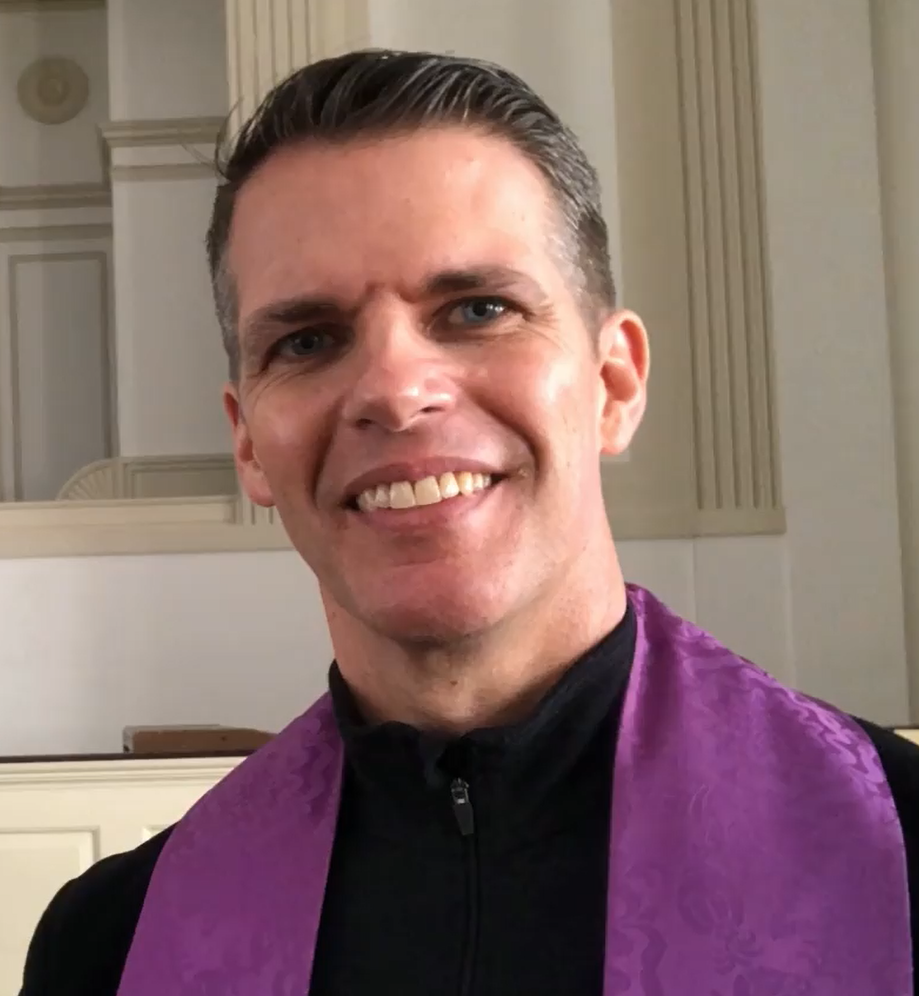 ABOUT THE AUTHOR
Matt Laney is the Senior Pastor of Virginia Highland Church UCC in Atlanta, GA, and the author of Pride Wars, a fantasy series published by Houghton Mifflin Harcourt for Young Readers. The first two books, The Spinner Prince and The Four Guardians are available now.
We are receiving financial donations to help the fleeing refugees from Ukraine in Poland. We are working with partner churches in Poland to provide aid and support.
Checks can be dropped off to the church or you can use the online donation site to give. Please put Ukraine in the memo.
100% of all donations go directly to ministries on the ground without any overhead.

For more information check out of denomination's Ukraine Appeal page:
https://tinyurl.com/yvsyj5zp


The coordinator foir this popular program is
Susan Zappulla-Peters (860-355-8830 -
zappullapeters@mac.com
)
and an emphasis on the local grocery stores.

It is hoped that you would consider getting in the habit, like some,
to purchase your cards on a monthly basis.
NEW: The second Sunday of each Month will be Card Ordering Sunday.
Oct 9, Nov 13, Dec 11
We would like to have a set day so it is easy to remember to order
and easy for processing...
The concept is simple.
- You buy the card at the face value (ex. $100) and we purchase a cash card from the store.
- They charge approx. 5% less and the church keeps the difference.
- You spend the same amount, but by using the card, your Church gets a 5% benefit!!

We work primarily with Stop & Shop, Big Y, and Shop Rite cards

Contact Susan directly or speak with her on Sundays after worship.
She may have a few extra cards for the different stores with her.
Mindfulness Meditation Group – Saturday mornings
Feeling Stressed? Overwhelmed by the Pandemic?

You are invited to be a part of the Mindfulness Meditation Group which meets Saturday mornings from 10:30 a.m. to noon, in the Chapel Library or on Zoom. Open to any and all in the community, regardless of any religious affiliation.

The Link to join is:
https://us02web.zoom.us/j/762243509?pwd=SkFGTXlPSm5HZ1pMZnRMQ3NyZ2NrQT09
Contact Charlie Stauffacher for information at 860-354-1274.
You are Encouraged to Support these Community Events
and Neighboring Congregations:

None submitted this week

---
Classified for Congregation Members
If have items that you would like to sell or give away,
we are now offering to list that item in the monthly Faith Matters.
We are limiting it to 3 items per family. Submission must be in writing and submitted by the newsletter deadline of the 15th to the Church Office.
Deadlines:
For Monday eFaith Matters: by Monday 9:00 a.m.
For Friday eFaith Matters or Sunday Bulletin: by Friday 9:00 a.m.
Please submit events by email only to david@roxburychurch.org