Have you ever been told to let go of perfectionism and be content being "a good enough mother"?
How did you like that?
For me it was about as useful as "you just need to relax and let time heal all wounds."





Hi!


(Imagine me, in my PJ's, waving at you at 3:47am)

Why am I writing to you in the wee hours of the night? Because the 2yo has strep throat and the 7yo is throwing up, so instead of going back to bed only to be woken up again, I'm claiming some time to catch up with you.

The last two weeks were full of hard. I was sick while my kids had a week off from school. Then, just when it was time for them to go back to school, they got sick. My kids see my computer as their archenemy, so I could barely sneak in a blog post, and felt like I was making no progress. There is so much I want to write about, so many mothers I want to connect with, and instead, sick kids, sick me.
Sure, the sick is temporary, but the hard is here to stay: there are always going to be meals to be cooked, spills to be cleaned, laundry piles (after last night, make that laundry mountains), crumbs on the floor, lost mittens, swimming lessons, play dates, shopping (for stuff that ends up on the dinner table, not in my closet) and over and under it all: exhaustion.

Uh oh. It's the big boy heaving. I'm needed upstairs.

And I'm back: it's 11:30 the next morning, the napper is napping, the big boy catching up on lost sleep, the smelly sheets are in the washer, and I'm back with you.



This is where I stop describing my hard and move to the part that makes this a Love Letter.




(The part where we practice the lost arts of self-care, and self-kindness, and do our best to dissolve self-rejection, because there is nothing selfish in learning to love ourselves.)



So while immersed in this frustration-and-exhaustion soup, I remind myself to notice and share what keeps me from drowning. And to do that, I need to first identify what's really pulling me down. Care to join me? Let's put on some mental goggles together: If you're up for some introspection, take a moment to look down into your own "soup." If it's too dark to see, try feeling or sniffing around.

Anything showing up for you? I'm guessing that while our details can be quite different, what's dragging both of us down is not so much the particular details, but our interactions with them.

W

hat hurts is not so much "what is," it's how we judge ourselves and our performance in dealing with it.

So here's what hurts:
Despite the tiredness, the sickness, and the mess, the most painful thing is a thought.

The thought "not good enough."

The default reaction to all this hard stuff is:
I'm not a good enough mother. Not a good enough wife. Not writing enough, not creating enough, not cooking enough, not cleaning enough, not sleeping enough.
And let's face it. The only thing true in this list is the last item. The rest are baloney.



So why does this feel like "the truth"?


Because of perfectionism, of course.
A lot is being said and written about perfectionism these days. Everybody's trying to get over it, myself included. So other than quoting Voltaire in saying "Perfect is the enemy of the Good" I'm not going to try to convince you to give up perfectionism, because I have no doubt that you want to already. Heck, if you could ditch perfectionism, it would already be in a ditch, not stuck like a thorn in your side.



So why is it so hard to move away from perfectionism?


Because our lovely culture equates "good enough" with mediocre, and being "average" with failing.
That last part has the biggest price tag: If, by definition, the average (the normal, the common) is bad, then to be good at all, we need to be better than everybody else. It means that if I am to be good, I need to be better than you.



Are you too getting that nasty feeling at the back of your neck?

I have no idea how the culture ended up here, but I know that for me to function, for me to thrive, I need this underlying competition to be gone. I NEED to have sisterhood with other mothers in "the trenches." Competition and comparisons hurt us all.



So now what?


If we can't and don't want to be "Perfect," and yet "Good" doesn't cut it.... How about "Very Good"?

Try this on for size for a minute: Can being "Very Good Enough" be good enough for you?

There are two things I like about this. Not only does this help me break free from perfectionism, it helps us be in community with each other because it's a way out of the competition:
Only one can be "The Best," while there's no limit on the number of "Very Good".

So next time you beat yourself up for not being the perfect mother, remember that you and I have the hardest job in the world. All mothers do. We have too much to do, not enough time, not enough help, not enough sleep. But if we dare to be kind to ourselves, we can find more than enough love. And only with love, we can finally forgive ourselves for being human.

And in my book, that's very good enough.

I'm sending you hugs, and hot chocolate, and lotsa love!

Yael.




PS, I wanted to make sure there's a Love Letter in your inbox before the next PPD SpeakEasy -- the support phone chat that's happening tomorrow night (March 8th, 8:30pm EST). The call access numbers are up there on the right side-bar of this email, join me if you can, I'd love to hear your voice.




- - -
Yael Daphna Saar
A mama with a mission: to remove guilt and shame from the parenting experience. Gently guiding mothers on the journey from Postpartum Depression to Joy.

Come on over to www.ppdtojoy.com for UnGuilt trips, skills from the Kooky-Jar, and experiments from the LOVEratory.
I'm always adding ideas and resources, some utterly serious and some silly-side-up, because you can never have too many tools for dissolving depression.

Let's play:
Twitter: @yaelsaar
Facebook: Postpartum-Depression-to-Joy (like, like me do?)
(Or, ya know, reply to this email - ppdtojoy@gmail.com)






*******************************************


If you are new to PPD to Joy or happen to be one of the lovely mamas who joined my mailing list after valentine's day, here is the previous (and first) issue of the PPD to Joy Love Letter.



*******************************************






Welcome to the first


PPD to Joy Love Letter







Hi!




(That's me waiving and blowing kisses at you.)


Look! I finally managed to get over my fear of creating a news letter, I mean a love letter. And I'm sending it over to you on Valentine's day, no less. The worst holiday ever! Right? (If you love Valentine's day, don't let me rain on your parade, just skip two paragraphs). It's like there is no way to win this game. I, for one, bristle at the thought of my husband buying me roses due to the culture dictating it, yet can't quite avoid bristling even more should he forget. Know what I mean?
Vday presses all our buttons, bringing up insecurities and comparisons instead of genuine feelings of love. Because even in the best case scenario, all of the attention is on outside validation: others and the stuff they bring (roses, ribbons, chocolate). And that can be very depleting.

So what am I saying here? Did I brave the newsletter builder application just to tell you what's wrong with this holiday? No. I'm here to tell you something you already know, but might forget, or simply loose access to:

Love comes from the inside.
Yes, this is easier said than done.

If you happen to be struggling with depression, you may not be feeling particularly lovable. Self-loathing, familiar much? And you don't have to be "officially depressed" to get really good at it. Self care (self-kindness, self-friendship), on the other hand, are skills that nobody taught you in kindergarten (or college, for that matter. Why is that?) and without them, love of any kind is harder, and loving yourself can seem downright impossible. And then what I'm saying here can be terribly annoying: if you can't access your love of self --- if you can only feel pain, guilt, or judgment --- than having me pop into your in-box and tell you to be your own valentine can seem like I'm "shoulding" you to put on a brave face, and smile when you feel like crying.

Well, the last thing I want to do is tell you how you should feel. Self care --- the kind that cares for the soul --- not just physical fitness, starts with allowing yourself to feel all that you are feeling. (The next step is to recognize that while your feelings are always valid, the thoughts they bring forth, and the scary stories that come up are not necessarily true. More about that in the next PPD Love Letter).

Still, while other people can give you roses, you are the only one who can truly give yourself permission to be exactly who you are, meet yourself where you are, and bear witness. Try this: instead of beating yourself over the head about WHY you are feeling like you do, observe HOW you are being when you are feeling like this

*

. This allows you to learn your emotional terrain instead of cower from it, so you can mind the gaps, avoid the traps, and mine the pain for those dark chunks of coal. There is an opportunity in depression: all this pressure, if you learn how to process it with curiosity and an open heart (scary, I know), can turn coal into diamonds

*

(how fitting, diamonds for Valentine's day. Clearly this is a good day for me. On bad days I tend to think of this process more like turning shit to gold). When you go through this process, you can actually choose how to handle the good, the hard, and the lonely.

It means acknowledging that what is hard for you is indeed hard (regardless of whether other people have it harder), and that you have a right to feel, to struggle, to cry, to breakdown, to pick yourself up, breakdown again (or not), and to ask for help. Asking for help does not make you incompetent. It is the smart, responsible thing to do. And it is hard.

So hard. And scary too. Because we are conditioned to believe that if we ever let go, ever release our grip and stop trying so hard to "keep it together", everything will fall apart. And in my experience with depression, the opposite is true. Trying to brave it only brought more pain.

So now I am a student and an advocate for self care. I'm constantly learning how to make friends with ME, and gently guiding other moms. It's all about getting better at meeting your own needs. Sure, these skills help you be a better mother, and even a better wife or partner, but you know what? I would want this even if ALL it did was to make YOU feel happy. With so much importance placed on how happy we make the kids, I choose to make it my business to remind us all that making mommy happy is reason enough, in and of itself.

So I hope that you enjoyed this day, and that you are able to help yourself to some of what I'm talking about here. I write about all this on the blog, come visit. Now, please think for a minute: is there a mama in your life who could benefit from this kind of support? Would you please forward this to her? Thank you so much! Since I'm on a mission to change the way our culture handles postpartum struggles, I need all the help I can get, so every "forward" counts.
I am sending you hugs, a soak in a bath with things that smell good, hot chocolate, and foot massage. Not because of Valentine's day. Just because.

Much love,
Yael.

- - -



*


The inimitable Havi Brooks of The Fluent Self writes about this brilliantly.
The coal to diamonds analogy came from the smart and funny Lauren Hale of My Postpartum Voice and #PPDCHAT

- - -
Yael Daphna Saar
A mama with a mission: to remove guilt and shame from the parenting experience. Gently guiding mothers on the journey from Postpartum Depression to Joy.

Come on over to www.ppdtojoy.com for UnGuilt trips, skills from the Kooky-Jar, and experiments from the LOVEratory.
I'm always adding ideas and resources, some utterly serious and some silly-side-up, because you can never have too many tools for dissolving depression.

Let's play:
Twitter: @yaelsaar
Facebook: Postpartum-Depression-to-Joy (like, like me do?)
(Or, ya know, reply to this email - ppdtojoy@gmail.com)







What's Happening?
PPD SpeakEasy


tomorrow night!
Mothers from near and far, on the phone, every second Tuesday.
This month: March 8 at 8:30pm EST
Phone number: 1-402-237-5342
Passcode: 3366
Please try to call in a couple of minutes before 8:30, but if something gets in the way of that, I'd rather have you join us a bit later than miss the call and not get the support and community.

Upcoming dates: 4/12, 5/10
More info here
Help Share the Speakeasy!
Click here to get the HTML code
to post this badge on your corner of the internet.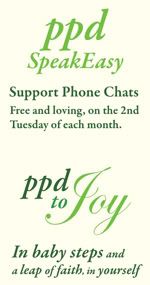 Ithaca Meetings
We are working on UnGuilting and getting out of the head and into the body: because the head is where the critic lives, and the body knows better. Sharing, skills, movement, good stuff.

When: 1st and 3rd Tuesday of the month. Upcoming dates: 3/15, 4/5, 4/19. 5/3, 5/17, ongoing. Where: Jillian's Drawers on the Ithaca Commons
More info here
You are Not the
Only Freak in Town!
A 5 minutes video created to remind you that you are not crazy, and change how our culture views Postpartum Depression.

Watch it.
Are you reading this online?
Get the next Love Letter delivered right to you.
The PPD Love Letters
Close
More goodies at PPDtoJoy.com
The Kooky Jar
An Imperfect Song of Unconditional Love
Popcorn for Breakfast
Snuggles
What do YOU think?
Your thoughts are like music to my ears. Reply to this email or
post comments on the blog.
Like, Follow, Connect
:
on Twitter:
@YaelSaar