Nerdly Painter News


I have a few pieces of news for late November, Early December. The first is an upcoming exhibit at the Schwamb Mill in Arlington MA (12 Mill Lane). It's a small group show, 4 artists, and I've been coordinating along with Ed Gordon, the Mill's Director. There will be an opening reception on Saturday December 1st, from 2:30 to 4:30 PM, and a family friendly machine demonstration in the Mill right before the art reception. Details are below or you can click over to the event listing, or Press release and Information pages on my website. (click here to jump down to details).
I also have two drawings heading to the Bridges sponsored International exhibit of Mathematical Art in San Diego California at the Joint Mathematics Meeting. One of the Drawings, Archimedes Chiral, will be on the cover of the exhibition catalogue. Click here to jump to a bit more info on Bridges, and to see the two Math drawings heading West.
The sale page for newsletter people is still active, here and the password is still "nerdonews". I've been trying to find time to update the page with a few new items. This will happen soon, I promise. On the Nerdly Painter website and blog you'll also find a new interview with artist Charlie Spear from Indiana, some photos from the Glitz show at the Annmarie Sculpture Garden and Art Center and other random goodness.

Two of my paintings, Gridlock and Strange Attractor are now cover art for an international law text and its companion case studies volume. I also have a bunch of new high resolution digital files for good prints - you can find these on my POD sites (Fine Art America for prints, Red Bubble for goodies, Turning Art for subscription style). Click here to see the book cover images, and for thumbnails of some of the work newly available as giclee prints.


Horn Solo, oil on canvas, 42 x 36 inches, at the Schwamb Mill "Driven to Abstraction" exhibit in Arlington, MA
1. Schwamb Mill exhibit - details.
The exhibit at the Schwamb Mill features abstraction with a strong technical sensibility. The artists are from various towns in the Boston metro area: Emily Garfield from Somerville, MA (Emily's website), Ann Salk Rosenberg from Newton MA(Ann's website), John Maciejowski from Melrose, MA (John's Website), and well ... me. All of my original work in the show is available as giclee prints, which you can browse in the special gallery I created on FAA for the exhibit.
The venue is upstairs, above all of the nerd-joy cams and belts that drive the mill machinery. There is a shared atrium, and then each of the painters has their own small room, like a private gallery, with Emily Garfields small drawings in the hallway area. I tried to get the artists to showcase pieces that somehow referred to the location in the Atrium area. I have a alrge, strongly geometric abstract with musical elements - like the *ka-chucka-ka-chuka* of machinery - called Horn Solo. Ann has a strong abstracted painting with musical elements and referencesto the passage of time. John has a piece called "Torn and Sewn", which I believe makes a nice reference to thethe main Industries that drove the Industrial Revolution Mill Era. Emily has these delicate abstracted maps and town plans that make me think of how cities grew up around waterways and industrial centers. It's a really nice setup and the exhibit looks great. The Mill has been continuously working and making stuff for over 150 years, transitioning from water wheel power through steam and finally electricity. Before electricity it was impossible to plug machinery into the wall, so they had to come up with creative ways to deliver and distribute power (motion, momentum) to a building and shop floor full of moving machines and lathes. I think anyone coming to the opening will also enjoy the machine demonstration:
Saturday, December 1, 1:30-2:30 pm "Meet the Machines!" The Old Schwamb
Mill has been making wooden picture frames since 1864. Mechanical systems
researcher, Tom Calderwood, will give a presentation introducing the
antique woodworking equipment used in the process.

2:30-4:30pm Opening Reception for "Driven to Abstraction" an exhibition of
Abstract and abstracted art featuring painters Emily Garfield, John
Maciejowski, Ann Salk Rosenberg and Regina Valluzzi. Exhibition runs
through March 16.

The Mill is open Tuesdays and Saturdays 11-3 for tours and gallery
viewing. Groups by appointment.

Shopping is available at the Shaker Workshops store in the mill's barn:
furniture, lamps, rugs, and many seasonal and unique gift items Mon-Sat
10-5

The Old Schwamb Mill, 17 Mill Lane (off Lowell St), Arlington, MA 02476

Contact: Ed Gordon (781) 643-0554 or info@oldschwambmill.org
Typical works by Emily Garfield, John Maciejowski, and Ann Salk Rosenberg (in order):
Map 123 Boroughs by Emily Garfiled



Torn and Sewn By John Maciejowski



Forever Friends, Moon and Sun by Ann Salk Rosenberg





2. Bridges and the Joint math Meeting. There is an organization called Bridges that seeks to Bridge mathematics and the arts. They do a really great job. Each year they host a mathematics and art conference with an exhibit in a University gallery and an international juried mathematical art exhibit at the Joint Mathematics Metting. They publish full color hardcopy catalogues of their exhibits, and maintain really nice looking online galleries of current exhibits and archived past exhibits and participants. They do all of this - and do it very well - and the only thing they charge artists for is shipping to the event. This year i submitted two drawings, "D-Branes" and "Archimedes Chiral", both were accepted and Archimedes Chiral will be a catalogue cover. I'm thrilled (and artists get a free catalog).
Archimedes Chiral D-branes




3. Cover art images for the International law texts, plus a selection of newly available giclees:
The two painting that are now cover art for law students are Gridlock and Strange Attractor below.


Both are available as giclees (click the titles to go to the giclee pages). Also Newly Available as giclees:

Old Growth - Tree of Life 2 Genome - Tree of Life 6 Bucolic Daydream


Nonlinear Seasonal Ecology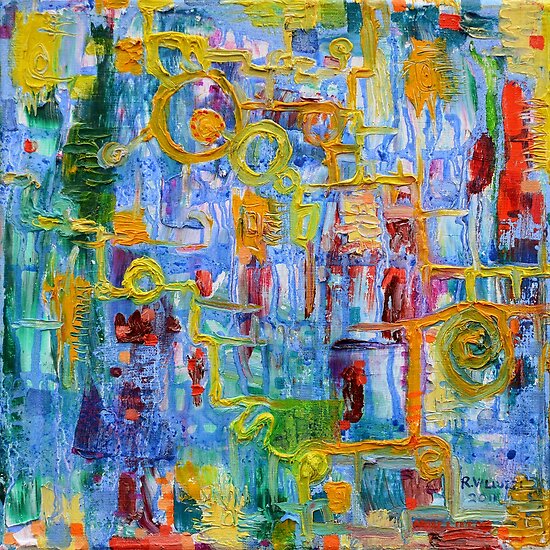 and more.


Regards
Regina Valluzzi
The Nerdly Painter

back to contents

If somebody forwarded this to you and you'd like to receive it, there is a subscribe link in the footer at the bottom of the newsletter.. There is also a link at the bottom of each newsletter to unsubscribe, which will take you off the list (no more email newsletters). I can be reached by email at rv@nerdlypainter.com
Website email Facebook online prints
by
email
: rv@nerdlypainter.com, rvalluzzi@alum.mit.edu
online
at http://www.nerdlypainter.com
on
Facebook
at http://www.facebook.com/Nerdlypainter
Unsubscribe and subscribe using the links in the footer below