NRC Trivia Night
Think you know your South Bend history? Show it off on February 25 during Trivia Around the Bend and help support our work in South Bend neighborhoods! The event begins at 7 p.m. at The Hall at St. Peter's, 915 N. Ironwood Drive. Only $10 per person to participate. We encourage you to register a team table of up to 8 individuals but also welcome individuals and couples to register. It's easy to sign up online at Eventbrite, or by mail. See complete details on the NRC Facebook page.

If your business would like to sponsor a trivia round or table, or donate a gift card, please call the NRC office at 574.287.0425 or email Diana at nrcneighbors@gmail.com for sponsor details. That's the same contact for more information!
NRC Program Notes
The NRC Engaging Youth, Engaging Neighborhoods program is available again in 2017, and we're still taking applications! This 12-week program is free to South Bend residents in grades 6 through 12, and begins on January 18 at the Notre Dame Center for Arts and Culture in the Near Westside neighborhood. The NRC offers EYEN in partnership with University of Notre Dame faculty, and students focused on youth leadership training and community engagement. Learn more at the
website
, where you'll find the flyers and forms you need, contact Diana at 574.287.0425 or nrcneighbors@gmail.com.
NRC Community Partner Corner


The NRC is proud to again sponsor this year's Little Taste of Peace, an annual opportunity for conversation rooted in the vision of Dr. Martin Luther King Jr. The public is invited to this free event, but be sure to RSPV online at this
link
. That's at 6:30 p.m. on January 14, check the flyer for details!
South Bend Neighborhood Spotlight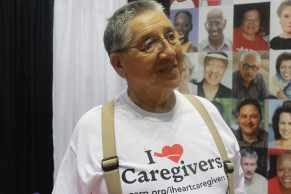 That's Rey Hernandez, an active member of Monroe Park Neighborhood Association who is highly visible as a community activist and commits so much of his time to other worthy causes and community groups too. Rey attends many of our Neighborhood Leadership Roundtable meetings, held quarterly across the city.

The NRC is extending an invitation to anyone actively involved on neighborhood issues and organizing, who would like to join the group, to contact us at nrcneighbors@gmail.com The next NRC Roundtable, which is planned by invitation, will be held on March 30. Let us know if you want to join us! For our existing neighborhood association leaders, please let NRC know if you have any monthly meeting time or leadership changes so we can update our information.
NRC Neighborhood Toolbox Tip


Does your neighborhood association have a significant project, or a program you'd like to achieve? If you're ready to work with community-based research partners, the Ganey Seed Grant program may be worth looking at! The $7,000 mini-grants are offered through the University of Notre Dame Center for Social Concerns, and offer community organizations the opportunity to partner with students and faculty focused on meeting a community need and the research associated with it. The NRC has participated in the Ganey Seed Grant program in previous years and encourages your group to explore!

The deadline for applications is January 17. See the details at the center's website.
Sustainability in South Bend Neighborhoods
Start the new year off with a commitment to a resilient community, and join Green Drinks at their monthly meeting! That's from 5:30 to 7 p.m. on January 17 at The General, 609 E. Jefferson Blvd. Everyone's welcome at this social gathering centered around sustainability, and sharing ideas among new friends and old.
See calendar events linked here.