Put your preheader text here

Aerosol artist Sophie Meseg has just left our projects - and left a lasting impression in the form of two amazing murals.
The first, above, on the front of our Pink House in Cândido Sales, has already become the talk of the town and had the effect of bringing in more girls to the project.
For the second, on the side wall of the Pink House in Medina, she enlisted the help of our girls for another eye-catching piece of street art which no-one in the town can miss.
The video of the time Sophie spent there, made by filmmaker Emilly Hatter who travelled with her, shows the graffiti work as well as other aspects of our projects, including family visits and interviews with the girls.
Please click on the button below to watch Sophie's video!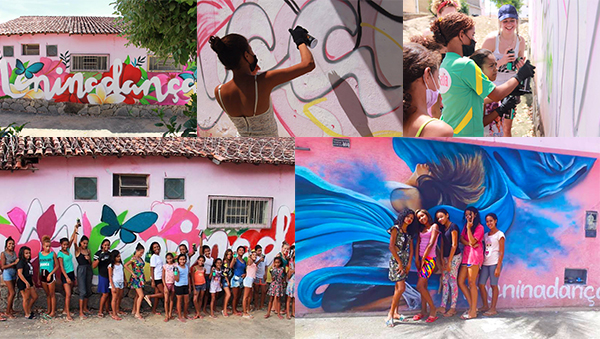 DO SOMETHING AMAZING!
Adopt a km of the BR-116 for £20/month and help change girls' lives
Meninadança, PO Box 1116, Stansted CV24 8WL
This email was sent to you from office@meninadanca.org
Copyright © 2019 Meninadança, All Rights Reserved.