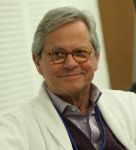 Welcome to the May edition of The Prague Leadership Institute's Newsletter. We have some wonderful news to share, so I'll get right to it.
PLI has been chosen by Google to be one of its Premium Partners in the Czech Republic. This is a wonderful honor and opportunity for us and we are thankful to Tatana le Moigne, Country Manager, and to Petr Kunes, who heads up Google Strategic Partnerships for EMEA, for allowing us to be part of this incredible program. Part of the reason for this will become apparent in the next 30 days when we'll announce the launch of a new PLI initiative on YouTube, so stay tuned.
Priscilla and I are headed to London in June, where I have been asked to deliver the commencement address to the Masters in Management program at London Business School—a wonderful validation of PLI's message about the Human Element of Leadership and, no doubt, a recognition of our impressive faculty.
Speaking of faculty, this month I am thrilled to reintroduce you to one of our newest faculty members,
Door Plantenga
, General Manager, Heineken Slovensko. As one of the highest ranking women in Heineken worldwide, Door has earned a reputation for delivering outstanding results in a number of countries by employing a style of leadership that creates an extremely high level of employee engagement. In Door's article for this month's newsletter you will get a glimpse into what that style is and why we are so proud to have Door on our faculty.
With equal enthusiasm, I reintroduce a close friend and co-Founder of PLI,
Mike Short
. This month, in the second installment (click here to read the first) of his series, Mike continues his illuminating, insightful, and reflective view of a leader who has just assumed responsibility for a very challenging assignment and the intellectual, emotional, and professional vicissitudes he experiences while attempting to perform to the expectations of those around him and, equally important, to his own expectations.
Two wonderfully thought-provoking pieces by two seasoned and accomplished leaders. Thank you, Door and Mike, for your insights and observations, which I know will be so useful to all of us who have a deep interest in leadership in the 21st century.
Each month two members of The Prague Leadership Institute's faculty, or invited guest authors, share their thoughts on a wide variety of leadership-related topics. To all of them go our sincere thanks for taking the time, and having the generosity of spirit, to share their wealth of experience.
Thank you, too, for taking the time to read our newsletter and for your support.
Pepper
p.s. Each month I will share with you the name of a book that I think will be worth your time to read. This month I would like to draw your attention to a book that will forever change the way we look at our brains—specifically our ability to change ourselves in order to address specific challenges and goals.
Train Your Mind, Change Your Brain: How a New Science Reveals Our Extraordinary Potential to Transform Ourselves
by Sharon Begley, eloquently explains, using science and personal observation, our ability to change ourselves—powerful stuff for those who are interested in personal growth.
HH Dali Lama has written the forward to this book and Dr. Daniel Goleman, the father of emotional intelligence, has contributed the preface, which gives one a sense of the quality of the book's content. If you read it, let me know what you think. PdeC
---