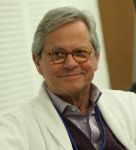 Welcome to the June edition of our newsletter.
May was an active month for PLI. I was asked to address the top 10 HR talents in Deutsche Telekom's Central and Eastern European Operating companies. In addition, I had the honor of delivering the keynote address to the Executive Boards of Heineken's Central and Eastern European operating companies—150 leaders—in the incredible setting of the Rudolf Hall at the Prague Castle. In addition, we have taken the decision to rename
Kava s Pepprem
and move it to a new time and format. You all should have received invitations to "
The Leadership Series: In-depth Discussions with the Leaders Who are Defining the Future"
. I want to thank all of you who have supported KsP the last two years and those who voiced a desire to have the event later in the day combined with a networking opportunity. So, in cooperation with Todd Benson's and Markus Klos' very capable team at Prague Connect, we are launching a dinner event, and my first panel of interviewees will be three of the most respected market-leading CEOs in their sectors: Pavel Kysilka, CEO, Ceska sporitelna, Pavel Rehak, CEO, Ceska pojistovna, and Milan Vasina, CEO of T-Mobil. We are limiting the audience to 50 people because we want to maintain a more intimate and interactive environment like we enjoyed at
KsP
. Please join me as we discuss the challenges facing leaders in the 21st century with three leaders who are shaping the future of their industries here in the Czech Republic.
Now, to this month's articles. It would truly be an understatement to say that I am thrilled to introduce you to two distinguished members of PLI's Faculty:
Tom Dine
and
John Zogby
.
I think it was about four years ago when I met Tom Dine over dinner in Prague. Tom has had, and continues to have, a truly storied career in the service of the United States, the Jewish community, and humanity in general. Most notably, for 13 years he was the head of the American Israel Public Affairs Committee (AIPAC), then later, the longest serving President of Radio Free Europe, an organization he literally saved from extinction, redefined and gave new direction to its more than 2,000 employees in 22 countries around the world. Among others, Tom serves on the Board of Freedom House, the American Friends of the Czech Republic, and Artists for Human Rights. To be sure, Tom has had an impressive career, but I must say the thing that most impressed me about him when we met was his clear-headed, balanced, non-ideological and well-thought-through approach to the wide range of topics we discussed. I think you will find Tom's contribution, "Thoughts on Leadership", ample evidence of all these traits.
If you have ever been sitting in front of a television during an American Presidential election cycle, chances are you saw our next distinguished faculty member, John Zogby, being interviewed. John is best known for being the founder of the Zogby Poll. When it comes to what people are thinking, why they are thinking it, and how they are likely to act, John's accuracy is legendary, and for that reason, his observations are considered to be the Gold Standard in more than 70 countries. Testimony to that fact is his recent book about a new generation,
The Way We'll Be: The Zogby Report on the Transformation of the American Dream
. John's insightful observation on the convergence of data-overload, common-sense and right-brain leadership in the 21st century is a great read.
My sincere thanks to two thought-leaders I am proud to call friends and faculty members of PLI.
Each month two members of The Prague Leadership Institute's faculty, or invited guest authors, share their thoughts on a wide variety of leadership-related topics. To all of them go our sincere thanks for taking the time, and having the generosity of spirit, to share their wealth of experience.
Thank you, too, for taking the time to read our newsletter and for your support.
Pepper
This month's book recommendation:
Aside from John's book mentioned above, I would recommend the wonderfully counter-intuitive,
Employees First, Customers Second
by Vineet Nayar, CEO of the global firm HCL Technologies (HCLT). It is a wonderfully thought-provoking account of Nayar's impressive ability to align the needs of employees with the demands of customers and achieve some truly incredible results in leading the turn-around and ramp-up of HCLT.
---