July 2022
Welcome to this month's joint
Scroll down or use the Contents list below to find something good to do this summer.

As always, local news and activities come first in the newsletter and within sections - and most of the local groups below have their own websites, social media and newsletters, so, if you are particularly interested in any of them, follow their links to find out more and join in their activities. If you'd like more news from elsewhere, try some of the sources listed here.
Notes to contributors
If you normally contribute items to this newsletter, or would like to, and haven't heard from us recently, please (re-)subscribe to our contributors' list via this sign-up form to get our requests and reminders - and make sure they are not disappearing into your spam folder! Make sure you receive the newsletter too by adding yourself to the subscribers list too - sign up here. You can update your own or your organisation's contact details in these lists or unsubscribe at any time.
We look forward to hearing about more environmental activities, on-line or in the real world of Kingston, as and when possible - we try to give local news and campaigns top billing, so do please keep them coming in. Do use this newsletter to promote new local green groups or enterprises – and also to check what's already happening locally to avoid clashes.
In any case, please send us your environmental news and updates in good time to feature in the next newsletter which will usually go out just before 1st of next month. According to Mailchimp, 58% of our 800+ readers frequently click the links in this newsletter and 23% do so sometimes, a good number of engaged readers worth reaching.

If you have problems viewing this newsletter, please click the link at the very top of this page to see it in your browser.
GREEN ZONE 2022 IS COMING
- on Sunday 25th September
- and this year is likely to be bigger and better than ever in a new central space in Kingston Market Place and Kingston Market House. So keep it free and come along to meet Kingston's green community, enjoy yourself, and maybe learn something useful.
- Would your group like a stall in the Market Place?
- Could someone from your group give a short (10-minute) talk or a longer one, or lead a discussion, or put together or join a panel, or run a workshop on an environmental theme such as climate, or biodiversity or waste or energy... inside the Market House?
- Could you group help in other ways? Ideas, plans and fundraising for the event are still at an early
stage and we are open to all offers of practical help with organising, equipment, set-up and take-down on the day, fundraising...
If you can answer Yes to any of these questions, do please
get in touch
so that we can add you to the
appropriate list or schedule and keep you informed.
News

Recycling update
Janine, our recycling officer is making a real difference in the New Malden community, reaching out to businesses and community groups and helping them to keep more packaging out of landfill. We were delighted that the cardboard cups we used to serve refreshments at the Jubilee Square event were able to be rinsed and repurposed for plant pots and the cardboard bowls collected from caterers are great for collecting produce from the yard. On that topic, anyone is welcome to come and help themselves to fruit and herbs on Thursday mornings (9.30am - 12.00) and Saturdays (12.00 - 4.00 pm), also our community gardening days - see Regular events below.

---
Upcoming events at the Environment Centre

Mini craft fair
Saturday 2nd July, 12.00 - 4.00pm
Independent traders selling jewellery, plants and bric-a-brac.

Community Fridge launch
July, date tbc
Our first project will be a family orientated foraging group.
Regular events at KEC
Square 1 Café

Saturdays, 12.00 midday – 4.00pm. KEC
A free and friendly drop-in café for "social recovery from Covid-19 and life generally" started up at KEC in October - a safe, inclusive space, where everyone is welcome, and everything is free. If you have any questions, please contact Tony Williams.


Creating a Climate Emergency Centre in Kingston!
Regular meetings at Kingston Environment Centre and on-line, 1st and 3rd Tuesdays of the month, 7.00pm. See more here.



Stitch & Chat
2nd and 4th Wednesday evenings every month

Volunteer gardening at KEC
Thursdays from 9.30 - 12.00, Saturdays from 10.00am - 2.00pm.
Any gardening volunteers, experienced or not, are welcome to join us - the Square1 café will supply any volunteers with a free lunch and drinks. For details of plant sales and 'Pottering with Pots' events see our Facebook page. If you see our side gate open (mainly on Thursdays and Saturdays) you are welcome to pop in and pick up something we have grown.

Kingston Cycling Campaign meetings
First Tuesday of the month from 7.30pm
Find out more.




Listen or catch up with previous shows on Mixcloud..



See the KEC website calendar for info and updates on events and activities at Kingston Environment Centre, 1 Kingston Road, New Malden, KT3 3PE.
News

Our 2022 AGM reviewed a surprisingly busy and productive year, all things considered, and an optimistic view of our future - "reports of our death are greatly exaggerated" - with some interesting plans and collaborations on the horizon, healthy finances, and a core group that remains much the same but with renewed confidence and minor changes of title. Most of the papers for the meeting were published on the website ahead of the meeting and they have since been absorbed into the draft Minutes, which will soon be available in the AGM folder on the website. The AGM was also recorded and a recording may also be available in due course.

TTK's Energy group are now planning an Eco-Homes event in September - see the Energy news section below. And they continue to offer advice to individuals and organisations on energy efficiency, currently including Park Brewery and Tamesis sailing club on solar PV installations, and The Cornerhouse community theatre on reducing their energy bills.

TTK working with others on GreenZone, Eco-Homes, a Library of Things...
We have had productive meetings recently with other green groups and Council officers about the 2022 GreenZone (and we have applied for some Climate Coalition funds towards the costs), the Eco-Homes weekend in Sustainable September, and bringing a Library of Things to Kingston, probably in Hook Library; TTK intends to apply for some Transition Together funding towards the cost of a Library of Things, and to support the Council on other Library of Things funding applications. See Campaigning Together for how you could help.

Meeting and greeting Kingston councillors
TTK will be at the KVA -hosted "meet and greet" event in July.
Regular TTK events and ongoing activities
TTK core group meetings, followed by Green Drinks
Last Tuesday every month at 6.30pm, with Green Drinks at 7.30pm - next one on 26 July, Spring Grove pub, Bloomfield Road, KT1 2SF
All welcome, but check updates on the TTK Facebook page before setting out. We welcome new Transition ideas and projects, so if you have something you'd like to offer under the TTK umbrella please visit our website to see if your idea would fit into TTK's aims and ethos and do let us know. Notes from these meetings are normally published on the website once confirmed as accurate at the following month's meeting.

TTK Energy Group meetings
1st Tuesday morning of every month
The Energy group is now planning a TTK Eco-Homes weekend in September - see Energy news below for more on this. Contact Peter to find out more.

Canbury Community Garden
Open mornings, first Friday of every month from 11.30am + weekend gardening sessions - all welcome to come along for healthy outdoor exercise, to plant and get their hands dirty... See Community Gardens section below.

Kingston's green history
One project TTK started recently is to try to compile a history of environmental activism in Kingston. Green activities in our borough go back a long way, and we think it would be interesting and worthwhile to create a timeline to capture stories before they are lost, as well as helpful to current green groups as a source of inspiration and experience. Do please get in touch if you can share dates, photos, memories...

Helping the local community to find outdoor volunteering opportunities
TTK has begun to create a draft web-page of outdoor volunteering opportunities in the borough, so that people can find somewhere near them where they can grow food in a community garden or look after nature in a conservation project, sharing skills while getting healthy exercise and meeting new people. If your project is there, please check that the information and links are accurate and send a logo or picture to include; if your outdoor project is not featured help us to complete the picture by sending the info listed here.


Looking for, or wanting to publicise, a local green enterprise? Try TTK's Kingston Green e-Directory. Local businesses and consumers are also invited to help us keep the Directory up-to-date and accurate.
---
Transition News and Events
"Together We Can..."
Catch up with with an impressive range of sessions from May's Transition Network Summit and more in Transition Network videos - something to inspire us all.


Transition London & SE Hub Online Meet- Ups
Find
more Transition activities, discussions and events in London and the S E on Facebook.
Transition Together web-links
Campaigning together

"If working apart we are a force powerful to destabilise our planet, surely working together we are powerful enough to save it." Sir David Attenborough, COP26.
Please tell us about local and national green campaigns we should highlight in this section. See the Have Your
Say and Kingston Council sections and look out for Megaphone Man for more opportunities. Please take action - if not us, who?

Help to bring Library of Things to Kingston
Library of Things is a place where you can borrow useful Things for your home, projects and adventures. Help to bring one here by adding your support - we've passed the first hurdle, getting 50+ supporters, now we need lots more of you to show how many of us would like and use one in Kingston.

See Kingston Friends of the Earth section to join in their current local campaigns.


Improving Londoners Health, Tackling Climate Change & Reducing Congestion
The TfL consultation on extending the Ultra Low Emission Zone (ULEZ)) London-wide closes on 29 July. Find out more and respond here.



One Tree Day in October
Do you have children or can you influence a local school? The environmental charity Just One Tree would like as many people as possible to ask their local schools to participate in their One Tree Day in October.

Campaign for a frequent flyer levy
Despite air travel being one of the highest contributors to the UK's carbon emissions, our government refuses to ensure that flight emissions start falling. The fairest way to reduce flights would be for the government to bring in a frequent flyer levy. You can find out more here, but in short this would mean that the more someone flies, the more they pay. What to do? Tell your MP that you back the frequent flyer levy via Possible's web-tool.
---

Event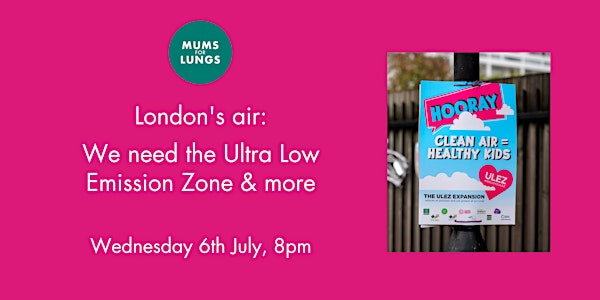 London's air: we need the ULEZ & more
Wednesday 6 July, 8.00pm, on-line
The Mayor is currently consulting on proposals to expand the ULEZ London-wide, and is asking for views on a new form of road user charging. Please join Mums for Lungs to discuss these proposals, and what more needs to be done to clean up our air as quickly as possible. Register here.
Useful resources for campaigners
Find contact details for your new councillors, MPs, MEPs, and LA members at WriteToThem.com Rather than repeating our advice on writing every month, we have saved it here on the TTK website.

TheyWorkForYou shows what MPs have been speaking and voting on recently, with a page on the website devoted to recent votes and parliamentary business on the environment),

Info on Citizens' Assemblies: Participo offers info on the research on and practice of innovative citizen participation – useful and interesting for anyone interested or involved in planning Citizens' Assemblies.
---
News
The Big Move – and how you can help!
STWC needs to move out of current location by the 25th September as the site is soon to be developed. Our time in Berrylands, thanks to Bugler Homes who have allowed us to operate from their warehouse for almost three years, has allowed us to grow quickly and attract over 150 new volunteers to feed 45,000 people and save over 1,000 tons of household goods from landfill and incineration across the Royal Borough of Kingston and SW London.
The good news is that we are looking to move to new premises close to Kingston University and more than double the size of our current space! So, we need to raise funds from the community to secure the property, pay for the move, utilities and upkeep etc. If you want to support us immediately, visit us soon to buy furniture, household goods, clothes, books, toys and bric a brac - everything we don't need to take with us and every pound you give will make the move easier!
We are also actively looking for other businesses or community groups to rent space from us - we will be organising site visits, so do get in touch with any of our team if interested.
We will continue to take good quality useful things for refugees and low-income households until 25th August, and will remain open from 4.00pm to 8.00pm each day, including Sundays, and from 2.00pm to 6.00pm on Saturdays.
Please see our short video and press release here

Make sure you don't miss any news from us - follow our Facebook page which is updated frequently.
Regular events at The Circulatory

Save The World Club Open Day and BBQ
Now on second Sundays, next one Sunday 10 July, 1.00 – 6.00pm
Free, family-friendly and a great chance to meet members of the team, network, explore what goods we currently have and jam with us! Food available for a donation with a vegetarian and vegan BBQ (weather permitting).

A little bit extra to STWC -

AmazonSmile customers can support Save The World Club. Simply turn on AmazonSmile whenever you shop with Amazon, select Save The World Club as your chosen charity, and a small percentage of each purchase is then donated automatically to STWC.

The Circulatory, Unit 5, Chiltern Works, Station Way, Surbiton, KT5 8LS. We are at the end of the driveway adjoining Berrylands train station - look for the big blue barn doors..
---
News and Events
The search continues!
The Kingston Hive group continues to search for a space (meanwhile and/or permanent) in Kingston town centre - and you can
donate to help this project become a reality here.
If your group hasn't yet expressed support for a climate emergency centre in Kingston, something that would be an asset for all of us, please do. And if you are looking for something to do while waiting for Kingston's CEC, please consider participating in one of the many other green projects going on in Kingston and featured in this newsletter.
Regular meetings
continue at Kingston Environment Centre and on-line, on the 1st and 3rd Tuesdays of the month, 7.00pm, with some planning and working group meetings and discussions in between.


Our core values are recycling and sustainability - we upcycle and recycle cycles.

---
News
Support for Ukrainian refugees
We are hoping to support some of the recent Ukrainian refugees looking to get access to an environmentally-friendly and cost-efficient form of travel via our bicycle support programme. If you are another organisation that would like to collaborate with us to help connect and refer people to us, please get in touch.
For all opportunities listed, please
email Gary
or call on 07421 458835. From all the team, have a great day and cycle on!
KBN exists to highlight and promote local conservation work in Kingston.
Click on an icon below for news of conservation activities around Kingston - get involved or set up a project of your own or see Green Volunteering below.

---
Events
Future events
Please do provide us with suggestions for the future talks and remember that these events are solely run by volunteers. If anyone would like to give their time to support future events please let us know.
Sign up for KBN newsletter
for dates of future quarterly talk and networking meetings. Volunteers to help with events always welcome - see our website.
News
Keep an eye on our Facebook page for updates and new events.
Habitats & Heritage acts for the natural and historic environment in south and west London. In a time where the health of our environment and each other has never been more important, and never more interlinked, we invite readers to support our work by signing up to our Supporter Scheme today for just £10 a year.

---
News
Our Green Hubs Project
The Green Hubs project brings together people from across local neighbourhoods to improve their spaces for wildlife and the community. We increase the biodiversity in forgotten or neglected spaces as we seek to create corridors connecting larger fragmented parks and green spaces in south and west London. We'd like to hear from you - do you have a space that you would like to help improve for nature and communities?
Get in touch
to suggest a Green Hub near you!
Sign up for H&H newsletters and keep an eye on H&H events for conservation news and activities in and around Kingston and neighbouring boroughs.
XR Kingston


Join the Rebellion and help to make the politically impossible inevitable. Everyone is invited to rebel for life. Want to get involved? Here's how!

Read news from Extinction Rebellion here.


Ham United Group (HUG) is a Community Interest Company (CIC) aiming to improve the environment and the quality of life for the people in Ham and Petersham, just next to North Kingston. HUG supports projects and groups that help make our community more sustainable.
We believe in giving people 'permission' to be brilliant because everyone can be brilliant...
Ongoing activities
Tolworth Station Community Garden
All are welcome to join our
upcoming volunteering sessions
every Tuesday (10.30am – 1.00pm) and every first Sunday of the month (11.00am – 2.00pm). Please wear weather-appropriate clothing and sturdy footwear. If you would like to attend please
email Georgia
and check out our Facebook page for updates.
Take a walk
- and discover
Community Brain's walking routes
highlighting many of our beautiful local nature reserves and parks, including a new South of the Borough walking guide - Chessington South to Malden Rushett.
The local branch of FoE - everyone is welcome to help us work towards positive environmental change.


If you'd like to join and campaign with us, please follow our social media or email us.
A network of local environmental organisations covering a wide range of blue and green issues in Kingston


KEF is currently a website of resources, including a list of local environmental groups + a Facebook page for sharing environmental news, queries, discussions and campaigns.
Kingston Community Gardens
Sowing and growing in Kingston
Hogsmill Community Garden

Coming up: beginners' meditation sessions start Thursday 21st July at 7.00pm; midsummer party on Saturday 23rd July.
With the garden structures now in place we would welcome any parents, workshop leaders, yoga teachers etc to facilitate their sessions at the garden. Pop in for a chat or
email Julie
, and see Hogsmill Facebook page for more information and the latest news and posters.
On Swan Path, Vineyard Close
---
Canbury Community Garden

Bird flu is still around so, although our hens are enjoying being out and about again, we are trying to observe some disinfecting precautions to protect them.
We hosted a Hive social gathering in June and held a celebratory BBQ for the Chicken Collective and regular volunteers. Watering continues whenever possible, though the weeds thrive regardless! Visits from local schools and toddlers continue, along with our summer open mornings every first Friday of the month between 11.30am and 1.00pm.
Between Canbury Gardens, Kingston Riverside [tennis] Club and Kings Passage - current access only via our Canbury Gardens gate near the bandstand.
---
Kingston
Edible Forest 2100
is planted for the long term with perennial edible flowers, veg and fruit, details on our website. We are there most Sundays and a weekday evening when there's light. Please contact us to check, as the gates to the allotment site are locked.
Knollmead Allotments, Tolworth
KT5 9QP
Kingston
Environment Centre

We will be working in the yard and on the community space outside Kingston Environment Centre every Thursday from 9.30 until 12.00 and on Saturdays from 10.00 - 2.00pm. Wear comfortable clothes and stout footwear See Kingston Environment Centre for updates.
News
Help TTK to build a complete picture of Kingston's outdoor gardening
and conservation projects by visiting the page
here
.
Good homes for surplus produce
Kingston Crop Drop, the scheme enabling local gardeners, allotments and community gardens, to donate their surplus crops to deserving charities and community groups, is planning to restart soon. The community groups can collect fruit and vegetables, but would also welcome help with collection and delivery. If you can help now or later please contact Kelvin Foote on 07885736836 or
email him.
---

Events
"The Buzz of The Bees"
4 – 9 July 2022, Hampton Court Garden Festival


Kingston Beekeepers will be in the RHS Allotment area, stall HC51, adjacent to the Big Willow Bee. Highlights will include an observation hive, displays of planting for pollinators for varying locations, and experienced beekeepers on hand.
See RHS website for tickets and full details of show times.
An introduction to permaculture: people and planet - part 2
Thursday 14 July, 6.00 - 8.30pm, Josiah Braithwaite, White City
A review of the permaculture principles focusing on the third ethic of people care and sharing the surplus, with Kayode Olafimihan and Susannah Hall. It's not necessary to have attended part 1 to join this one!
Find out more and book here.
You can use your 50% Capital Growth training discount when you book onto our workshops.
Not a member? Join here.
Regular gardening sessions

Visit Facebook pages to confirm opening times and health and safety advice before turning up - and check the weather forecast!.

---
Useful resources for gardeners
Rather than letting this list become ever longer, we move older items to Growing Tips on Transition Town Kingston's website.
Green volunteering

Help TTK to build a complete picture of Kingston's outdoor volunteering opportunities if your run one by visiting the page here.


Berrylands Nature Reserve Volunteer Sessions
On Wednesday and Saturday mornings, 10.30-12.30(ish), meeting outside Berrylands Scout Hut, Stirling Walk.
Help to improve Berrylands Nature Reserve and our other local green spaces, making them better for the local community and its wildlife! Next volunteer days: Wednesday 6th July; Saturday 9th July; Wednesday 20th July, 10.30-12.30(ish). Find out more and sign up
Tuesday Evening Balsam Bashes
Elmbridge Meadows, Tuesday 5th July; Tuesday 12th July; Tuesday 19th July; Tuesday 26th July, 6.00pm – 7.30pm.
Great for making the most of summer evenings, and getting some fresh air and a little bit of light exercise after work/school. Find out more and sign up

Nature conservation volunteering with Citizen Zoo
Citizen Zoo - volunteer with us! See also Tolworth Court Farm Field Recorder Days coming up in the next few months in Nature Notes Events.


Friends of Ham Lands' monthly volunteer conservation session
2nd Saturday every month, 10.00am – 12.00pm, meeting at the corner of Croft Way and Riverside Drive
Come along to help improve the habitat for butterflies. Find out more.

See also -
Volunteering opportunities with Habitats and Heritage and in Kingston's community gardens.

Looking for volunteers?
Volunteering Kingston is here to help! Volunteering Kingston is the volunteer centre for Kingston. If you are looking for more volunteers to support your activities or advice on any aspect of involving volunteers we can help: we have a website where you can advertise volunteering opportunities and a resource bank with advice on a range of different topics; we can provide one-to-one advice on Zoom to support you on various topics such as recruitment, retention, reward and recognition, managing difficult situations, and how to organise volunteers when you are an informal group. Please get in touch any time via enquiry@volunteeringkingston.org.uk or 0300 365 9980.
Get Connected

Connected Kingston is a site dedicated to helping Kingston residents find local activities and navigate local services [and local groups to find helpers and participants]. It is run by the Royal Borough of Kingston Council and Kingston Voluntary Action in conjunction with local charities and statutory organisations. Special training is available to anyone who regularly comes into contact with people that may be struggling to navigate or find local activities or services. Our goal is to help residents of Kingston stay happy, healthy and connected to each other. Contact us here and/or register an activity or find something to do.
Nature notes


Discover biodiversity and do your bit for nature
Biodiversity - the variety of life on Earth - is under threat. You can take action now to protect it. These Natural History Museum pages will show you how.

Wild world
The Guardian's Age of Extinction series reports on rewilding efforts around the world as the idea of managing land for nature gains momentum. Read all about it.

9 things you can do to protect the natural world
From Imperial College's Grantham Institute - Climate Change and the Environment

A beginners' guide to planting trees – and fighting the climate crisis
We need 1.5bn trees in the UK to tackle the climate crisis. But planting them badly can be counterproductive – read The Guardian's dos and don'ts here.
---

Upcoming events and courses

Tolworth Court Farm Field Recorder Days
Friday 1 July - Earthworms
Friday 5 Aug - Ants and other survey groups to be confirmed
Friday 23 Sept - Freshwater Invertebrates, Beetles
Friday 7 Oct - Centipedes, Millipedes, Woodlice, Earthworms
Citizen Zoo, along with The Community Brain and Kingston Council, has launched a collaborative project to rewild Tolworth Court Farm. With funding from the Greater London Authority, this year's project will be focusing on a series of baseline surveys of the site, as well as community consultations and engagement activities, to build a clear picture of what state the site is currently in, how people are using it and how best to manage it in the future. As part of this, working with the Field Studies Council, there will be a series of community surveys to assess the site's invertebrate communities on the above dates. Find out more and sign up here.

Wild Workshops for Adults / CPD Days In Nature Connection
Hosted by Maria Sprostranova (GreenWise People) with special guests; book a place for:
🌿 Japanese forest bathing
Saturday 2nd July, 9.30am – 3.00pm, Ham Lands Nature Reserve, Ham
A journey of reconnection to the land through your senses with Janine Gerhardt (Forest Bathing Guide for Kew Gardens)
🌿 Medicinal herbal workshop
Sunday 31 July, 9.30am – 4.00pm, Ham Lands Nature Reserve, Ham
Including foraging and cooking on an open fire with Janine Gerhardt (Medicinal Herbalist) and Maria Sprostranova (Forest School Trainer)

And for children:
🌿 Forest School for 5-11-year-olds
1 - 2 August, 10.00 - 4.00pm, Ham Lands Nature Reserve
Led by Maria Sprostranova & our GreenWise People friends - find out more and book a place.
🌿 Hang Out in the Woods for Teens & Tweens, 10-16-year-olds
4 - 5 August, 10.00am - 4.00pm, Ham Lands Nature Reserve
Led by Maria Sprostranova & our GreenWise People friends - find out more and book a place.

GreenWise People operates as a non-for-profit social enterprise and as such wish for all workshops to be inclusive and open to all. Please do get in touch if payment in full is tricky for you at this particular time - we keep 2 free places for all workshops and a number of places at a discounted rate for those who really need the support. For further information on any of the above contact Maria by email or phone 07737 644 119 / 020 8541 0415.

Field Studies Council courses
Find out more here.
Interesting websites and apps for nature-lovers
London Wildlife Trust protects wildlife across London.

Surrey Wildlife Trust is a wildlife charity caring for over 6,500ha of land for wildlife in Surrey.
Nature on your doorstep - whatever your outdoor space the RSPB offers expert tips and tricks to make it a happier place for you – and the nature on your doorstep. The RSPB's advice on planting for nature
Friends of Ham Lands work with local naturalists to preserve and enhance the natural habitats of Ham Lands, a Local Nature Reserve right next to Kingston. You can read current and previous newsletters on their Newsletter page.
Citizen Zoo - a social enterprise dedicated to rewilding in the UK – sign up for their newsletter highlighting lots of lovely rewilding news and events.
The London Natural History Society Virtual Natural History Talk series brings together naturalists, experts and specialists via Zoom. Talks are recorded and you can catch up with them here.
The Seek app uses your smart phone to identify the plants and animals all around us, and can make the daily walk much more interesting.
BirdNET can identify 984 of the most common bird species of North America and Europe. from song recorded on your phone.
UK Bird Sounds
Backyard Nature.
Have your say -
See Campaigning Together and Council News, and look out for Megaphone Man in other sections.

On Rewilding Arcadia
Thames Landscape Strategy would like our thoughts on rewilding along the Thames. Find the TLS survey here.

On rewilding London
Despite ongoing efforts, the world's biodiversity is deteriorating, with the UK in the bottom 10% of countries for this. London is no exception, but City Hall has plans to rewild areas in London. The London Rewilding Taskforce, chaired by Shirley Rodrigues, Deputy Mayor for Environment and Energy, wants to know what you think - take the survey here.
Waste matters

Milk & More's plastic impact calculator is fun
How much plastic could you or do you save by switching to milk and plant-based alternatives in glass bottles? Find out here - it might be more than you think!

---
Upcoming event

Eternally Yours
16 June - 25 September, Somerset House, Strand, London
A free exhibition, with occasional workshops, showcasing diverse examples of creative reuse and exploring ideas around care, repair and healing. Find out more.
Climate crisis updates
Though drowned out by news of war abroad and cost of living and political crises at home, the climate crisis has not gone away...
Things are hotting up
In March, the north and south poles had record temperatures. In May in Delhi, it hit 49C, in June in Madrid, 40C. Experts say the worst effects of the climate emergency cannot be avoided if emissions continue to rise. Read more if you are feeling strong enough.

But hurrah for the UN!
Fossil fuel firms 'have humanity by the throat', says UN head in blistering attack: António Guterres compares climate inaction to tobacco firms dismissing links between smoking and cancer. Read more in The Guardian.
Useful resources

What to do? Possible suggests five key areas where we can all take action to tackle the climate crisis.

Recommended by The Climate Coalition: The Energy and Climate Intelligence Unit, "a non-profit organisation that supports informed debate on energy and climate change issues in the UK." and Carbon Brief " UK-based website covering the latest developments in climate science, climate policy and energy policy. We specialise in clear, data-driven articles and graphics to help improve the understanding of climate change..."

CarbonCopy's brilliantly designed map showing us the level of climate ambition from councils across the country - from places that have not yet declared a climate emergency to places targeting net-zero carbon emissions by 2030.

Fossil Free News
There's so much happening in the climate movement — it can be hard to keep up. Get highlights from campaigns everywhere working for a #FossilFree world, delivered twice a month.

Off-set your carbon footprint...
It is estimated that an average UK household emits around four tonnes of CO₂ each year. Even if you've pared your carbon footprint down to the minimum, there will still be carbon dioxide emissions associated with your everyday life. The

World Land Trust Carbon Balanced calculators

enable you to calculate how much – and then offset it with a donation towards tree-planting and conservation projects around the world. If that's not your thing, there are other ways to offset – tell us your favourites.


What is COP26, How does it work, Why is it important? A short explanatory video on YouTube

Climate Outreach's How to have a climate change conversation – Talking climate.

Environment Now – the facts
The Earth is changing faster than at any point in human memory as a result of human-caused global heating and The Guardian is tracking the changes via the vital signs, from carbon dioxide levels to Arctic sea ice, taken from data sources including Nasa, the US National Snow and Ice Data Center and the National Oceanic and Atmospheric Administration.

Want to take action on climate change, but don't know where to start? Possible has divided their campaigns across five key areas where we can all take action to tackle the climate crisis. Click the buttons on Possible's website to find out what you can do right now to help.

See also our Reviews section and Campaigning Together.
Kingston Council news
Climate Action team
Local environmentalists welcome the new team of Council officers dedicated to working on climate action. Some of us have met some of them already and look forward to working with them on issues important to all of us in Kingston.
See the Council's website for the latest news.
Money, money, money...


Do you know what your pension fund is invested in?
Did you know, for example, that for every £10 you put in your pension, £2 is linked to deforestation? Find out more and watch Make My Money Matter Presents...No Nasty Surprises.
Regular funding sources
Don't miss funding opportunities for your green group
Got a good idea for a new green project or for improvements to an existing one? Keep an eye on Kingston Voluntary Action's Funding page and regular Funding bulletins and see below.
Veolia's Sustainability Fund opened in May
The Fund will provide cash sponsorship, in-kind resources or staff volunteers to support not-for-profit organisations and community groups to transform their local community or environment.
Find out more.
John Good Group Grants for Good
Every three months, five shortlisted projects that have a positive impact on communities, people or the environment.will be voted for by John Good Group employees, with these five charities receiving a share of £10,000.
Find out more.
Grants for allotment sites
Grants of between £250 and £2,000 are available to registered Allotment Associations and committees across the UK for the improvement and development of facilities on registered and permitted sites. The funding is being made available by the National Allotment Gardens Trust which aims to advance and improve the Allotments/Gardens movement through education, training, workshops and support. Non-statutory sites may also be granted funding if a long-term lease is in place. Applications are dealt with quarterly; the next deadlines are 1st July and 1st October.
More info here
.
Grants for Community and School Gardening Projects (London)
Community organisations and schools in London can apply for small gardening grants awarded by the Metropolitan Public Gardens Association (MPGA), a charity that preserves and improves gardens, neglected sites and green public open spaces in all 33 London Boroughs. The grants can be used for a variety of projects, including planting, equipment purchase, benches and churchyard refurbishments; etc. Organisations that have been awarded funding in the past include Charlton Manor School (Greenwich) funding for planting and hand tools; Christ Church Primary School (Wandsworth) plants and mulch for raised beds; and Queen's Park Gardens (Westminster) grant towards planting.
More info here
.
Tesco Community Grants
Tesco Community Grants is always open for applications from charities and community organisations to bid for up to £1,500. Projects are voted on by Tesco customers in stores across the UK, with projects changing every three months – the scheme is currently looking for applications from charities and community groups who deliver projects that help to tackle food insecurity in their communities. This might include, for example, breakfast clubs, holiday clubs and food banks.
Visit the Tesco Community Grants website for further details.
Food, glorious food...
Events

Food Forever Evening Talks
Temperate House, Kew Gardens, June to September
Join panels of experts to explore the future of food as part of Kew's brand-new summer programme, Food Forever. Find out more and book.

Sustainable energy and transport
Energy remains in the news this month as prices rise. See TTK Energy Group's section of the TTK website for energy-saving tips - we think these will be increasingly useful.
Transition Town Kingston is looking for Eco-Homes
As a contribution to Kingston Council's Sustainable September, Transition Town Kingston is planning an Open Eco-Home event on the weekend of Saturday 10th & Sunday 11th September, tbc. Have you made alterations to your home to make it more energy-efficient than the one pictured on the right, warmer in winter and cooler in summer? Would you like to show other local residents what you have done, talk about the pros and cons, and share what you have learned from the process? It would be particularly useful to have some typical Kingston homes (19th, early 20th century or inter-war houses) in our eco-homes programme. You can open your home for the whole weekend or for just a few hours, and there will be a registration process that restricts numbers at any one time and protects your privacy (sample Eventbrite entry here). Contact Peter of TTK's Energy Group if interested.

Possible: Going Car-Free July 2022

Calling out around the UK, are you ready for a brand new challenge? Summer's here and the time is right for Going Car-Free - a month of climate-friendly travel. Could you swap your daily commute or school run from the car to the bus? Or cycle? Could you go car free for a day? A week? A month? How about talking to your friends and family about the importance of clean air, active travel, and people-friendly streets? Join us Going Car Free from 1st - 31st July 2022. Those ready and willing to take on the challenge will be in with a chance of winning some fantastic prizes.

Cornish village to pilot communal grid for green energy
A retired engineer is taking his village towards a multimillion-pound project to link homes to an underground low-carbon system. Read more here.
Regular updates on all things environmental

Most of them will send environmental news direct to your inbox:
EcoWatch - a community of experts publish quality, science-based content on environmental issues, news, causes, and solutions for a healthier planet; also on Facebook.
The Independent environment news
The Guardian environment news and The Guardian's weekly Green Light email.
The BBC environment news
The Ecologist, currently celebrating its 50th year; its impressive archive includes the landmark A Blueprint for Survival (1972) outlining the need for a serious economic and environmental overhaul

Fix the Planet - New Scientist's monthly dose of climate optimism
Reviews
We read the reviews so you don't have to... (We haven't read or listened tp everything in this section, but we think they all sound interesting.)

Watch

TED Countdown New York Session 2022: The actual cost of preventing climate breakdown
Nobody really knows how much it would cost to avoid the worst impacts of climate change. Yet historian Yuval Noah Harari's analysis, based on the work of scientists and economists, indicates that humanity might avert catastrophe by investing the equivalent of just two percent of global GDP into climate solutions. In this 10-minute TED talk, he makes the case that preventing ecological cataclysm will not require the major global disruptions many fear and explains that we already have the resources we need. Watch it here.

Read
Regenesis by George Monbiot
The environmental activist's proposals for remaking the global food industry, from changes in farming practices to 3D-printed steaks, make for urgent, essential reading. Read a review here.

Listen

Pete Smith on why soil matters
on BBC R4's The Life Scientific
Pete Smith is interested in soil and the vital role it plays in helping us to feed the world, mitigate climate change and maintain a rich diversity of species on planet Earth. Tackling climate change in isolation is a mistake, he says, we need to consider all the challenges facing humanity and identify strategies that deliver benefits on all fronts: food security, bio-diversity and human development goals.
More things we like this month
2022 RA summer exhibition: CLIMATE
Royal Academy, Piccadilly, London, until 21 August
The theme of the Royal Academy Summer Exhibition 2022 is climate – "whether it presents as crisis or opportunity, nightmare or memories, or simply our everyday experience of weather, CLIMATE is a huge all-embracing and urgent subject."

How to overcome eco-anxiety and turn it into positive action
Monday 11 July, 8.00pm – 9.00pm, on-line
Patrick Barkham, the Guardian's natural history writer and author of Wild Green Wonders, talks to two young campaigners about their books and their activism, and asks: how can we all make a difference? Find out more and get tickets here.

Guardian panel: The environmental threat of carbon bombs
Thursday 14 July, 8.00pm – 9.00pm, on-line
In May, a five-month Guardian investigation revealed how the world's leading oil and gas companies are quietly planning scores of "carbon bomb" oil and gas projects that would drive the climate past internationally agreed temperature limits – with catastrophic global impacts.
In effect, these firms are placing multibillion-dollar bets against humanity – and if governments don't act now, they will continue to cash in while the world burns. How can the fossil fuel giants be forced to stop these carbon bombs? What must happen next in order to avoid total devastation? Find out more and book on Eventbrite.

Stir to Action's Playground for the New Economy Festival

12-14 July, Selgars Mill, Mid Devon
Three days of panels, workshops, open space, virtual reality experiences, sustainable food, and live music. Find out more and book.


Meet and Greet for Councillors and Voluntary Organisations in Kingston
Thursday, 14 July, 6.00pm – 8.00pm, Kingston United Reformed Church
Hosted by Kingston Voluntary Action, an opportunity to meet each other and network. Find out more and register.


Castle debate: How to spot greenwashing and the risks to businesses
19 July, 2.30pm via Zoom
In the rush to be seen to be taking action on the climate crisis and go "net zero" many organisations have been claiming to be green without making real change. This has led to public mistrust, a lack of real progress and legal action. In this debate, we will explore the gap between rhetoric and reality. Find out more and book a free place.


The Great Big Green Week 2022
24 September - 2 October
Organised by The Climate Coalition working with an impressive range of partners to make the greatest, biggest, greenest week the UK has ever seen. Kingston's GreenZone will be part of this but watch this space for events, ideas and resources to help you plan your own green event. Watch the new TCC film about the Great Big Green Week.

Greener living: your guide to climate change and leading a more sustainable life
Online course, as and when suits you
This New Scientist expert-led online course shows you easy changes you can make to your life that will have a big impact on the environment and help tackle climate change. Cost £199, find out more.

Kingston Voluntary Action events and training
Ongoing
For advice or advice or support for your community group, please complete this form, outlining your support needs and we will get back to you as soon as we can to set up a free 45 minute appointment with a relevant member of staff. Keep updated on KVA's training opps by getting onto their mailing list. KVA also offer free easy to use websites to community groups. Find out more here.