---
Upcoming Events:
SHPE DFW Nutcracker Date Night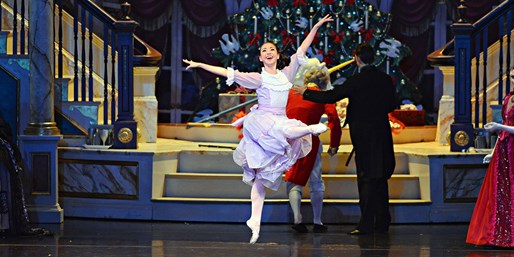 Where: Nancy Lee and Perry R. Bass Performance Hall
525 Commerce St, Fort Worth, TX 76102
Date: Sunday, December 20th
Time: 7:00 PM-10:00 PM
Performance Run Time: 1 hr 45 mins (starting at 7:00 PM)
Networking/Social: 9:00 PM - 10:00 PM
Cost: $58.50/Person

Be sure the ring in the holiday season with Ben Stevenson's critically-acclaimed version of The Nutcracker. Relaunched as a new production last year, this beloved ballet follows teenage Clara and her enchanted Nutcracker Prince on a thrilling adventure to the Kingdom of Sweets. Networking and a late dinner/drinks will follow. You won't want to miss this magical holiday event!

SHPE DFW has reserved 1st Balcony - Mezzanine seats for a 10% discounted price to our members. All tickets must be purchased by Wednesday, Dec. 15.

To Purchase Tickets,
Please contact Community Outreach Director (Brianne):
communications@shpe-dfw.org
call/text (361) 484-0817
---
Network After Work (Dallas) -- Dallas at Candleroom




Unwind and socialize with hundreds of local professional s and entrepreneurs right after work on Wednesday December 16th at Candleroom (5039 Willis Ave). You'll make great connections in a fun and relaxed atmosphere while expanding your network of contacts to help fuel your own career or business goals. This monthly event runs from 6pm-9pm, but arrive before 7pm to enjoy a complimentary drink.
When:
Wednesday December 16th
6-9pm
Where:
5039 Willis Ave
Dallas TX 75206
Registration: http://www.networkafterwork.com/events/2015-12-16-dallas-at-candlroom
---
Spring 2016 Events Survey

Thank you for your support in SHPE DFW! We have had a lot of great feedback on events for next year and we want to make sure everyone's voices are heard. So far, the input has shown that the event location preferences are Addison and Dallas with a desire for more professional and leadership style events. There is still time to make your opinion heard!
Please take a few minutes to complete this six question survey. Click here to complete the survey. Your feedback is very important to our planning of events.
Please do not hesitate to contact us at
membership@shpe-dfw.org
should you have any questions, comments, or concerns.
---
Interested in being a Corporate Sponsor?
SHPE DFW is in need of Corporate Sponsors to help fund outreach activities, help us fund scholarships, lead Professional/Technical Speakers, offer Certifications/Trainings, and so much more!
Please contact Clemente Quiñones or Andrea Valvida at
BOD@shpe-dfw.org
to nominate your company, provide a Point of Contact for us to reach out to, or offer any ideas.
---
Community Outreach:
D.A. Hulcy STEAM Middle School STEAM/Parent Night
Where: D.A. Hulcy Middle School
9339 S. Polk St., Dallas, TX 75232
Date: TODAY, Thursday December 10
Time: 6:00 PM-7:00 PM

Hulcy Middle School is hosting a STEAM Night/Parent Night tonight!
Students will display and discuss their projects from this semester with parents and community members.

SHPE DFW will be hosting hands-on STEM activities that give them a first-hand idea of what STEAM actually is.
Please join us by emailing communications@shpe-dfw.org
---
The David W. Carter High School Project
SHPE DFW is proud to partner with Dallas ISD and Cedar Valley College for a "Transformation From Within" and we are in need of mentors and volunteers.
If you're interested email
communications@shpe-dfw.org
with your name and a short description of the kind of involvement you'd like to provide and if you have any particular skill set or resources you'd like to share.

Mission: To serve all of David W. Carter High School by strengthening the culture of college and career readiness for every student
Vision: To cultivate a community of partners working together to transform from within our mission and goals

Needing "Mentor" Presenters
12th graders [200 students]
9th graders [300-400 students]
4th Friday of every month
Seeking One-on-One Mentors
Upcoming Schedule:


Dec. 11 - Manage Your Time
Jan. 29 - Choose the Right School for You
Feb. 26 - Choose the Right Curriculum for You
Where: David W. Carter High School
1819 W. Wheatland Rd. Dallas, TX 75232
---
Recap:
SHPE DFW @ Parents Step Ahead's
10th Annual Parents of the Year Gala
Monday, December 7, 2015
Dallas, TX
SHPE DFW supported Parents Step Ahead's Annual Gala as guests of Latina Style Inc.
All willing baskets in the raffle too!
---
SHPE DFW @ Dallas ISD AVID Family STEAM Night
Friday, November 20, 2015
Greiner Middle School
Dallas, TX

SHPE DFW hosted 2 hands-on STEM activities!
We had a blast engaging both parents and their children in our fun critical thinking and math applications.
---
SHPE DFW @ Texas Tech Univeristy
Wednesday, November 4, 2015
Lubbock, TX
Juan Nevarez, SHPE DFW's Professional Development Director, returned to his alma mater to present to the SHPE Texas Tech Student Chapter. His agenda included our SHPE DFW Professional chapter, his Industry Journey, and his insider's perspective on the Oil & Gas industry. The Texas Tech Raiders expressed their excitement and gratitude for Juan's time and presentation via their social media sites.
---