August 18-25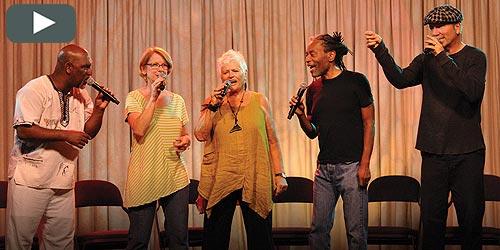 Circlesongs faculty offer an improvised mission statement for daily living.
Join musical adventurer Bobby McFerrin and his team of inspiring teachers for a weeklong workshop in the improvisational singing technique called Circlesongs.
Accessible to beginners yet challenging for even the most advanced, the program invites all to embrace the discipline and freedom to play, sing, invent, and imagine—in music and in life.
Master teacher and 10-time Grammy Award winner Bobby McFerrin will be present as our spiritual guide. Intensive daily Circlesong practice will be led by an inspiring and diverse group of teachers trained and mentored by Bobby.
Past attendees describe this full week program as a life-changing journey. Every song, every voice has a place in the circle.

register now