Re:
Move
- Unfinished
Histories
Benefit:
Siren
with
Rose
Collis
and
Claire
Dowie
Please come and support Unfinished Histories as we raise funds for our move to Bishopsgate Institute as Siren are joined by Rose Collis and MC Claire Dowie for a fantastic evening at Queen Mary College this Sunday.
If you haven't yet thought of coming, please do!
And if you are already thinking of coming, please book ahead so we have a clear idea of numbers.
Here's the link for booking tickets:
http://www.brownpapertickets.com/event/2554686


Siren on tour 1980s

Here's the details:

What: Siren: Enticing and Dangerous Songs, a Benefit for Unfinished Histories. Acclaimed lesbian feminist 1980s new wave band will perform songs with their perspective on the politics of then and now. With images, news clips and graffiti, that era comes to life in the songs and has an uncanny relevance to issues today. The evening is also supported by the excellent Rose Collis in Trouser-Wearing Characters and MC will be the wonderful Claire Dowie.

When: Sunday 19th June at 7pm

Where: Pinter Studio, Arts One, Queen Mary University, Mile End Road E1 4NS
Maps: Queen Mary University, Mile End Campus map for Arts One

Siren was originally set up as a lesbian feminist band and theatre company in Brighton in the late 1970s, creating and touring array of acclaimed shows that were highly polished and hard-hitting, uniting accomplished performances, powerful writing and innovative music. As a band they grew out of the Brighton music scene and earlier bands: Bright Girls and Devils' Dykes and performed gigs after their touring theatre shows and separately. They re-formed a few years ago after they were interviewed by Unfinished Histories and the Women's Liberation Music Archive, re-visiting their history and creating new work, rediscovering their original following, while also inspiring a new audience.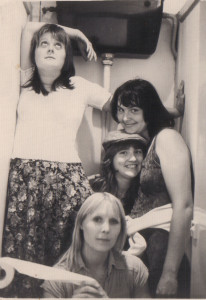 The Hardware Company

Rose Collis is a writer, performer and historian, whose writing has rediscovered an array of LGBTQ histories and explored the performance of queer identities including those of cross-dressing and 'trouser-wearing chracters' that she celebrates in her current show. She found her way into fringe theatre and music through Oval House in the 1970s and 80s and the Brixton gay community of the period, and was co-founder of the feminist music comedy troupe: The Hardware Company.




Writer-performer Claire Dowie originally developed "Stand-Up Theatre" as author-performer in the 1980s with work both comic and poignant, that made a sustained onslaught on the prisons of sexual, gender and behavioural stereotypes in shows like Adult Child/ Dead Child, Why is John Lennon Wearing a Skirt?, followed in the 90s by Easy Access (for the boys) and more recently shows like The Year of the Monkey, Design for Living and Sodom.

Don't miss this exciting line-up of music and performance. BOOK NOW !!!

If you can't attend but would like to donate to help our work, we'd be very grateful.

More from Unfinished Histories soon except to say that if you are free to volunteer to help list the library and pack boxes at our office Mondays 20th and 27th June and 4th and 11th July or to help pack the van on Mon 18th July, we would love to hear from you! Please email us

Unfinished Histories: Recording the History of the Alternative Theatre Movement
www.unfinishedhistories.com

With all best wishes,
Susan Croft, Director. Jessica Higgs, Associate Director

Patrons: Adjoa Andoh, Baroness Christine Crawley, Stephen Daldry, Tony Elliott,
Kwame Kwei-Armah, Pratibha Parmar, Sir Tony Robinson, Dame Harriet Walter

Unfinished Histories Board:
Danny Braverman, Dr Susan Croft, , Tony Coult, Jessica Higgs, Vanessa Lee, Olusola Oyeleye, Sue Timothy