---
Pre-filed legislation of note for law enforcement as of January 1, 2014
The 2014 session of the Virginia General Assembly convenes on January 8, 2014. A number of bills and study resolutions have been pre-filed, but many more legislative proposals will be introduced before the session gets underway. The Virginia Association of Chiefs of Police (VACP) and the Virginia Association of Campus Law Enforcement Administrators (VACLEA) have sorted through the pre-filed proposals as of January 1, 2014, and the ones of key interest to Virginia law enforcement are listed HERE.
Each bill is hyper-linked to the Virginia Legislative Information System (LIS). Just click on the bill number preceding the bill description, and it will take you to the full bill, along with the patron's name and committee assignment. You can follow the progress of each of these bills throughout the session by monitoring their pages in LIS at http://leg1.state.va.us/
The VACP and VACLEA will select a key list of the most important legislation to track throughout the session to keep you apprised of their progress. If the bill you are interested in does not appear on our "close monitoring" list, please let us know so we can consider it for inclusion. There are many bills introduced each session that potentially could impact public safety, and as the session progresses, you will see duplicate and similar bills consolidated into one legislative bill, and others will fail in committee action early in the session.
We will include regular legislative updates in the VACP weekly newsletter, and post additional legislative information on the VACP's legislative resources page at http://www.vachiefs.org/index.php/resources/legislative_issues/. We also recommend that you subscribe to the weekly e-newsletter at http://www.multibriefs.com/briefs/vacp/
IMPORTANT:
During the session, we will keep you apprised of committee hearings where the most crucial public safety legislation will be heard, and let you know when attendance by law enforcement leaders will be critical to the outcome of the legislation. It is important that you answer the call to appear, as your expert testimony definitely will have an impact on legislative action. If you have questions during the session, please do not hesitate to contact VACP/VACLEA Executive Director Dana Schrad by e-mail at dana@vachiefs.org or cell phone at 804-338-9512 (NOT the VACP office phone!).
Thank you — we appreciate your support and involvement in Virginia's legislative process to ensure that public safety and Virginia law enforcement is represented and heard.
CLICK HERE FOR THE LIST OF PRE-FILED BILLS TO WATCH
---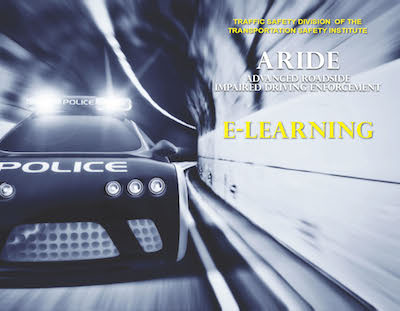 The Traffic Safety Division of the Transportation Safety Institute is now offering an online course in Advanced Roadside Impaired Driving Enforcement (ARIDE).
To attend the online ARIDE course, a law enforcement officer must be Standardized Field Sobriety Testing (SFST) certified. The SFST curriculum trains officers to identify and assess drivers suspected of being under the influence of alcohol while the Drug Evaluation and Classification (DEC) Program provides more advanced training to evaluate suspected drug impairment. ARIDE is intended to bridge the gap between these two programs by providing officers with enhanced knowledge related to drug impairment and by promoting the use of Drug Recognition Experts (DRE) in states that have the DEC Program. One of the more significant aspects of ARIDE is its review and required student demonstration of the SFST proficiency requirements.
Read more about the online ARIDE course...
---
Dealing with Drivers with Alzheimer's Disease
The International Association of Chief of Police (IACP)'s Alzheimer's Initiatives has developed two new resources to help law enforcement identify, interact with, and help drivers who suffer from dementia:
---
Thanks to a grant from State Farm Insurance, the Ashland Police Department was able to purchase a SIDNE battery-powered go-kart in 2013 for use in outreach and education programs about impaired driving. SIDNE is short for Simulated Impaired DriviNg Experience and the $13,000 cart is sold by Innocorp Ltd., a company that specializes in innovative products for education. The department's $20,000 grant purchased the cart as well as a trailer, cones and other equipment for demonstrations and also helps cover some of the expenses of having the vehicle.
For the past few years, the department has hosted demonstrations in which drivers attempt to go through an obstacle using a golf cart and goggles that skew depth perception. Ashland Police Sgt. Scott Menzies said the SIDNE go-kart is a major improvement over the golf cart as it has a top speed of only about 8 mph and is designed to endure wild rides without flipping. In lieu of using the impaired vision goggles to simulate driving under the influence, the SIDNE go-kart is simply switched into "impaired mode," which causes delayed reactions when the driver tries to turn or brake, similar to that of a drunk driver.
The SIDNE equipment is stored in a small, specially-built pull behind utility trailer and is available for use by other law enforcement agencies. Please contact Sgt. Scott Menzies at Smenzies@ashlandpolice.us or 804-412-0613 to check availability.
Read more about Ashland PD's impaired driving simulator
---
While 86 percent of Americans now wear seat belts, an upcoming study that will be published by California's Commission on Peace Officer Standards and Training estimates that roughly half of law enforcement officers don't wear them.
With traffic-related fatalities the leading cause of death of officers on duty (firearms are second), departments nationwide are buckling down to get officers to buckle up.

"Something that can save a person's life should be on a high priority of being enforced," said Richard Ashton, a former police chief who has studied officer safety for more than a decade with the International Association of Chiefs of Police.
Of the 733 law enforcement officers killed in a vehicle accident from 1980 through 2008, 42 percent weren't wearing seat belts. New police recruits today grew up wearing seatbelts, but often don't on the force because senior officers don't use them. Some cut old ones off cars and buckle them in to disable the alarm, belt them out of the way, or cut them out entirely. ...
Interested in starting an officer belt use awareness campaign in your agency? The Virginia Association of Chiefs of Police is happy to help you create customized posters for display in your department. Click here for more information
---
Last month, Roanoke County Police Chief Howard Hall led a 30-minute webinar on changes made to the National Law Enforcement Challenge for the 2013 awards competition. In case you missed the webinar, you can view the recording online and download the slides HERE.
Future webinars are in the works to help prepare you for this year's awards process.
And as always, you can find out more about the Virginia and National Law Enforcement Challenge awards programs at http://www.smartsafeandsober.org/programs/LEC.
---
16th-Annual Event Honors Local Police in Fight Against DUI

One-dozen Washington-metropolitan area police officers were recognized December 13 for their "outstanding commitment in the fight against drunk driving in Greater Washington" and presented with the area's 16th-annual "Law Enforcement Awards of Excellence for Impaired Driving Prevention."

The annual awards were bestowed by WRAP in memory of Metropolitan Police Department's Motor Patrol Officer Anthony W. Simms. Officer Simms, as a result of injuries sustained while on duty, lost his life to an impaired driver during Memorial Day weekend in 1996. WRAP's 2013 Law Enforcement Awards were presented by Officer Simms' widow, Lieutenant Pamela Simms, also formerly with the Metropolitan Police Department, along with News4's (NBC) News Anchor Aaron Gilchrist. The event speakers included the Superintendents of both the Maryland and Virginia State Police, Colonel Marcus L. Brown and Colonel W. Steven Flaherty, respectively.