Finland Pavilion to debut at Eco Expo Asia 2016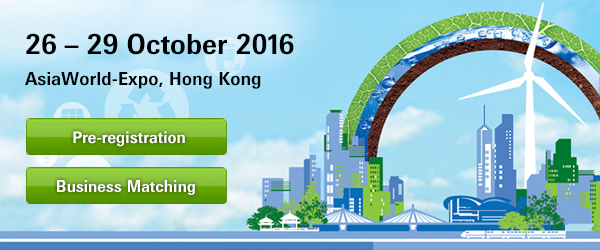 Finland Pavilion to debut at Eco Expo Asia 2016
Finland Pavilion to debut at 2016 edition
The Finland Pavilion will make its debut this year along with participation from the Netherlands as well as pavilions representing Canada, Japan, Macau, Shenzhen and Switzerland. Some of the exhibitors taking part in the pavilions that will bring you cutting-edge waste, water management and green building solutions are the City of Tampere, Clewer Logistics Oü, Eco Living Ltd and Molok Oy.
"The sewage treatment market is quickly gaining ground in Asia, and Eco Expo Asia is an ideal starting point for us to explore this great market potential. Our goal here is to look for new local distributors and manufacturers in municipal and industrial water treatment and the car wash industry as well as for potential direct end-users."
Mr Jouni Laine, CEO and President, Clewer Logistics Oü
Contact us now for more details.
Finnish exhibitors highlights
City of Tampere
Tampere is Finland's third largest city and one of the country's fastest growing regions. Committed to creating a healthy, safe and pleasant environment for all of its residents, the city places high importance on its housing and building development and will showcase a variety of clean technologies.
Clewer Logistics Oü
Clewer, a leading developer of patented water cleaning technologies and green solutions for water recycling, is known for its waste water treatment systems. The company's popular offerings include its Rotating Bed Biofilm Reactor (RBBR) technology, Star-Up bacteria mixture, flotation units, clarifiers, optical sensors and fish-farming solutions.
Eco Living Ltd
Eco Living Ltd is the sole agent for the Finnish clean tech corporation Ensto Oy in Hong Kong, Macau and the Chinese mainland. It offers all-in-one indoor ventilation, air purification and dehumidification systems that are cost-efficient and compliant with European standards. Other products include the Ensto underfloor heating, LED lighting and EV charging systems.
Molok Oy
Joining the fair for the second time, Molok is a provider of clean, safe and economical waste collection solutions. It has a diverse product range for different applications that includes its Deep Collection® system with a surface container. As many as 140,000 containers have already been sold worldwide.
Fair facts
Date:
26 – 29 October 2016
Venue:
AsiaWorld-Expo, Hong Kong
Organisers:
Messe Frankfurt (HK) Ltd
Hong Kong Trade Development Council
Co-organiser:
Environment Bureau,
The Government of the HKSAR
Contact:
Messe Frankfurt (HK) Ltd
Tel: +852 2238 9903 / 2238 9929
Fax: +852 2519 6079
ecoexpo@hongkong.messefrankfurt.com
www.ecoexpoasia.com

2016 overseas pavilions: