Lexington Community Farm
52 Lowell Street, Lexington, MA
Translation
If you need any of this information translated, copy and paste it into Google Translate.
如果您需要将任何内容翻译成中文,请将其复制并粘贴到谷歌翻译中。
Fall/Winter Farm Store Hours and CSA Information
We have transitioned to Fall/Winter hours at LexFarm. Mark your calendars!

Fall/Winter Farm Stand Hours
Week of October 24th through the week of December 12th:
The farm stand will be open Fridays and Saturdays only.**
Friday: 12-5
Saturday: 9-2
** Exception: we'll be closed the Friday/Saturday of Thanksgiving week, November 25 and 26**
Fall/Winter CSA Pickup Dates
The Fall/Winter CSA started in early November. Shares are available at the farm stand every other week, and must be picked up during Farm Stand hours (outlined above) on the dates listed below.

November 4th - 5th
November 18th - 19th
December 2nd - 3rd
December 16th - 17th

Note that the Fall/Winter CSA program is sold out for the season. CSA sales for 2023 will be announced in January.
Fresh in the Farm Store
As the holiday season slowly approaches and many of us are starting to think about planning some big meals, it's good to have your pantry staples sorted out in advance. At the farmstand we've got dried spices and herbs, hot sauces, syrups like maple syrup and wild blueberry syrup, flours and sugars, and more!

LexFarm Grown
Herbs - Parsley, Cilantro, Rosemary, Sage
Greens - Chard, Kale, Collards, Lettuce, Broccoli Rabe, Braising mix, Salad mix, Tat Soi
Winter Squash - Butternut, Jester, Acorn
Purple and White Daikon
Broccolini
Sweet Potatoes
Scallions
Leeks
Fennel



Vermont and Massachusetts Grown

Produce


Brussel sprouts
Cauliflower
Beets
Heirloom apples*
Pears*

* indicates it is not organic.

Everything is certified organic, unless stated otherwise.
What to Cook this Week - Vegetable Bouillon
It's soup season everybody! What better way to celebrate than with homemade bouillon made with farm fresh veggies.

This recipe was originally published on Food25
Ingredients
9 ounces leek

7 ounces fennel

7 ounces carrot

9 ounces celery root

2 ounces sun-dried tomatoes

2 or 3 garlic cloves

3 1/2 ounces parsley
3 1/2 ounces cilantro
3/4 cup plus 1 tablespoon fine sea salt
Instructions
Note: The ingredients above are given in prepared weights — i.e., they should be washed, trimmed of any stringy or tough parts, and peeled where necessary before weighing.

The helping hand of a food processor is essential in this recipe. Simply put all the ingredients into the processor and blend together. The result will be a moist, granular paste. Spoon into clean jars with tight-fitting lids.

Keep one jar of the mix in the fridge—within easy reach for everyday cooking. The rest can be stored in the freezer—it will stay soft and spoonable due to all the salt. Use within six months.

To use the souper mix directly from the refrigerator or freezer, just stir about 1 teaspoon of it into 1 cup of hot water.
Notes From The Field: Food Waste at LexFarm
As the nights have gotten colder and the plants on the farm have died back, they've revealed a startling number of fruits, such as tomatoes and eggplant. Several of you have asked us in recent weeks about these fruits, why we are not picking them, and why we are letting them go to waste. These are extremely valid questions and I want to take this opportunity to share my responses with all of you.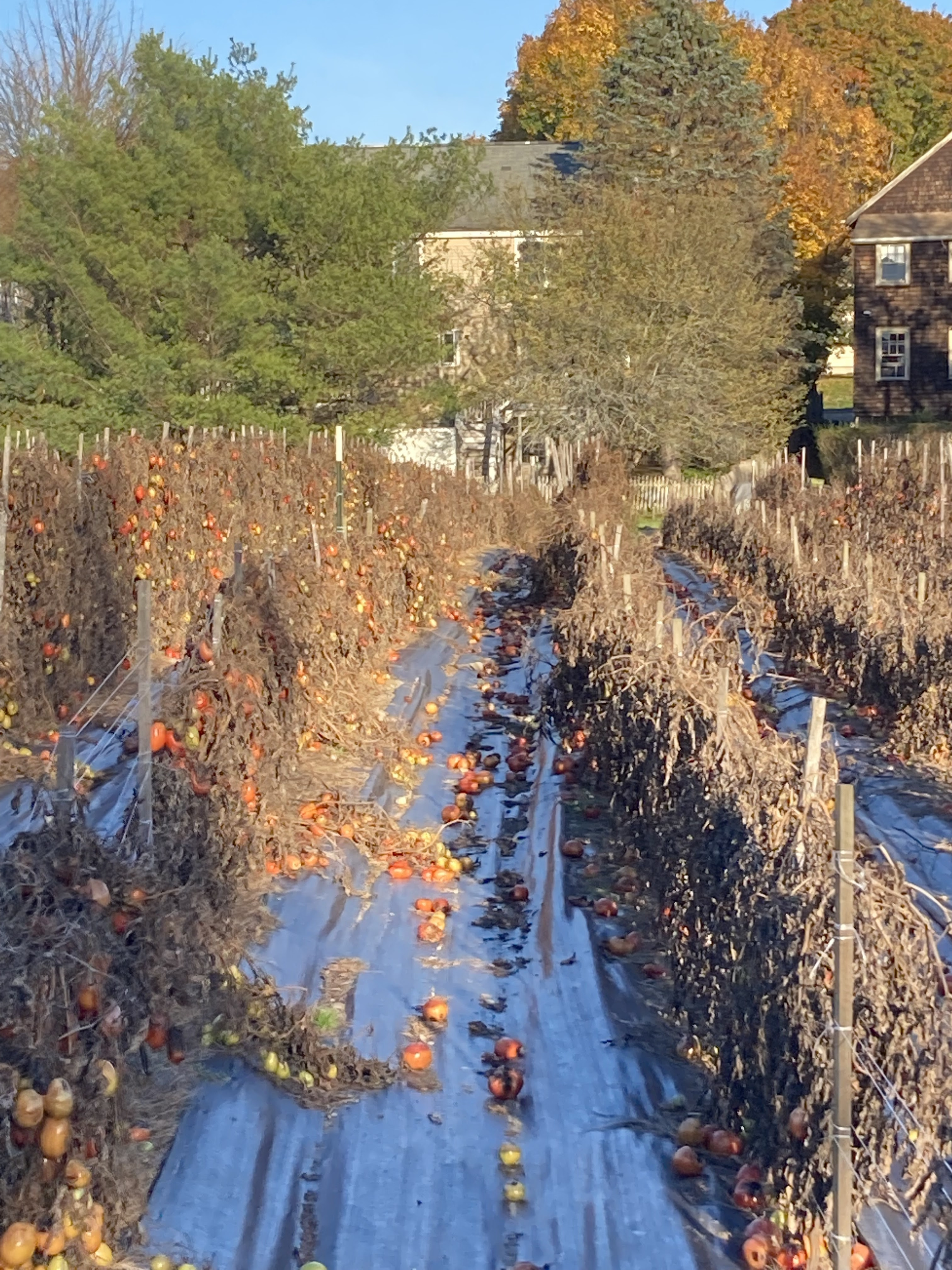 At LexFarm, we have a fairly robust system for ensuring that edible food, as much as possible, gets to you. It all begins with the harvest. Each week, when we go into the fields to harvest, we evaluate the quality of the fruit or vegetable and determine whether it is good enough to distribute through the CSA and to sell in the farm store. We hold ourselves to a high standard. We know that the end product will be competing with supermarkets, where there won't be a single flea beetle hole on kale or a rabbit bite taken out of the top of a carrot. We push the limits on these aesthetic standards, because we know that the delicious taste will endure some damaged leaves on collards or scars on tomatoes. Still, we draw the line with vegetables that have been partially eaten by other animals or those we know will not taste good.

There are many reasons why a vegetable or fruit will stop tasting good, among them are drought making leafy greens bitter or disease causing a fruit to go mealy or rotten in taste. As farmers, we know that those things happen each season. We are working with natural forces, which include voles, flea beetles and disease. What we can do is harvest as much as possible before each crop becomes inedible. When a crop does go bad, we often leave the fruit on the plant or in the pathway. Clean up will happen later. For now we must race to harvest the next crop. This may give the illusion of us wasting food when in fact a conscious decision has been made that the crop no longer tastes good.

Another way we reduce food waste is by donating unsold vegetables and fruits to Food Link, a local food rescue and distribution nonprofit. So far this year, we have donated over 8,000 lbs of produce to Food Link.

With surplus crops, we have a small but mighty volunteer gleaning crew who harvests for the Lexington Food Pantry. Generally, the volunteer crew is asked to harvest crops that are overabundant; this season, eggplant, tomatoes, or chard. Over the course of the season, the gleaning crew has harvested over 1,000 lbs of vegetables that would have gone to waste in our fields.

We also partner with Boston Area Gleaners, a large nonprofit dedicated to gleaning and distributing produce. Every year, before the first frost, we call upon them to glean vegetables from our farm. These vegetables are surplus - over and above what we distribute in the CSA and sell in the farm store. Some are of second quality. This year, BAG has gleaned our chard, eggplant, and tomatoes for a total of 273 lbs of produce. After the gleaners pass through a field, we deem it finished for the season and stop harvesting from it.

As a farm crew, we are committed to harvesting as much as possible from the fields and to getting it to you. Conversely, the next time you see a blemished tomato or a holey piece of kale, know that they have met our robust quality standards. The vegetables and fruits remaining in the field did not, they will decompose and feed the life in the soil. We take great pride in growing and delivering certified-organic, healthy and tasty produce, to our community.

-Miranda
Last Week of the Mushroom CSA

This is the last week of the Mushroom CSA. Please fill out this survey if you were a Mushroom CSA customer earlier in the season or now. Stay tuned for more mushroom CSA's down the road! Thanks for a fung-tastic season!
Donations for Learning Garden!
We are seeking the following items for our youth programs, and would love to get them used!
Plastic wash tubs

woven baskets

children's gardening gloves

Child-sized wheelbarrow

Step stool (for access to tall places)
If you have items to donate please reach out to Rachel at education@lexfarm.org to coordinate a drop off or pick up.
Silk Fields Farm Seeking Volunteer

Silk Fields is looking for a new volunteer. We have a great group of people who help us care for our animals, but we would like to add one additional person who is willing to be responsible for 1 or 2 days a week. Responsibilities include coming to the farm in the morning and evening and doing about 20 minutes of chores to feed/care for the animals. Timing is flexible and we cover for each other for vacations. No experience needed!

Please reach out to Kim if you are interested. Children/teens are welcome to help but only as a guest of a responsible adult volunteer.

kim@silkfields.com, 617-285-5201


Visiting the Farm
The community is always welcome to walk around our farm between dawn and dusk. Our fields connect Lowell Street to Silk Fields Farm, the Arlington Reservoir walking path, and the ACROSS Lexington D path. Many birds overwinter on our farm, and a list of recent species spotted can be found here. Come visit!

A few farm guidelines -- Please stay on farm roads and respect the farm rules, listed on our info kiosk. Refrain from touching the crops or equipment. Please do not visit the farm if you are not feeling well. Unfortunately we cannot allow dogs on the farm, so it's best to leave your four-legged friends at home.
Contact Us
For general inquiries about the organization and the farm, email info@lexfarm.org.
For the CSA, email csa@lexfarm.org.
For the farm store, email farmstand@lexfarm.org.
For education classes, email education@lexfarm.org.
For volunteering, email volunteer@lexfarm.org.

Please know we do our best to respond in a timely fashion, but are in the fields more than we are at our computers and sometimes our response time is delayed.