The CCEH Corner
CCEH CORNER February 14, 2021
Your donations enable CCEH and the Homeless Resource Center to provide the basic necessities to those who are homeless as they also work to end homelessness in the Concord area. Thank you Wesley!

BLESSING BAGS
Imagine what it might be like to be newly homeless. You wake up on the street with nothing but the clothes on your back. You can't brush your teeth because you have no toothbrush or toothpaste. You can't wash up because you have no soap, razor or deodorant. Now imagine what a blessing it would be if someone gave those items to you…no questions or expectations, just gave you back a bit of dignity and a feeling of being cared for and cared about. That is what a BLESSING BAG is. It is something as simple as a gallon-size Ziploc bag filled with the necessities. During Lent, you are invited to fill one or more Blessing Bags, and as you place each item in the bag, pray for the homeless person who will receive it and offer a prayer of thanks that you do not face the insecurities of being homeless. Perhaps you might want to consider placing one item in the bag each day of Lent as your sacrifice/offering. You may want to begin collecting INDIVIDUAL/TRAVEL SIZE of some or all of these items now: shampoo, conditioner, comb, toothbrush, toothpaste, deodorant, body wash, body wipes (like baby wipes), disposable razor, Chapstick, foot powder, bandaids, Q-tips, tissues, toe/hand warmers, breakfast bar, pack of peanut butter crackers. Your contributions do make a big difference in the lives of those who are homeless. Thank you.

12TH ANNUAL SOUPERFEST (March 20, 2021) Souperfest is an annual event to raise funds to achieve CCEH's vision of Concord as a place where everyone has a safe, decent and affordable place to live. How can Wesley help? We can help sponsor Souperfest. There are several levels of sponsorship: Bronze $250; Silver $500; Platinum $1,000, Gold $2,500 and Paladium $5,000. Which will Wesley be?? Send your donations to Wesley UMC and indicate in the memo line of your check that it is for "Souperfest." If you contribute using PayPal, please send an email to Treasurerwumcconcord@gmail.com indicating the amount and that it is for Souperfest. This year Souperfest will be different than in past years due to the pandemic. This year eight of Concord's finest eateries are preparing their most popular soup for folks to purchase for take-out. You can pre-order some delicious soup to enjoy yourself and then pick it up on March 20 between 3:00-5:30 PM at White Park, 1 White St., Concord. For more information and to pre- order your soup, SouperFest 2021 – Concord Coalition to End Homelessness. Soup tickets will be limited and must be purchased in advance.
A Special thank you from Jane Broadrick:

Our Wesley family donated $1100 at Christmas to support an opportunity for the students to take an all-day trip to Adventurelore in Greenland, NH. Our generous donations of single serving food items on Fifth Sundays are greeted with great appreciation. For many of the teens, due to adverse family situations, this provides the only meal they will have all day. The staff is eager to give the students a chance to give back and have brought them to Wesley on several occasions to do yard work and other jobs with which we needed help.

Read their thank you letter at this link.

---
We are recruiting performers of all types to participate in our 2nd Annual Talent Show. Individuals interested in competing should visit our website to view the contest rules and apply to perform. Deadline for submitting is April 1st. The Talent Show Fundraiser will be held May 1st at the Bank of NH Stage on Main Street in Concord, NH. This is your chance to be a STAR!
---
We received a request for
assistance moving a senior citizen from Penacook to Franklin. This individual uses a walker/cane and has some furniture and personal Items to move. Please contact Anne in the office by sending an email. Thank you.
---
Abbot-Downing February Ingathering Sunday 28, between 1 and 2:30pm in Wesley's Parking lot:
The A-D Team is collecting pencils, erasers, dry erase markers, permanent markers, crayons, colored pencils, markers, tape, glue sticks, two-pocket folders, lined paper, soft tissues, cleaning wipes and hypo-allergenic wipes.

Principal Anthony Blinn and the A-D PTO are working on addressing a need arising from the pandemic: document cameras (see above photo). They can be used to project lessons into the interactive white board to share student writing, drawing for Art, math manipulatives, highlighting in a book to reference for comprehension. Twenty cameras are needed for the whole school. Each document camera costs approximately $200 and any amount contributed by Wesley and identified for this purchase is welcomed.
Our A-D Team says "Thanks for your past generosity" and we hope to see you on Sunday Feb. 28 in Wesley's parking lot.
---
Spiritual Formation and Education


Monday Morning Quarterback Bible Study



Weekly questions from Pastor Cheryl to continue studying the scripture from the worship service at home.



This is Transfiguration Sunday. Read Mark 9:2-9, the story of Jesus' transfiguration.

1. Imagine how it felt to be on the mountaintop with Jesus. Have you ever had a mountaintop experience where you experienced the nature of Jesus as God?



2. When Peter, James and John saw Elijah and Moses they wanted to make dwellings to honor them and Jesus. Are there monuments to great religious figures in your home or our church? What purpose do they serve?


3. God said, "This is my Son, the Beloved; listen to him!" Think about how this compares to God's words at Jesus' baptism, in Mark 1:11, "You are my Son, the Beloved; with you I am well pleased." Notice that the first is addressed to Jesus and the second, to the disciples, "Listen to him!" Jesus is the revelation of God. How does God reveal God's self to this generation?
Ms.
Christina's Corner
Director of Children and Youth Ministries
Sunday School Zoom at 10:00 am each week
Join Zoom Meeting at this link
Meeting ID: 726 9853 8230
Passcode: Sunday
Youth Zoom at 1:00 pm each Sunday
Join Zoom Meeting at this link
Meeting ID: 736 0199 3984
Passcode: Youth

Save the date! Friday, February 26th, 2021 6:00pm! Our first "Messy Church" is coming to WUMC! Check out this website to see what it's all about! This will be a fun, once-a-month, family fun, fellowship building time for our church and greater Concord community! Meet us on Facebook and YouTube and have some Friday night family fun! Invite and share with your friends, this is for ALL ages! You'll need these materials ready ahead of time:
Baking sheet
Foil
Olive oil
Salt/pepper
1 Zucchini
Sauce
Cheese (mozzarella/parmesan)
Oregano/Italian seasoning
Favorite pizza toppings!
Youth: Next Sunday Feb. 14th, during our regular Sunday School time, we will be discussing fundraising and mission work for this summer, please attend!

Children: Be ready to start your fun Lent activity that you got in the mail on Wed. Feb. 17th (Ash Wednesday)! We'll talk more about this during children's time and Sunday School!

Any volunteers for sending in an acolyte recording or reciting the Lord's Prayer? Let us know!
Adult Sunday School Studies A
cts of the Apostles
Newcomers welcome! At 9 a.m. Sunday mornings. No outside reading is required. We will read Acts in class, with discussions guided and informed by the background study of teacher Byron Champlin. If you would like to participate in the study, phone him at 228-0097.
Join Zoom at this link.
Meeting ID: 863 3723 2049 Password: 003935 Phone: 1-646-558-8656

Mike Ard (Baha'i) and Dori Bongiovanni (Buddhist), President of GCIC are facilitating a biweekly interfaith discussion on the 1st and 3rd Monday of each month beginning Monday, February 1st from 7:00-8:00pm. You are welcome to bring a prayer or reading from your faith tradition to share. The first 40 minutes will be sharing and the last 20 minutes for questions about each other's traditions and discussion. Join at this recurring Zoom link

The Greater Concord Interfaith Council also plans to offer it's annual Lenten Luncheons virtually this year. Stay tuned for details.
Virtual Choir Rehearsals



All are invited

to attend Thursdays at 7:15 pm. We meet via Zoom at this recurring link each week: Meeting ID: 779 7127 5619 Passcode: 9M6QX9

.
Lunar New Year 2/12/21, Year of the Ox
Lunar New Year, also known as The Annual Migration Home, is the most traveled holiday of the year. Those who celebrate Lunar New Year go home or to visit relatives. This is a wonderful tradition that can be adapted using video chats or a simple phone call to a loved one.
---
Vegetable Chow Mein and Crispy Tofu

3 garlic cloves, finely chopped,1 shallot, thinly sliced,1 carrot, cut into thin strips, 1 red pepper, cut into thin strips, 1/2 white cabbage, shredded, 1/2 head broccoli, cut into small florets, 1.5 cups bean sprouts, chow mein noodles, 4 spring onions, for the complete recipe and instructions click here. And for a healthy crispy tofu click here.
---
This Week's Prayer and Scripture



Mark 9:2-9


The Transfiguration


Six days later, Jesus took with him Peter and James and John, and led them up a high mountain apart, by themselves. And he was transfigured before them, and his clothes became dazzling white, such as no one on earth could bleach them. And there appeared to them Elijah with Moses, who were talking with Jesus. Then Peter said to Jesus, 'Rabbi, it is good for us to be here; let us make three dwellings, one for you, one for Moses, and one for Elijah.' He did not know what to say, for they were terrified. Then a cloud overshadowed them, and from the cloud there came a voice, 'This is my Son, the Beloved; listen to him!' Suddenly when they looked around, they saw no one with them any more, but only Jesus.


As they were coming down the mountain, he ordered them to tell no one about what they had seen, until after the Son of Man had risen from the dead.
Prayer of the Day
by Thom Shuman
Glory of all creation:
as the sun nudges us
out of bed each morning,
so you gently lift the veil
of doubts and fears from our hearts
that we might see your joy.
At the setting of the sun,
you do not leave us alone,
but you sit with us
through the night,
sharing stories of hope.
And we do not lose heart.

Joyous Face of God:
on the peaks of promise,
we discover your grace,
sparkling with gentle delight
as it comes to rest
within our weary lives.
In the valleys of despair,
as we trudge long,
our burdens dragging behind us,
we turn to discover you
putting them on your shoulders,
the gentleness of your compassion
lighting the way to the kingdom.
And we do not lose heart.

Listening Spirit:
in the hard times
which life may offer,
you are there with us,
hearing not only our struggles,
but the hopes singing
silently in our souls.
In the barren seasons
through which we may walk,
we find you ahead of us,
planting the seeds of joy
which will once more blossom
in the springtime of God's love.
And we do not lose heart.
Granite District Pre-Lenten Gathering (Virtual)
February 10, 2021 - 6:30 - 8:00 pm
Guest Speaker - Rev. Arun Andrews, Senior Pastor, Trinity UMC New Cumberland, PA - Topic - Feeling the Pulse, Sharing the Pain: Ministering to those who are hurting
All clergy and laity are invited to join in a special time designed to help you center and prepare for the Lenten season. Please join with the following link:
Join Zoom Meeting at this link.
Lay Servant Ministries

Course Planning

The Granite District Lay Servant Ministry team is planning a Basic Course and Advanced Course(s) that will be offered virtually before spring, 2021.
Read more here.
Equalization Members Needed for Annual Conference
The format of this year's annual conference (whether in person or virtual) is not yet certain, but what is certain is that the dates are June 10-12, 2021, and we will need some lay people to serve as District Equalization Members.

If you are interested in being an equalization member please contact Phyllis in the District Office to be added to the list for consideration.
---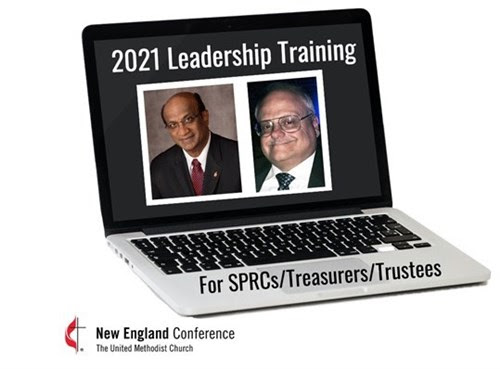 NEAC Church Leadership Training
For: Church Treasurers, and Church Trustees
The New England Conference is offering online leadership training for Church Treasurers, and Church Trustees. Presenters are Conference Treasurer/Director of Administrative Services, John Cardillo (Treasurers and Trustees Workshops). You will have the opportunity to ask questions and join a breakout discussion for your district. The workshops, which will be offered via Zoom, are scheduled for 6:30-8 p.m. on:
Church Trustees »»» February 24, 2021
Click the date above to get more information and the Zoom link.
---
2021 Pilgrimage to Taizé is still on; sign up today
All youth and young adults between the ages of 16 and 30 are invited to join a life-changing pilgrimage to Taizé, France, a place which is filled with deep Christian spirituality and broad ecumenism. This week-long experience will be led by Bishop Sudarshana Devadhar. The 2021 pilgrimage is July 23 to Aug. 2.
COVID-19 Note: We are continuing to accept registrations in anticipation of being allowed to travel this summer. If travel restrictions are not lifted or we determine it would not be safe and have to cancel the pilgrimage, registrants will be notified and receive a full refund.
Registration deadline has been extended to Feb. 15.
Learn more and register today

PLEASE NOTE: WESLEY HAS A LARGE SCHOLARSHIP AVAILABLE TO ASSIST YOUTH OR YOUNG ADULTS INTERESTED IN GOING ON THIS LIFE-CHANGING TRIP! Contact Pastor Cheryl for details.
Pastor Cheryl

is available by phone, Zoom, Facebook messenger, text or email for

pastoral support or to discuss church business. Set a time by emailing her at this link or by calling the church phone 224-7413 which is monitored remotely by our Administrative Assistant, Anne Roberts. If you or someone who you know that needs help would like to apply for assistance from the Pastor's Discretionary fund you can initiate the process by filling out the application at this link. If you know of someone who would like to receive a print version of the eWeekly please let us know by calling 224-7413 or emailing the office.
---
If you'd like to join other
Prayer Messenger
s
please contact coordinator, Norma Kane to volunteer. You may also forward your prayer requests directly to our
prayer chain
coordinator, Laura Fry.
---
AMAZON SMILE
Get 0.5% for Wesley. If you shop on Amazon, please consider naming Wesley UMC as your designated Smile charity. AmazonSmile will donate 0.5% of the purchase price of eligible items purchased. Use this

link

to select Wesley UMC-Concord NH. Detailed instructions are available here. As always you are invited to support Wesley directly by mailing your gift to 79 Clinton Street, Concord NH 03301 or electronically at Concord WUMC.org/donate.