The CCEH Corner
1/15/21
Once again CCEH has been in the Concord Monitor showing the new apartments and one of the tenants as she saw her home for the first time. She was completely overwhelmed to have her own bed and her own space. It feels so rewarding to be part of this amazing coalition as they give people a new sense of self. We continue to request suggested items for this month:

Batteries of any size for flashlights or headlamps and other portable
electronics ie: AA, AAA D, C, 9V
Individual packs of tissues
Halls cough drops/sore throat lozenges
Cans of Ground Coffee, Light or Medium Roast

Wondering about the cans of ground coffee for homeless folks? Many people come by the Daytime Resource Center to take a shower, make phone calls, pick up items, or just to have a cup of hot coffee and relax in a warm place. And everyone knows how important a hot cup of coffee can be in the morning. So now you understand the request for coffee. By everyone contributing small amounts each week, we will have made someone's life a little easier. Please don't feel you have to get one of each item. If you just add one thing to your grocery list each week, an individual pack of tissues or a package of C cell batteries, at the end of the week, we will have a nice donation from WUMC. And don't forget that you can drop off your donations anytime in the yellow bin outside the church doors by the parking lot.

Thanks everyone, and happy shopping.
---
January 31, 2021 1-2pm Wesley UMC Parking Lot

Fifth
Sunday Food Collection Ingathering
Second Start's Alternative High School students


Fill the Broadricks' car with food items that can be heated with a microwave if necessary.
(Breakfast Bars, Ramen Noodles, Individual Mac & Cheese, Soups, Peanut Butter Crackers,
Canned Fruit, Pop Tarts, Any single serving food item is appreciated!)

Second Start Alternative High School mission and approach:
Second Start Alternative High School provides students, who face various academic and emotional challenges, with a smaller, more individualized, supportive setting. Many of our students have not had success as a result of obstacles that are not of their own doing. Second Start supports students in overcoming these obstacles, through a focus on William Glasser's Choice Theory, The Change Model (Awareness, Thinking, Planning, Action, Maintain) and what we call The Five Skills (Listen, Control Behavior, Contribute Effectively, Tolerate Feedback, Accept Responsibility). It's our belief that this focus helps students breakthrough barriers, build-esteem, and competency, and gain critical life skills.

In addition to intensive, individualized academic support Second Start students also receive, counseling, life skills, and job skills coaching, internship placements, and transition planning for life after Second Start. Perhaps above all of this, what Second Start students receive is time, patience, understanding, and a bit of tough love from caring, experienced, and skilled professionals.
---
Monday, January 18, 2021 at 7:00 PM EST

Fifty years after the assassination of Dr. Martin Luther King Jr., his final campaign, the Poor People's Campaign was relaunched under the leadership of Dr. William Barber and Dr. Elizabeth Theoharis.

On Martin Luther King day 2021, please join the NH Co-Chairs of the NH Poor People's Campaign, Rev. Jason Wells and Deborah Opramolla, for a NH Peace Action Peace and Justice Conversation on how the Poor People's Campaign is working to challenge Racism, Militarism, Environmental Devastation, and Poverty today.

Event link, here
---
Martin Luther King Day Program: Becoming a Beloved Community

The Beloved Community is a vision that Dr. Martin Luther King Jr. popularized during the Civil Rights Movement. King's Beloved Community is a society based on justice, equal opportunity, and loving our neighbor as we love ourselves.

On this Martin Luther King Jr. Day, poets use Michelangelo Lovelace's painting My Home Town (1998) as a departure point to explore King's Beloved Community. At first this painting may appear to be about racial divide, the figures that come together in the center of the picture suggest an optimistic and hopeful perspective.

The program includes:
- Opening remarks by Reverend Dr. Jawanza Colvin
- Pastor, Olivet Institutional Baptist Church, museum trustee and inaugural chair of the museum's Diversity and Inclusion Committee
- Original poems recited by Cuyahoga County poet laureate Honey Bell-Bey and acclaimed poet Orlando Watson
- Closing moderated discussion


Monday, January 18, 2021 at 6:00 PM EST
Hosted by The Cleveland Museum of Art
at this link


---
Please share this on your Social Media:

The NH Food Bank will bring a truckload of food to distribute to families and individuals. This is a drive thru event. All items will be distributed to you in your vehicles. The NH Food Bank will have Mobile Food Pantries at the following times and locations during January.
| | | | | | |
| --- | --- | --- | --- | --- | --- |
| 1/19/2021 | Tue | 11am-2pm | Claremont | Runnings | 403 Washington St. |
| 1/21/2021 | Thu | 11am-2pm | Littleton | Hitchiner Building | 24 Beacon Street |
| 1/22/2021 | Fri | 10am-1pm | Manchester | Comcast | 676 Island Pond Rd. |
| 1/28/2021 | Thu | 11am-2pm | Conway | Ham Ice Arena | 87 W. Main St. |

If you or someone you know would be interested in volunteering please email Ashley Moulton.
Spiritual Formation and Education
Monday Morning Quarterback
Bible study questions
from Pastor Cheryl this week
to continue studying the scripture from this week's service at home.

Read
1 Corinthians 6:12-20
at this link,
1. 1 Corinthians 6:12 says, 'All things are lawful for me', but not all things are beneficial.' We've relied on this verse and others, as well as prevailing wisdom in our decision to worship and conduct the business of the church remotely during the COVID pandemic. Some of the more conservative churches in our state lobbied to allow
churches to meet in person so it is legal, but we know that we are people who love to sing and hug and those are dangerous COVID activities so it is not beneficial to meet. What do you think God is doing in this situation?
2. Legal conduct is not necessarily ethical conduct – American Supreme Court Justice Potter Stewart put it aptly when he said, "Ethics is knowing the difference between what you have a right to do and what is right to do." This statement which bears a similar statement to the one in scripture above speaks to ethics. Can you think of a time when you were tempted to do something that was legal but not ethical. What was the spiritual significance of your ultimate choice?
3. Verses 19 and 20 read, "Do you not know that your body is a temple of the Holy Spirit within you, which you have from God, and that you are not your own? For you were bought with a price; therefore glorify God in your body." How do you live this truth that your body is a temple? How do you glorify God in your body?
Ms.
Christina's Corner
Director of Children and Youth Ministries
Sunday School Zoom at 10:00 am each week
Join Zoom Meeting at this link
Meeting ID: 726 9853 8230
Passcode: Sunday
Youth Zoom at 1:00 pm each Sunday
Join Zoom Meeting at this link
Meeting ID: 736 0199 3984
Passcode: Youth
Adult Sunday School Studies A
cts of the Apostles
Newcomers welcome! At 9 a.m. Sunday mornings. No outside reading is required. We will read Acts in class, with discussions guided and informed by the background study of teacher Byron Champlin. If you would like to participate in the study, phone him at 228-0097.
Join Zoom at this link.
Meeting ID: 863 3723 2049 Password: 003935 Phone: 1-646-558-8656
The staff would like to share their gratitude for the staff gift organized by SPRC.



Dear Wesley, thank you for the staff Christmas gift. I believe in all the good Wesley folks do and I am proud to be a part of the Wesley church family. Peace to you always, Deborah





"Thank you so much, Wesley family, for your incredibly generous gift to the staff. this year... It means a great deal to be appreciated by such wonderful people!"




Christina Catino





"Thank you Wesley, for your generous gift from your family to our families. It means so much! -Anne Roberts
Virtual Choir Rehearsals



All are invited

to attend Thursdays at 7:15 pm. We meet via Zoom at this recurring link each week: Meeting ID: 779 7127 5619 Passcode: 9M6QX9

.
The Rail Trail
The Concord – Lake Sunapee Rail Trail is a long term vision to build a scenic, family-friendly bike and walking trail to connect the communities along the historic Concord-Claremont Railroad line, from Concord NH to the southern tip of Lake Sunapee. The old railroad line passes through the towns of Concord, Hopkinton, Warner, Sutton, Bradford and Newbury. Several portions of the trail are usable today, and local friends of the trail are working together to build the rest. To learn more click here.
---
Healthy Mac and Cheese Recipe: In a large pot of salted water, cook the pasta and broccoli together, according to package directions for al dente. Spray a baking dish with cooking spray, and set aside. Preheat oven to 375 F. In a large. heavy skillet, melt the buttery spread, then add the onion and cook over low heat for 2 minutes. For the recipe and full instructions click here
---
This Week's Prayer and Scripture
1 Corinthians 6:12-20
Glorify God in Body and Spirit
'All things are lawful for me', but not all things are beneficial. 'All things are lawful for me', but I will not be dominated by anything. 'Food is meant for the stomach and the stomach for food', and God will destroy both one and the other. The body is meant not for fornication but for the Lord, and the Lord for the body. And God raised the Lord and will also raise us by his power. Do you not know that your bodies are members of Christ? Should I therefore take the members of Christ and make them members of a prostitute? Never! Do you not know that whoever is united to a prostitute becomes one body with her? For it is said, 'The two shall be one flesh.' But anyone united to the Lord becomes one spirit with him. Shun fornication! Every sin that a person commits is outside the body; but the fornicator sins against the body itself. Or do you not know that your body is a temple of the Holy Spirit within you, which you have from God, and that you are not your own? For you were bought with a price; therefore glorify God in your body.
This week's Prayer:


Lord God, You led your chosen people from slavery in Egypt to the freedom of the Promised Land.

We ask you to lead us at Wesley from any enslavement to hatred, ignorance, fear, racism, injustice or anything else that prevents us from being the community of love and respect that you want us to be.

We remember with gratitude today the witness of Dr. Martin Luther King Jr., and we ask that we have the courage and determination to follow his example in battling injustice and living the Gospel of love.

Help us, Lord, to make ever more the community you want us to be.

Grant all this through Christ our Lord,

Amen


Conference and District News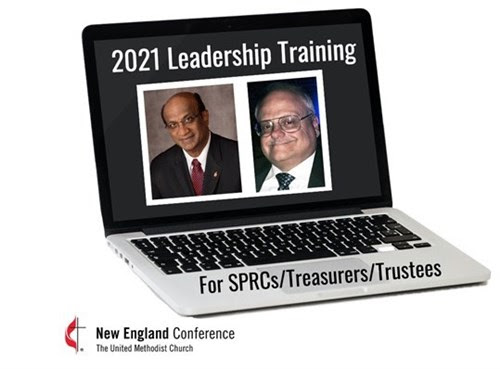 NEAC Church Leadership Training
For: Staff Parish Relations Committees, Church Treasurers, and Church Trustees
The New England Conference is offering online leadership training for SPRC Teams, Church Treasurers, and Church Trustees. Presenters are Bishop Sudarshana Devadhar (SPRC Workshop) and Conference Treasurer/Director of Administrative Services, John Cardillo (Treasurers and Trustees Workshops). You will have the opportunity to ask questions and join a breakout discussion for your district. The workshops, which will be offered via Zoom, are scheduled for 6:30-8 p.m. on:
SPRC Teams »»» January 20, 2021
Church Treasurers »»» February 3, 2021
Church Trustees »»» February 24, 2021
Click the date above to get more information and the Zoom link.
Pastor Cheryl

is available by phone, Zoom, Facebook messenger, text or email for

pastoral support or to discuss church business. Set a time by emailing her at this link or by calling the church phone 224-7413 which is monitored remotely by our Administrative Assistant, Anne Roberts. If you or someone who you know that needs help would like to apply for assistance from the Pastor's Discretionary fund you can initiate the process by filling out the application at this link. If you know of someone who would like to receive a print version of the eWeekly please let us know by calling 224-7413 or emailing the office.
---
If you'd like to join other
Prayer Messenger
s
please contact coordinator, Norma Kane to volunteer. You may also forward your prayer requests directly to our
prayer chain
coordinator, Laura Fry.
---
AMAZON SMILE
Get 0.5% for Wesley. If you shop on Amazon, please consider naming Wesley UMC as your designated Smile charity. AmazonSmile will donate 0.5% of the purchase price of eligible items purchased. Use this

link

to select Wesley UMC-Concord NH. Detailed instructions are available here. As always you are invited to support Wesley directly by mailing your gift to 79 Clinton Street, Concord NH 03301 or electronically at Concord WUMC.org/donate.