The CCEH Corner
CCEH Corner Jan. 22, 2021

CCEH is well known for its mission of offering homeless guests a place to spend the night during the cold weather. But they do much more then that. Let me introduce you to their Resource Center. The Resource Center has been opened since 2008. It offers a place during the day to gather and connect with resources that are available.

It is open Monday through Friday from 9AM to 1PM.It starts each guest with a cup of coffee, perhaps a hot shower, laundry facilities, access to a phone or stations to accommodate charging your phone. It also provides guests with a mailing address. This is definitely a necessity if you are homeless. There are also computers and fax machines if needed. The Center offers a nice place to connect with perhaps a case worker or a friendly volunteer. Workers are there to help with other services that are needed if you have no permanent residence. Accessing benefits can be a complicated discouraging process as you may know if you've ever had the pleasure of interacting with the government. Assistance is offered in applying for Medicaid, VA, SNAP or other benefits. Guests may need help with obtaining a state ID, Social Security or a birth certificate. The Resource Center offers in-house services also. Once a month medical evaluations and basic primary care is offered. The VA comes twice a month to offer services for veterans. Riverbend Community Mental Health comes twice a week to connect with guests who may need mental health services. And a barber also gives free haircuts once a month. In looking ahead to a time when the Covid Virus is in our rear view mirror, the Resource Center offers many opportunities for volunteers.

Thank you to everyone who contributed to our yellow collections bin this week, outside our church entry doors. Once again we'll remind you of our wish list for donations this month.
Batteries of any size AA, AAA, D, C, 9V
Individual packs of tissues
Halls cough drops/sore throat lozenges
Cans of Ground Coffee Light or Medium Roast

Happy Shopping and Sharing as you shop.
---
January 31, 2021 1-2pm Wesley UMC Parking Lot

Fifth
Sunday Food Collection
Second Start's Alternative High School



Fill the Broadricks' car with food items that can be heated with a microwave if necessary.(Breakfast Bars, Ramen Noodles, Individual Mac & Cheese, Soups, Peanut Butter Crackers, Canned Fruit, Pop Tarts, Any single serving food item is appreciated!)

Second Start Alternative High School mission and approach:
Second Start Alternative High School provides students, who face various academic and emotional challenges, with a smaller, more individualized, supportive setting. Many of our students have not had success as a result of obstacles that are not of their own doing. Second Start supports students in overcoming these obstacles, through a focus on William Glasser's Choice Theory, The Change Model (Awareness, Thinking, Planning, Action, Maintain) and what we call The Five Skills (Listen, Control Behavior, Contribute Effectively, Tolerate Feedback, Accept Responsibility). It's our belief that this focus helps students breakthrough barriers, build-esteem, and competency, and gain critical life skills.

In addition to intensive, individualized academic support Second Start students also receive, counseling, life skills, and job skills coaching, internship placements, and transition planning for life after Second Start. Perhaps above all of this, what Second Start students receive is time, patience, understanding, and a bit of tough love from caring, experienced, and skilled professionals.

Use this link to determine your eligibility for each phase of the Covid 19 vaccine roll-out.
---
Concord Regional VNA is partnering with the Alzheimer's Association to offer an online dementia education series. Each program will take place on the first Tuesday of each month from 10 - 11 AM.

Effective Communication Strategies
Tuesday, February 2
Understanding and Responding to Dementia-Related Behaviors
Tuesday, March 2
Safety and Memory Challenges
Tuesday, April 6

Programs are being offered at no charge and participants can choose which programs they would like to attend -- there is no requirement to attend all three.


Happy to answer questions please email Jennifer here or visit the website.


---
Peace & Justice Conversations: Why Work With Youth?
Join us with NH Youth Movement co-founder and former board member of NH Peace Action Griffin Sinclaire-Wingate as he talks about his work to harness the energy of young people to create political change.

Throughout his 26 years Griffin has worked in a variety of movements and issue areas. In highschool he became involved in the anti-war movement through New Hampshire Peace Action. Upon starting college at the University of New Hampshire Griffin reignited the fossil fuel divestment campaign. As the 2016 presidential primary revved up Griffin shifted his work from targeting campus administration to targeting politicians. Still focused on the need to build progressive political power Griffin started laying the groundwork for a youth lead movement that would leverage the political power of young people to elect lawmakers who will fight for a livable future with good jobs, health, and education for all. In the fall of 2017 Griffin launched New Hampshire Youth Movement with a group of his college organizing friends. He currently serves as a Co-Director of New Hampshire Youth Movement. Outside of organizing Griffin makes pottery at a local studio in Rochester and enjoys writing music.

Get the event link here.
---
Sabeel Wave of Prayer
14.1.21
Provided by, Gail Page

On Friday, the 1st of January, hundreds of Palestinians gathered for a peaceful protest in Deir Jarir, northeast of Ramallah. They were objecting to the Israeli settlement expansion which threatens large tracts of Palestinian land near their village. The Israeli military used rubber-coated steel bullets and tear gas to disperse the demonstrators and one Palestinian sustained a head wound. On the same day, Palestinian herdsmen were attacked by Israeli settlers in the Masafer Yatta area, in the district of Hebron. The illegal settlers attacked the herders and their sheep with clubs and stones and barred their way to the grazing pasture.

• Lord, we pray for an end to the illegal Israeli settlement expansion in the occupied Palestinian Territories. We pray for a cessation of the violence from the Israeli military against Palestinian protesters. Lord, in your mercy...hear our prayers.

Palestinian residents of the village of Kafr Qaddum, near the city of Qalqilia, face daily attacks from Israeli settlers. On the 1st of January, 18 villagers were injured when the Israeli army used bullets and tear gas to disperse their protest against Israeli settlement expansion.

• Lord, we pray for all Palestinians as they continue to protest against the theft of their land for Israeli settlements. Lord, you are 'a stronghold for the oppressed, a stronghold in times of trouble', (Ps.9:9). You promise, Lord that ,'the needy shall not always be forgotten and the hope of the poor shall not perish forever.'( Ps.9:18). Lord, in your mercy...hear our prayers.

Haroun Abu Aram, a young Palestinian was shot in the neck by an Israeli soldier in the village of al Tuwanah in the Hebron district, on the 1st of January. His injury has left him paralyzed from the neck down. He was helping some other villagers to prevent Israeli soldiers from taking their electric generator, as the army carried out another home demolition.

• Lord, we pray for Haroun and his family as they face his devastating injury. We pray for the residents in his village who have had their homes demolished at this time of pandemic and impoverishment. Lord, in your mercy...hear our prayers.

Please read more here
---
Spiritual Formation and Education
Monday Morning Quarterback
Bible study questions
from Pastor Cheryl this week
to continue studying the scripture from this week's service at home.

Read
Jonah 3:1-5, 10
at this link,
1. 1 Corinthians 6:12 says, 'All things are lawful for me', but not all things are beneficial.' We've relied on this verse and others, as well as prevailing wisdom in our decision to worship and conduct the business of the church remotely during the COVID pandemic. Some of the more conservative churches in our state lobbied to allow
churches to meet in person so it is legal, but we know that we are people who love to sing and hug and those are dangerous COVID activities so it is not beneficial to meet. What do you think God is doing in this situation?
2. Legal conduct is not necessarily ethical conduct – American Supreme Court Justice Potter Stewart put it aptly when he said, "Ethics is knowing the difference between what you have a right to do and what is right to do." This statement which bears a similar statement to the one in scripture above speaks to ethics. Can you think of a time when you were tempted to do something that was legal but not ethical. What was the spiritual significance of your ultimate choice?
3. Verses 19 and 20 read, "Do you not know that your body is a temple of the Holy Spirit within you, which you have from God, and that you are not your own? For you were bought with a price; therefore glorify God in your body." How do you live this truth that your body is a temple? How do you glorify God in your body?
Ms.
Christina's Corner
Director of Children and Youth Ministries
Sunday School Zoom at 10:00 am each week
Join Zoom Meeting at this link
Meeting ID: 726 9853 8230
Passcode: Sunday
Youth Zoom at 1:00 pm each Sunday
Join Zoom Meeting at this link
Meeting ID: 736 0199 3984
Passcode: Youth

Save the date! Friday, February 26th, 2021 6:00pm! Our first "Messy Church" is coming to WUMC! Check out this website to see what it's all about! This will be a fun, once-a-month, family fun, fellowship building time for our church and greater Concord community! Meet us on Facebook and YouTube (with materials from a list that will be provided!) and have some Friday night family fun! Invite and share with your friends, this is for ALL ages!

In children's Sunday school, we have been having great fun remembering our baptism and learning to listen for God calling our name with activities like creating a dove and making an acrostic poem! For the youth we've been sharing in thoughts of the week to help our youth think more deeply about their faith experience and how they live it each and every day, particularly these past few weeks, with how they answer their personal call and share God's message! We've got AMAZING children and youth!
Adult Sunday School Studies A
cts of the Apostles
Newcomers welcome! At 9 a.m. Sunday mornings. No outside reading is required. We will read Acts in class, with discussions guided and informed by the background study of teacher Byron Champlin. If you would like to participate in the study, phone him at 228-0097.
Join Zoom at this link.
Meeting ID: 863 3723 2049 Password: 003935 Phone: 1-646-558-8656
Virtual Choir Rehearsals



All are invited

to attend Thursdays at 7:15 pm. We meet via Zoom at this recurring link each week: Meeting ID: 779 7127 5619 Passcode: 9M6QX9

.
Looking for musical instruments and equipment?
Piano
Ken Gallager has a brown Whitney upright piano for sale, the piano in good condition, at least 30 years old, height: 37 inches, length: 57 inches, and 25 inches deep. Please Contact Ken here or by phone (603) 573-1003.
Musical or Theatrical Stage
The family who owned this stage have many wonderful memories and want others to do the same.
The dimensions are: 8 ft wide, 4 ft deep, 6 ft 11 inches tall. Please contact Christina Catino here if you are interested and would like more information.
Family Dance Party
Who can make up the best dance routine? Who will win the dancing Simon Says? Who has the best dance facial expressions? Who can sing all the lyrics to a song?
---
Ratatouille
Recipe
:
3 tablespoons olive oil divided, 3 cloves garlic minced, ½ small onion chopped, ½ cup shredded carrot or diced red bell pepper 14 ounces crushed tomatoes, 1 teaspoon dried basil, ¼ teaspoon dried thyme leaves, 2 teaspoons dried parsley, 1 small eggplant sliced, 1 large zucchini sliced, 3 roma tomatoes sliced
For the complete recipe and instructions
click here
---
This Week's Prayer and Scripture
Jonah 3:1-5, 10
Conversion of Nineveh
The word of the Lord came to Jonah a second time, saying, 'Get up, go to Nineveh, that great city, and proclaim to it the message that I tell you.' So Jonah set out and went to Nineveh, according to the word of the Lord. Now Nineveh was an exceedingly large city, a three days' walk across. Jonah began to go into the city, going a day's walk. And he cried out, 'Forty days more, and Nineveh shall be overthrown!' And the people of Nineveh believed God; they proclaimed a fast, and everyone, great and small, put on sackcloth.
When God saw what they did, how they turned from their evil ways, God changed his mind about the calamity that he had said he would bring upon them; and he did not do it.
This week's Prayer:



God is the practice of radical imagination. She is the freedom to dream of abundance and flourishing. God is the practice of adaptability and change. She is the power to break patterns that destroy life and relationships. God is the practice of justice that transforms. She is the work that mends, that heals, that builds anew. We remember and rejoice. This is the God who dwells with us.
Among us and within us, God is here.

Amen


Conference and District News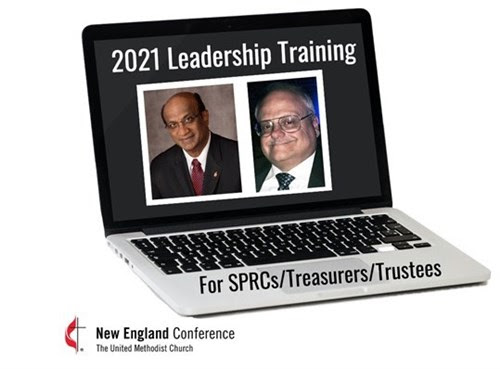 NEAC Church Leadership Training
For: Staff Parish Relations Committees, Church Treasurers, and Church Trustees
The New England Conference is offering online leadership training for SPRC Teams, Church Treasurers, and Church Trustees. Presenters are Bishop Sudarshana Devadhar (SPRC Workshop) and Conference Treasurer/Director of Administrative Services, John Cardillo (Treasurers and Trustees Workshops). You will have the opportunity to ask questions and join a breakout discussion for your district. The workshops, which will be offered via Zoom, are scheduled for 6:30-8 p.m. on:
Church Treasurers »»» February 3, 2021
Church Trustees »»» February 24, 2021
Click the date above to get more information and the Zoom link.
Pastor Cheryl

is available by phone, Zoom, Facebook messenger, text or email for

pastoral support or to discuss church business. Set a time by emailing her at this link or by calling the church phone 224-7413 which is monitored remotely by our Administrative Assistant, Anne Roberts. If you or someone who you know that needs help would like to apply for assistance from the Pastor's Discretionary fund you can initiate the process by filling out the application at this link. If you know of someone who would like to receive a print version of the eWeekly please let us know by calling 224-7413 or emailing the office.
---
If you'd like to join other
Prayer Messenger
s
please contact coordinator, Norma Kane to volunteer. You may also forward your prayer requests directly to our
prayer chain
coordinator, Laura Fry.
---
AMAZON SMILE
Get 0.5% for Wesley. If you shop on Amazon, please consider naming Wesley UMC as your designated Smile charity. AmazonSmile will donate 0.5% of the purchase price of eligible items purchased. Use this

link

to select Wesley UMC-Concord NH. Detailed instructions are available here. As always you are invited to support Wesley directly by mailing your gift to 79 Clinton Street, Concord NH 03301 or electronically at Concord WUMC.org/donate.