The CCEH Corner
CCEH CORNER February 7, 2021

Luke 3:11 John answered, "Anyone who has two shirts should share with the one who has none, and anyone who has food should do the same."

Thank you to all who have shared so generously with the Homeless Resource Center. Your donations are so appreciated and they help the CCEH meet the needs of those in the Concord area who are homeless. In the last week and a half you have donated 5 large containers of coffee, 9 packages of batteries in all sizes, 32 personal packs of tissues, 3 large bags of cough drops, 1 pair of warm winter gloves, freezer and sandwich bags, plastic utensils sets, Dunkin Donut gift card and cash. When we take these and other items to the Resource Center, they are so very appreciative of Wesley's help. Last year CCEH assisted 541 homeless individuals at the Resource Center and Emergency Shelter. Wesley is helping to make that possible with our donations. During the next couple months there are some ways Wesley can continue to help:

THIS WEEK'S NEEDS This week CCEH has a special need of HAND/FOOT WARMER PACKETS. Also, they always need $5 gift cards to Dunkin Donuts, McDonalds, etc., large containers of instant coffee, 8-oz hot/cold cups, toilet paper and paper towels. If you are able to donate any of these items, you can leave them in the yellow bin outside the main doors of WUMC. We check this bin a couple times a week, and Anne checks it on Fridays when she is in the office. Thank you for any items you are able to share with our homeless brothers and sisters.

BLESSING BAG – a BLESSING BAG is filled with individual/travel size toiletries. Watch for more information on Blessing Bags next week.

12 TH ANNUAL SOUPERFEST (March 20, 2021) Souperfest is an annual event to raise funds to achieve CCEH's vision of Concord as a place where everyone has a safe, decent and affordable place to live. This year Souperfest will be different than in past years due to the pandemic. This year eight of Concord's finest eateries are preparing their most popular soup for folks to purchase for take-out. How can Wesley help? We can help sponsor this event. There are several levels of sponsorship: Bronze $250; Silver $500; Platinum $1,000, Gold $2,500 and Paladium $5,000. Which will Wesley be?? Send your donations to Wesley UMC and indicate in the memo line of your check that it is for "Souperfest." If you contribute using PayPal, please email Dawn indicating the amount and that it is for Souperfest. And don't forget to pre-order some delicious soup to enjoy yourself and then pick it up on March 20 between 3:00-5:30 PM at White Park, 1 White St., Concord. For more information and to pre-order your soup, SouperFest 2021 – click here.
Soup tickets will be limited and must be purchased in advance.
Come shop at the Concord Food Co-op this month and support Family Promise! During the month of February, the Concord Food Co-op is sponsoring Family Promise as the recipient of their "Round it Up" Program. Customers have the opportunity to round up their purchases to the next dollar amount, with the proceeds benefiting Family Promise. Since April 2019, $74,729 has been raised for local nonprofits through the Round-it-Up at the Register Program. To watch a short video about the co-op program and Family Promise, click here.
---
Looking for something to do this Valentine's Day? Join GSOP (virtually) this Valentine's Day for a rousing night of trivia! Bring your date, or just bring yourself, and enjoy an evening of fun and community during the cold winter. There will be prizes, music, and fellowship! Admission is a suggested donation of $25, and all proceeds go directly toward GSOP programming like our minimum wage, environmental, and housing justice campaigns. Click here to register and pay a donation.
---
Please Share the NH Food Banks Mobile Food Pantries times and locations:
| | | | | | |
| --- | --- | --- | --- | --- | --- |
| 2/8/2021 | Mon | 11am-2pm | Laconia | Lakes Region Community College | 379 Belmont Rd. |
| 2/9/2021 | Tue | 11am-2pm | Keene | St Margaret Mary Catholic Church | 33 Arch Street |
| 2/11/2021 | Thu | 11am-2pm | Gorham | Chapman's | 459 Main Street |
| 2/16/2021 | Tue | 11am-2pm | Claremont | Runnings | 403 Washington St. |
| 2/17/2021 | Wed | 12pm-3pm | Gorham | Chapman's | 459 Main Street |
| 2/18/2021 | Thu | 11am-2pm | Littleton | Hitchiner Building | 24 Beacon Street |
| 2/19/2021 | Fri | 10am-1pm | Manchester | Comcast | 676 Island Pond Rd. |
| 2/25/2021 | Thu | 11am-2pm | Conway | Ham Ice Arena | 87 W. Main St. |
And if you are interested in volunteering please email Ashley Moulton.
---
Dance For My Mother

Sun, February 21, 2021 2:00 PM – 4:00 PM EST

A dancer moves through depression and finds her way back to her mother. Film includes stage reading of play and interview with expressive arts therapist. Live panel discussion follows film. This is a free event but registration is required.
Spiritual Formation and Education
Monday Morning Quarterback Bible Study
Weekly questions to continue studying the scripture from the worship service at home.
This week's questions are from Seminary Intern, Jen Savoy.

1. What do you see when you read Isaiah 40:21-31? What images of God do you have as you read about how out God is creator, sustainer and protector? What images come to mind as you read the last verse?

2. What challenges have made you weary this past year? How can you give those challenges to God this week?
Ms.
Christina's Corner
Director of Children and Youth Ministries
Sunday School Zoom at 10:00 am each week
Join Zoom Meeting at this link
Meeting ID: 726 9853 8230
Passcode: Sunday
Youth Zoom at 1:00 pm each Sunday
Join Zoom Meeting at this link
Meeting ID: 736 0199 3984
Passcode: Youth

Last week's Question-of-the-week: Do you like rules? Even if you don't, do you see the value and necessity in them? Consider the first time you played your favorite game... You probably read the rules, right? Without them, we'd just sit there not knowing what to do or make up rules that might not be the most fair or fun for all involved. Consider larger life rules like "rules of the road" for driving... If we didn't have those, YIKES! Finally, consider God's ultimate rulebook for life, the Bible, and where we would be without rules like the Golden Rule... It'd be chaos and mayhem! And we can trust in God's rules through Jesus' teachings because, hey, Jesus IS God in human form and he's the one who wrote them so that we could live our best lives through him!
Save the date! Friday, February 26th, 2021 6:00pm! Our first "Messy Church" is coming to Wesley UMC! Check out this website to see what it's all about!


Adult Sunday School Studies A
cts of the Apostles
Newcomers welcome! At 9 a.m. Sunday mornings. No outside reading is required. We will read Acts in class, with discussions guided and informed by the background study of teacher Byron Champlin. If you would like to participate in the study, phone him at 228-0097.
Join Zoom at this link.
Meeting ID: 863 3723 2049 Password: 003935 Phone: 1-646-558-8656

Mike Ard (Baha'i) and Dori Bongiovanni (Buddhist), President of GCIC are facilitating a biweekly interfaith discussion on the 1st and 3rd Monday of each month beginning Monday, February 1st from 7:00-8:00pm. You are welcome to bring a prayer or reading from your faith tradition to share. The first 40 minutes will be sharing and the last 20 minutes for questions about each other's traditions and discussion. Join at this recurring Zoom link

The Greater Concord Interfaith Council also plans to offer it's annual Lenten Luncheons virtually this year. Stay tuned for details.
Virtual Choir Rehearsals



All are invited

to attend Thursdays at 7:15 pm. We meet via Zoom at this recurring link each week: Meeting ID: 779 7127 5619 Passcode: 9M6QX9

.
How to Make Cleaning More Fun
Visit this website for ways to change up your cleaning routine.

---
Caldo Verde (Portuguese Kale Soup)





2 tablespoons olive oil, 1 1/2 pounds Chorizo sausage sliced into half inch slices, 1 cup of chopped onions, 2 tablespoons minced garlic, two large white potatoes peeled and diced, 3 quarts chicken stock, for more information and the complete recipe visit this website.
---
This Week's Prayer and Scripture
Isaiah 40:21-31
Have you not known? Have you not heard? Has it not been told you from the beginning? Have you not understood from the foundations of the earth? It is he who sits above the circle of the earth, and its inhabitants are like grasshoppers; who stretches out the heavens like a curtain, and spreads them like a tent to live in; who brings princes to naught, and makes the rulers of the earth as nothing.
Scarcely are they planted, scarcely sown, scarcely has their stem taken root in the earth, when he blows upon them, and they wither, and the tempest carries them off like stubble.
To whom then will you compare me, or who is my equal? says the Holy One. Lift up your eyes on high and see: Who created these He who brings out their host and numbers them, calling them all by name;
because he is great in strength, mighty in power not one is missing.
Why do you say, O Jacob, and speak, O Israel 'My way is hidden from the Lord, and my right is disregarded by my God'? Have you not known? Have you not heard? The Lord is the everlasting God,
the Creator of the ends of the earth. He does not faint or grow weary; his understanding is unsearchable.
He gives power to the faint, and strengthens the powerless. Even youths will faint and be weary, and the young will fall exhausted; but those who wait for the Lord shall renew their strength, they shall mount up with wings like eagles, they shall run and not be weary, they shall walk and not faint.
This week's Prayer:




Compassionate One, both tender and righteous, you are so patient with pain. And yet, so passionate for justice. Like a paradox to us, to you it is simply the movement of love. Teach us to practice this discernment. To know when love calls for gentleness or for challenge; when to push and when to be still. Within, and with others.
Amen.
© 2020 enfleshed










Granite District Pre-Lenten Gathering (Virtual)
February 10, 2021 - 6:30 - 8:00 pm
Guest Speaker - Rev. Arun Andrews, Senior Pastor, Trinity UMC New Cumberland, PA - Topic - Feeling the Pulse, Sharing the Pain: Ministering to those who are hurting
All clergy and laity are invited to join in a special time designed to help you center and prepare for the Lenten season. Please join with the following link:
Join Zoom Meeting at this link.
Lay Servant Ministries

Course Planning

The Granite District Lay Servant Ministry team is planning a Basic Course and Advanced Course(s) that will be offered virtually before spring, 2021.
Read more here.
Equalization Members Needed for Annual Conference
The format of this year's annual conference (whether in person or virtual) is not yet certain, but what is certain is that the dates are June 10-12, 2021, and we will need some lay people to serve as District Equalization Members.

We rely on the Local Church Leadership Reports provided in your church conference packets for Equalization Member nominees, and had very few names on this years reports.

If you are interested in being an equalization member please contact Phyllis in the District Office to be added to the list for consideration.
---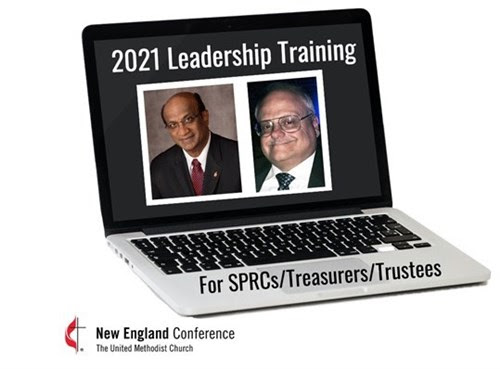 NEAC Church Leadership Training
For: Church Treasurers, and Church Trustees
The New England Conference is offering online leadership training for Church Treasurers, and Church Trustees. Presenters are Conference Treasurer/Director of Administrative Services, John Cardillo (Treasurers and Trustees Workshops). You will have the opportunity to ask questions and join a breakout discussion for your district. The workshops, which will be offered via Zoom, are scheduled for 6:30-8 p.m. on:
Church Trustees »»» February 24, 2021
Click the date above to get more information and the Zoom link.
---
2021 Pilgrimage to Taizé is still on; sign up today
All youth and young adults between the ages of 16 and 30 are invited to join a life-changing pilgrimage to Taizé, France, a place which is filled with deep Christian spirituality and broad ecumenism. This week-long experience will be led by Bishop Sudarshana Devadhar. The 2021 pilgrimage is July 23 to Aug. 2.
COVID-19 Note: We are continuing to accept registrations in anticipation of being allowed to travel this summer. If travel restrictions are not lifted or we determine it would not be safe and have to cancel the pilgrimage, registrants will be notified and receive a full refund.
Registration deadline has been extended to Feb. 15.
Learn more and register today

PLEASE NOTE: WESLEY HAS A LARGE SCHOLARSHIP AVAILABLE TO ASSIST YOUTH OR YOUNG ADULTS INTERESTED IN GOING ON THIS LIFE-CHANGING TRIP! Contact Pastor Cheryl for details.
Pastor Cheryl

is available by phone, Zoom, Facebook messenger, text or email for

pastoral support or to discuss church business. Set a time by emailing her at this link or by calling the church phone 224-7413 which is monitored remotely by our Administrative Assistant, Anne Roberts. If you or someone who you know that needs help would like to apply for assistance from the Pastor's Discretionary fund you can initiate the process by filling out the application at this link. If you know of someone who would like to receive a print version of the eWeekly please let us know by calling 224-7413 or emailing the office.
---
If you'd like to join other
Prayer Messenger
s
please contact coordinator, Norma Kane to volunteer. You may also forward your prayer requests directly to our
prayer chain
coordinator, Laura Fry.
---
AMAZON SMILE
Get 0.5% for Wesley. If you shop on Amazon, please consider naming Wesley UMC as your designated Smile charity. AmazonSmile will donate 0.5% of the purchase price of eligible items purchased. Use this

link

to select Wesley UMC-Concord NH. Detailed instructions are available here. As always you are invited to support Wesley directly by mailing your gift to 79 Clinton Street, Concord NH 03301 or electronically at Concord WUMC.org/donate.