Fifth Sunday Food Collection - THIS Sunday August 30
We will be doing our Food Collection for Second Start's Alternative High School in a different way during this time of social distancing. The Broadricks will have their car in the church parking lot with the trunk open from 1:30 til 3:00 on August 30th. You may bring your donation and put it directly into their car to be delivered the following week. The Alternative High School will meet in person at Second Start in September and will appreciate any single serving foods we can donate for the students. The economy of the pandemic has made the need greater than ever. If you are unable to bring your donation to the church on 8/30 you may deliver it directly to 450 North State Street any time.
---
Hurricane Laura struck as a Category 4 hurricane and is now dropping rain inland in places already damaged by multiple spring and summer storms. On its wide and lengthy projected path through the country toward the Northeast, the storm will continue to cause damage and exacerbate living conditions for many as we all contend with staying safe and healthy during the pandemic.
UMCOR-trained volunteers are already preparing to assist people in their community. Your help is needed to provide the tangible items necessary for relief work including personal protection equipment that our volunteers will need to stay healthy.
Please help.

Your gift, today, to U.S. Disaster Response will enable UMCOR to serve people impacted by the catastrophic wind, rain and fire events of this season. We need your help, today.


Please give at this link


or you can send your check to to Wesley UMC with a note that it is for UMCOR.
---
It's Election Season. If you need help voting, please call the office at 224-7413 and we will help you get the information you need to get registered, get your absentee ballot and get it delivered.
---
A spam message was sent to several church members purporting to be from Norma Kane this week. Even though they used her email address, it was not her. Please be as wise as serpents when viewing suspicious email. It is always worth checking with the person before reaching out to help.
---
Scouts Popcorn Sale
This year, for the health and safety of our Scouts and supporters, we will be holding an online only Trail's End popcorn fundraiser. We will not be scheduling any store-front sales (called Show-n-Sells) or pre-ordering any popcorn.


All options, including the $10 caramel corn, are now available for online ordering. Some products have changed, or have been eliminated. There is no more premium caramel corn with nuts, as Trail's End is making their products more friendly to those with allergies. Butter microwave popcorn will come in a smaller box, and kettle corn is not available this year due to limited popping corn availability. There is a new flavor: Blazin' Hot popcorn. Anyone brave enough to try it? Here is the link.
Dawn Sedutto, Popcorn Kernel, set up this special link ("Troop 86 WUMC") in order for the Wesley church congregation to go in and order some popcorn product to support their Troop 86 Scouts, in lieu of having our usual annual
popcorn fundraiser "Show-n-Sell" event in the narthex in October this year. The popcorn credit from sales through this special link will be split up evenly amongst the Boy Scouts in Troop 86.
We thank you, as always, for the ongoing support from our Chartered Organization, Wesley United Methodist Church! You are wonderful! ~ from Troop 86.
---
Here is the current Go Fund Me donation page for Family Promise. At the last Host Coordinator Meeting, it was suggested in light of the Covid-19 situation restricting the ability for congregations to rotate shelter for families, some might be interested in helping this way. We are currently are using funds each month for homeless families to stay at the Rock 'N Birch campground in Henniker. It is $600 per cabin, or $1,200 for our 2 families. This will likely continue through October. These funds are intended to be used for car repairs, registration or other direct family services. If you are interested, please click this GoFundMe link or check out our Facebook page. As always, we can never thank you enough for your help and kindness! Family Promise of Greater Concord
---
Abbot-Downing Ministry News from Norma Kane
The need for disinfecting wipes, Purell, Kleenex tissues are highlighted – possibly masks all due to Covid-19. Janet says "We really appreciate your (Wesley's) willingness to help us out and I think, now more than ever, we can use it."
Perhaps early shoppers will be able to avoid empty shelves. Now is the time to pick up the above items whenever you find them for sale. Keep them at home until these items can be brought to the church for delivery to Abbot Downing, the elementary school a couple of blocks from our church. As in the past, our A-D Team still plans to support the teachers, students and staff at Abbot Downing with the assistance of our congregation. Galatians 6:9 "So let's not get tired of doing what is good. At just the right time we will reap a harvest of blessing if we don't give up."
---
The Concord Homeless Resource Center welcomes the donation of items for immediate use. Here are the top needs:
· Bottles of water (as public water supply is limited and it's getting hot!)
· Paper "to-go" coffee cups (we distribute coffee in disposab
le cups outside)
· $5 Gift Cards to local restaurants or Dunkin' Donuts
· Bug spray ('tis the season)
· Gauze, medical tape and large band-aids
Please contact us ahead of time before dropping items off just email office@concordhomeless.org
---
We know that there are some who need help with this new

virtual world

, setting up computers and phones to remain in contact with our beloved church community. If you NEED help or if you have the gifts TO help, please let the church office know at 224-7413 and we'll begin matching solutions!
This Week's Prayer and Scripture
Romans 12:9-21
Marks of the True Christian
Let love be genuine; hate what is evil, hold fast to what is good; love one another with mutual affection; outdo one another in showing honour. Do not lag in zeal, be ardent in spirit, serve the Lord. Rejoice in hope, be patient in suffering, persevere in prayer. Contribute to the needs of the saints; extend hospitality to strangers.
Bless those who persecute you; bless and do not curse them. Rejoice with those who rejoice, weep with those who weep. Live in harmony with one another; do not be haughty, but associate with the lowly; do not claim to be wiser than you are. Do not repay anyone evil for evil, but take thought for what is noble in the sight of all. If it is possible, so far as it depends on you, live peaceably with all. Beloved, never avenge yourselves, but leave room for the wrath of God; for it is written, 'Vengeance is mine, I will repay, says the Lord.' No, 'if your enemies are hungry, feed them; if they are thirsty, give them something to drink; for by doing this you will heap burning coals on their heads.' Do not be overcome by evil, but overcome evil with good.
Call to Worship
by Roddy Hamilton

The enemy:
love them
The oppressor:
walk the mile with them
The Master:
turn the other cheek to them

This doormat faith
seems too much to bear
in a world where those who bully
always seem to win

The enemy:
imbalance them with love
The oppressor:
shame the law that oppresses
The Master:
turn the cheek as an equal

This rebellious faith
seems too much to bear
in a world where those who bully
are loved back to justice by the bullied
But this is heaven's revolution
and we are called into it
come let us worship
love's rebel, Jesus
Amen.
Each week we'll feature a Wesley Mission, describing what it is we're doing to transform the world with God's love.
---
ALTAR ARTS
At Wesley, one way we express our faith is through the arts - music, dance, visual art. Each week we try to create a simple altar that reflects that Sunday's scripture and sermon message. If you feel creative and enjoy expressing ideas symbolically, then you might like to help with altar arts. We'd love to have your help! If you have questions or would like to volunteer in this ministry, please email Judy King at this link or call 276-0159.
---
Pastor Cheryl

is available by phone, Zoom, Facebook messenger, text or email for

pastoral support or to discuss church business. Set a time by emailing her at this link or by calling the church phone 224-7413 which is monitored remotely by volunteer Judy King. If you or someone who you know that needs help would like to apply for assistance from the Pastor's Discretionary fund you can initiate the process by filling out the application at this link. If you know of someone who would like to receive a print version of the eWeekly converted by Shoshanna Cone, printed by Judy King and mailed by Jill Savage, please let us know by calling 224-7413 or emailing the office.
---
If you'd like to join other
Prayer Messenger
s
please contact coordinator, Norma Kane to volunteer. You may also forward your prayer requests directly to our
prayer chain
coordinator, Laura Fry.
---
While Wesley UMC is not meeting in person, we will be holding meetings and Bible studies via conference
call and Zoom. Links can be found on our website and Facebook to all of our media. If you need help using any of these programs, please contact Paula Delbonis-Platt.
---
We've d
esigned a plan to keep us in touch with one another. If you're not already connected and would like to hear from your church friends more regularly, please let Jane Broadrick know.
---
Participate in our virtual choir!

It's really easy! Your voice will be combined with others, just as when we sing together in person, so there's no need to be shy. You can listen to the hymn as many times as you want if it's not familiar to you. Watch this video tutorial by Choir Director Ben Greene. Download the audio of Ken playing each hymn and get the sheet music to sing the words by going to this directory and finding the folder for the week. Listen to the audio with earphones on one device (phone, iPad or computer) while recording yourself singing on another device. Send the audio file to Ben and voila! We'll make a virtually joyful noise to the Lord!! Give it a try!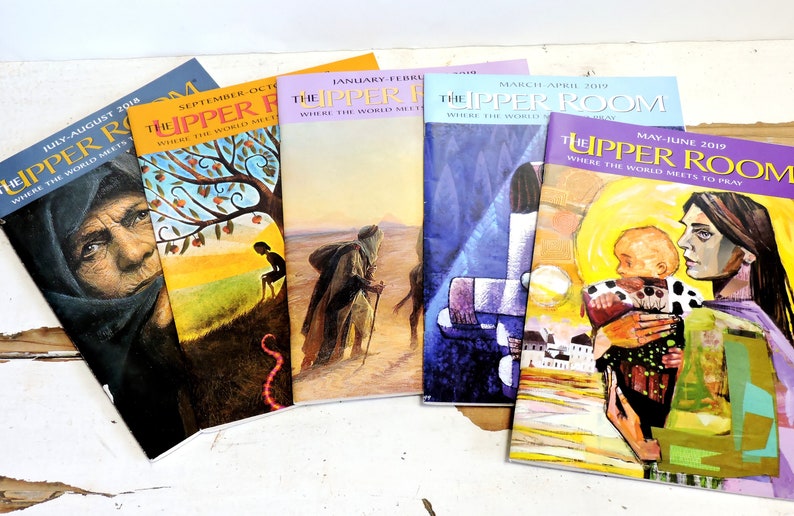 ---
Are you missing The Upper Room?
Let the church office know and we'll make arrangements for you to pick up or have your copy delivered.
Also, Morning Prayer with The Upper Room via Facebook Live, every Monday, Wednesday, and Friday at 11 a.m. (CT). These guided prayer experiences are archived so you may join us at your convenience if you miss it live.
A PDF File of the July/August issue of The Upper Room is available to our standing order churches.
VISITING
We have suspended regular person visits during this time of contagion but Pastor Cheryl is making special visits where allowed. Please

contact Pastor Cheryl

by phone, email or social media for prayer or to schedule a masked, socially distanced, outdoor visit during this time.
---