Our dear member and friend,

Ginny Gerseny

passed away earlier this week. Several members have reached out with their loving memories. Since her funeral will be held in Ohio near the family home, let's celebrate her life by sharing those memories.



Her son, Bob Gerseny reports that she passed away early Tuesday. He says, "One of the terrible aspects of Covid is the distance and separation but mom was well cared for at Presidential Oaks and I know members of Wesley saw her when they could. It was particularly difficult not being able to go to her. Presidential Oaks prudently required a 14 day quarantine prior to entry and by the time it was clear that it was dire it was also too late. She was doing well and independent till about a month ago and then experienced a short downward spiral until she fell asleep Monday night never to awaken. A service will be held, post-Covid, in Brecksville Ohio, our hometown and where family is."

You are welcome to send your condolences to Bob via email at this link or by mail at 444 East Corcoran Ave. #506, Milwaukee, WI 53202.

Belinda Forbes our missionary to Nicaragua shares, "Thank you, for sharing this news about Ginny's passing and while it is sad news, there is much to celebrate about her wonderful, now completed life. I was connected online with Wesley UMC a couple of Sundays ago and on the Zoom social hour we remembered Ginny and her incredible energy and commitment to service. On my 2016 itineration I was privileged to stay at her assisted living residence as a guest and she organized an afternoon tea in my honor. Then we went to Friendly's for dinner and an ice cream! Then last year she came out for my itineration visit to Wesley UMC. Her leadership for UMW has meant so much for me as a missionary, I am so grateful that our paths crossed. Thanks, too, for the details about her life and love for the arts. She will be missed but leaves a wonderful legacy for us all."

Nancy Fransen shares, "A wonderful lady to have known. So talented. She was a motivator to get things done. Always Kept herself busy. Ginny enjoyed socializing. She was an asset to our Wesley united Methodist women's group. Always there when we wanted a piano hymn played. She loved having a group sing as a round...at end of a meeting. Go now in peace. Go now in peace. May the love of God surround you...everywhere you may Go!.......God bless her family and friends. I am glad I was one of Ginny friends."

Barb Drotos shares, "This saddens me so. She was quite the amazing lady."

Michelle Fransen-Conroy shares, "Thank you for sharing this news. I had recently sent her a birthday card. I'm so glad I did that.
She was a wonderful lady. I enjoyed seeing her at events and would always give her a hug. She is the person who gave my son, Patrick, the idea for his Boy Scout Eagle Project of fixing up the pathway behind Pleasant View, from when Ginny lived there. He did his project in 2016 and he dedicated it to her. She also organized a ceremony at Pleasant View with the residents after he was finished with the project and had Patrick get up and speak about his Eagle project, and then she gave everyone ice cream treats to celebrate.
She also came to Patrick's Eagle Court of Honor ceremony and she got up and spoke at that. She said it was the first one she had ever been to, even though her son was an Eagle scout. She was very thrilled to be able to be there for it.
May she rest in peace."

Mike Monroe shares, "She lived a wonderful, full life. I will never forget my time with the Wesley Players. Rest in peace, old friend!"
Wesley members Ben Lemay and Megan Newhall have just completed a summer at Wesley without campers onsite but reaching out in new and loving ways to the youth of our district. Thank you Megan and Ben!
---
Photo credit: James Tresner
Fifth Sunday Food Collection - Sunday August 30
We will be doing our Food Collection for Second Start's Alternative High School in a different way during this time of social distancing. The Broadricks will have their car in the church parking lot with the trunk open from 1:30 til 3:00 on August 30th. You may bring your donation and put it directly into their car to be delivered the following week. The Alternative High School will meet in person at Second Start in September and will appreciate any single serving foods we can donate for the students. The economy of the pandemic has made the need greater than ever. If you are unable to bring your donation to the church on 8/30 you may deliver it directly to 450 North State Street any time.
---
Scouts Popcorn Sale
This year, for the health and safety of our Scouts and supporters, we will be holding an online only Trail's End popcorn fundraiser. We will not be scheduling any store-front sales (called Show-n-Sells) or pre-ordering any popcorn.


All options, including the $10 caramel corn, are now available for online ordering. Some products have changed, or have been eliminated. There is no more premium caramel corn with nuts, as Trail's End is making their products more friendly to those with allergies. Butter microwave popcorn will come in a smaller box, and kettle corn is not available this year due to limited popping corn availability. There is a new flavor: Blazin' Hot popcorn. Anyone brave enough to try it? Here is the link.
Dawn Sedutto, Popcorn Kernel, set up this special link ("Troop 86 WUMC") in order for the Wesley church congregation to go in and order some popcorn product to support their Troop 86 Scouts, in lieu of having our usual annual
popcorn fundraiser "Show-n-Sell" event in the narthex in October this year. The popcorn credit from sales through this special link will be split up evenly amongst the Boy Scouts in Troop 86.
We thank you, as always, for the ongoing support from our Chartered Organization, Wesley United Methodist Church! You are wonderful! ~ from Troop 86.
---
Here is the current Go Fund Me donation page for Family Promise. At the last Host Coordinator Meeting, it was suggested in light of the Covid-19 situation restricting the ability for congregations to rotate shelter for families, some might be interested in helping this way. We are currently are using funds each month for families to stay at the Rock 'N Birch campground in Henniker. It is $600 per cabin, or $1,200 for our 2 families. This will likely continue through October. These funds are intended to be used for car repairs, registration or other direct family services. If you are interested, please click this GoFundMe link or check out our Facebook page. As always, we can never thank you enough for your help and kindness! Family Promise of Greater Concord
---
Morning Prayer with The Upper Room via Facebook Live, every Monday, Wednesday, and Friday at 11 a.m. (CT). These guided prayer experiences are archived so you may join us at your convenience if you miss it live.
A PDF File of the July/August issue of The Upper Room is available to our standing order churches. Because you are a paid subscriber, we want to provide this service to you since we realize many readers are currently reticent or unable to pick up their copy of the devotional guide because of the virus or closed church office.
---
Abbot-Downing Ministry News from Norma Kane
The need for disinfecting wipes, Purell, Kleenex tissues are highlighted – possibly masks all due to Covid-19. Janet says "We really appreciate your (Wesley's) willingness to help us out and I think, now more than ever, we can use it."
Perhaps early shoppers will be able to avoid empty shelves. Now is the time to pick up the above items whenever you find them for sale. Keep them at home until these items can be brought to the church for delivery to Abbot Downing. As in the past, our A-D Team still plans to support the teachers, students and staff at Abbot Downing with the assistance of our congregation. Galatians 6:9 "So let's not get tired of doing what is good. At just the right time we will reap a harvest of blessing if we don't give up."
---
The Concord Homeless Resource Center welcomes the donation of items for immediate use. Here are the top needs:
· Bottles of water (as public water supply is limited and it's getting hot!)
· Paper "to-go" coffee cups (we distribute coffee in disposab
le cups outside)
· $5 Gift Cards to local restaurants or Dunkin' Donuts
· Bug spray ('tis the season)
· Gauze, medical tape and large band-aids
Please contact us ahead of time before dropping items off just email office@concordhomeless.org
---
We know that there are some who need help with this new

virtual world

, setting up computers and phones to remain in contact with our beloved church community. If you NEED help or if you have the gifts TO help, please let the church office know at 224-7413 and we'll begin matching solutions!
This Week's Prayer and Scripture
Exodus 1:8-2:10
The Israelites Are Oppressed
Now a new king arose over Egypt, who did not know Joseph. He said to his people, 'Look, the Israelite people are more numerous and more powerful than we. Come, let us deal shrewdly with them, or they will increase and, in the event of war, join our enemies and fight against us and escape from the land.' Therefore they set taskmasters over them to oppress them with forced labour. They built supply cities, Pithom and Rameses, for Pharaoh. But the more they were oppressed, the more they multiplied and spread, so that the Egyptians came to dread the Israelites. The Egyptians became ruthless in imposing tasks on the Israelites, and made their lives bitter with hard service in mortar and brick and in every kind of field labour. They were ruthless in all the tasks that they imposed on them.
The king of Egypt said to the Hebrew midwives, one of whom was named Shiphrah and the other Puah, 'When you act as midwives to the Hebrew women, and see them on the birthstool, if it is a boy, kill him; but if it is a girl, she shall live.' But the midwives feared God; they did not do as the king of Egypt commanded them, but they let the boys live. So the king of Egypt summoned the midwives and said to them, 'Why have you done this, and allowed the boys to live?' The midwives said to Pharaoh, 'Because the Hebrew women are not like the Egyptian women; for they are vigorous and give birth before the midwife comes to them.' So God dealt well with the midwives; and the people multiplied and became very strong. And because the midwives feared God, he gave them families. Then Pharaoh commanded all his people, 'Every boy that is born to the Hebrews you shall throw into the Nile, but you shall let every girl live.'
Birth and Youth of Moses
Now a man from the house of Levi went and married a Levite woman. The woman conceived and bore a son; and when she saw that he was a fine baby, she hid him for three months. When she could hide him no longer she got a papyrus basket for him, and plastered it with bitumen and pitch; she put the child in it and placed it among the reeds on the bank of the river. His sister stood at a distance, to see what would happen to him.
The daughter of Pharaoh came down to bathe at the river, while her attendants walked beside the river. She saw the basket among the reeds and sent her maid to bring it. When she opened it, she saw the child. He was crying, and she took pity on him. 'This must be one of the Hebrews' children,' she said. Then his sister said to Pharaoh's daughter, 'Shall I go and get you a nurse from the Hebrew women to nurse the child for you?' Pharaoh's daughter said to her, 'Yes.' So the girl went and called the child's mother. Pharaoh's daughter said to her, 'Take this child and nurse it for me, and I will give you your wages.' So the woman took the child and nursed it. When the child grew up, she brought him to Pharaoh's daughter, and she took him as her son. She named him Moses, 'because', she said, 'I drew him out of the water.'
Photo Credit: Nancy Fransen
Call to Worship
by Thom Shuman
In a time of bitterness and pain,

God raised up Moses,
and changed the lives of a people.

From the shadow of death,

God raised up Jesus,
and changed the lives of all people.

In every time, and in every place,

God raises up witnesses,
people whose lives are changed forever.
Amen.


Photo Credit: Dennis Broussard
Each week we'll feature a Wesley Mission, describing what it is we're doing to transform the world with God's love.
---
ALTAR ARTS
At Wesley, one way we express our faith is through the arts - music, dance, visual art. Each week we try to create a simple altar that reflects that Sunday's scripture and sermon message. If you feel creative and enjoy expressing ideas symbolically, then you might like to help with altar arts. We'd love to have your help! If you have questions or would like to volunteer in this ministry, please email Judy King at this link or call 276-0159.
---
Ray Ramsey is a young trans man who attended Wesley as a child with his parents. He attended Step Ahead Preschool. He is also a good friend to Pastor Cheryl.

He sent this photo this week with the following note:

"This is the photo of the church I've been meaning to share with you. So long story short, in photography we had to take point and shoot film photos and then develop them ourselves in a darkroom, when I picked up one of our sheets of photo paper out of the dark room cabinet it just to happened to be the one piece of paper that had mistakenly already been preexposed slightly to light, this revealing a hand coming down to appear as though it is touching the church itself. Absolutely bone chilling."

Ray took this picture in high school. His path has crossed with Wesley several times over the years providing a reminder that we never know how some gesture or kindness will connect with someone.
Pastor Cheryl

is available by phone, Zoom, Facebook messenger, text or email for

pastoral support or to discuss church business. Set a time by emailing her at this link or by calling the church phone 224-7413 which is monitored remotely by volunteer Judy King. If you or someone who you know that needs help would like to apply for assistance from the Pastor's Discretionary fund you can initiate the process by filling out the application at this link. If you know of someone who would like to receive a print version of the eWeekly converted by Shoshanna Cone, printed by Judy King and mailed by Jill Savage, please let us know by calling 224-7413 or emailing the office.
---
Join Byron Champlin again in the fall for virtual

Adult Sunday School

at 9:00 am on Sunday mornings on Zoom at this link. Newcomers welcome!
Meeting ID: 824 9476 3383 Password: 817519 Phone: 1-646-558-8656
---
If yo
u'd like to join other
Prayer Messengers
please contact coordinator, Norma Kane to volunteer. You may also forward your prayer requests directly to our
prayer chain
coordinator, Laura Fry.
---
While Wesley UMC is not meeting in person, we will be holding meetings and Bible studies via conference
call and Zoom. Links can be found on our website and Facebook to all of our media. If you need help using any of these programs, please contact Paula Delbonis-Platt.
---
We've d
esigned a plan to keep us in touch with one another. If you're not already connected and would like to hear from your church friends more regularly, please let Jane Broadrick know.
---
Participate in our virtual choir!

It's really easy! Your voice will be combined with others, just as when we sing together in person, so there's no need to be shy. You can listen to the hymn as many times as you want if it's not familiar to you. Watch this video tutorial by Choir Director Ben Greene. Download the audio of Ken playing each hymn and get the sheet music to sing the words by going to this directory and finding the folder for the week. Listen to the audio with earphones on one device (phone, iPad or computer) while recording yourself singing on another device. Send the audio file to Ben and voila! We'll make a virtually joyful noise to the Lord!! Give it a try!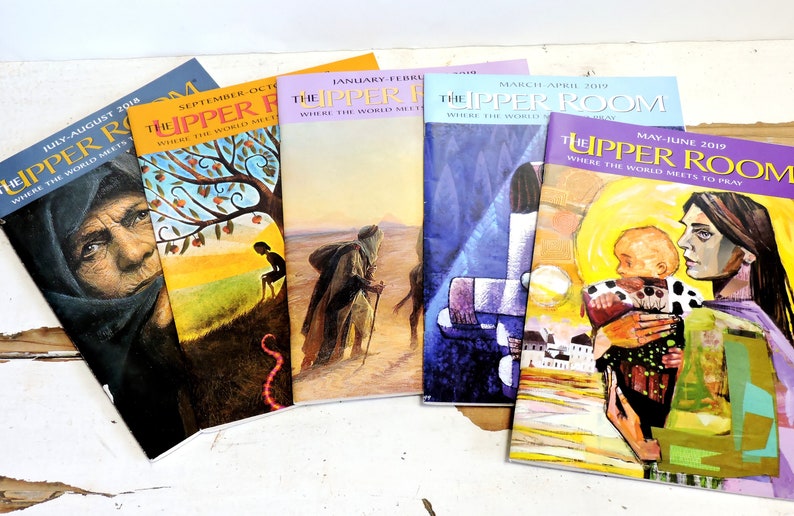 ---
Are you missing The Upper Room?
Let the church office know and we'll make arrangements for you to pick up or have your copy delivered.
VISITING
We have suspended in person visits during this time of contagion. Please

contact Pastor Cheryl

by phone, email or social media for prayer during this time.
---