The CCEH Corner
CCEH CORNER January 26, 2021

Thanks to everyone for supporting the Wesley UMC mission, Concord Coalition to End Homelessness. We have donated as of last week: A dozen pairs of winter gloves, toiletries and batteries. The coalition is very grateful for each donation. I imagine during this past week of unending cold weather, we have been keeping the homeless in our prayers and are anxious to continue helping CCEH to provide services.

There will be some additional opportunities for us to help as the new year unfolds. The annual Souperfest is scheduled for March 20th . It will be a different this year because of the Virus restrictions. Watch for details at a later date. We hope to be a player in this fund raiser for CCEH.

Thank you also for being so responsive to our requests for targeted donations for the coalition. It is helpful for them to be able to ask for specific things needed to run the program. We have a new list for the next couple of weeks:

Large packet of paper towels
Clorox Gallon jugs
Ziploc Sandwich Bags
Ziploc Gallon Storage Bags
Individual Bottles of Water
And of course warm weather items are always welcome.

If each church family could add one item to your shopping list every week, think of the amount of items we could donate! That's exciting to think about. We hope that the yellow drop-off bin by the church door is proving to be handy for everyone. You can drop off every week, every other week, or once a month. Whatever is convenient for your family. And always remember that adding our mission to your prayer list is a blessing for the coalition and a blessing for you.
---
January 31, 2021 1-2pm Wesley UMC Parking Lot

Fifth
Sunday Food Collection
Second Start's Alternative High School



Fill the Broad ricks' car with food items that can be heated with a microwave if necessary.(Breakfast Bars, Ra men Noodles, Individual Mac & Cheese, Soups, Peanut Butter Crackers, Canned Fruit, Pop Tarts, Any single serving food item is appreciated!)

Second Start Alternative High School mission and approach:
Second Start Alternative High School provides students, who face various academic and emotional challenges, with a smaller, more individualized, supportive setting. Many of our students have not had success as a result of obstacles that are not of their own doing. Second Start supports students in overcoming these obstacles, through a focus on William Glass er's Choice Theory, The Change Model (Awareness, Thinking, Planning, Action, Maintain) and what we call The Five Skills (Listen, Control Behavior, Contribute Effectively, Tolerate Feedback, Accept Responsibility). It's our belief that this focus helps students breakthrough barriers, build-esteem, and competency, and gain critical life skills.

In addition to intensive, individualized academic support Second Start students also receive, counseling, life skills, and job skills coaching, internship placements, and transition planning for life after Second Start. Perhaps above all of this, what Second Start students receive is time, patience, understanding, and a bit of tough love from caring, experienced, and skilled professionals.
The faith-based grassroots organization Granite State Organizing Project invites you to express your faith values by advocating for housing relief for our neighbors in need in their project for a housing Jubilee.

Watch this video to learn more.


Tell your elected official that as a person of faith you value your neighbor who is facing eviction during the COVID pandemic. The Housing Relief Fund is ending, and it seems the new Emergency Rental Assistance program money will not arrive for several weeks - it is vitally important to help people threatened with eviction now.

Please take just one minute to easily take action using this link.

If you have questions, please reach out to Chris Potter, Faith Community Organizer.
---
Please share this on your social media:

Family Promise Of Concord needs our help! One of the program's participants is in need of a reliable and safe car. She has limited income and has a family of five. Her mechanic has deemed her car unsafe and not road worthy. Family Promise is asking if anyone knows of car for sale (willing to take payment) or to donate. The car needs to pass inspection but can have some minor repairs needed. This individual is a great mom and is dedicated to her potential. Please share with friends and family.
Click here to read the full letter from Family Promise.
The NH Council of Churches Encourages Churches to Pray and Ring Bells for 1,000 NH COVID deaths

"Weep with those who weep" (Romans 12:15).

Churches around the state are invited to ring bells or offer prayers during services on January 31st. Because Wesley has no bells, we encourage you to use this prayer:
O God our Comfort and our Strength,
our help in the midst of trouble and our hope in the midst of despair,
we come before you weighed down by months of pain and years of struggle.
Give us the courage to face the tragedies that overwhelm us
and the wisdom to name them with their true names,
and strengthen the bonds between us
that we might hold one another in our grief,
encourage one another in our hope,
and support one another in our commitment to a world healed and made new.
And let all the people say: Amen.
Spiritual Formation and Education
Monday Morning Quarterback Bible Study
This week's questions to continue studying the scripture from the worship service at home come from enfleshed.

Read
Deuteronomy 18:15-20, Psalm 111, 1 Corinthians 8:1-13 and Mark 1:21-28.
1. What is one marginalized practice of religion or spirituality your community has prejudice against or suspicion of? How might you explore it together?

2. What are the impacts of a prophet coming from within a community verses a prophet from another community? How are they different and role do each play?

3. How does your community practice resistance to Christian supremacy?

© 2021 enfleshed
Ms.
Christina's Corner
Director of Children and Youth Ministries
Sunday School Zoom at 10:00 am each week
Join Zoom Meeting at this link
Meeting ID: 726 9853 8230
Passcode: Sunday
Youth Zoom at 1:00 pm each Sunday
Join Zoom Meeting at this link
Meeting ID: 736 0199 3984
Passcode: Youth

Last week's Question-of-the-week: How do you answer God's call?? Hopefully not like Jonah did, at first, when God called on him to take a risky journey to Nineveh! When we consider one of our favorite Bible stories of Jonah and the whale, we realize that we can't hide from God (Jonah DEFINITELY learned this the hard way!) and that we need to always remember that when God does call us to do something, we ARE able and capable no matter how hard it may seem at first. We CAN do tough hard things! You youth are at a pivotal stage of your lives where there will be or even have been big, tough, and difficult decisions to make about life... And, especially if you are experiencing one of those moments right now, always remember that God will never ask you to take on or do more than you can handle! Listen deeply to his call and know that you've got this! When you accomplish this seemingly impossible task, you will be amazed at yourself!

Save the date! Friday, February 26th, 2021 6:00pm! Our first "Messy Church" is coming to Wesley UMC! Check out this website to see what it's all about!


Adult Sunday School Studies A
cts of the Apostles
Newcomers welcome! At 9 a.m. Sunday mornings. No outside reading is required. We will read Acts in class, with discussions guided and informed by the background study of teacher Byron Champlin. If you would like to participate in the study, phone him at 228-0097.
Join Zoom at this link.
Meeting ID: 863 3723 2049 Password: 003935 Phone: 1-646-558-8656

Mike Ard (Baha'i) and Dori Bongiovanni (Buddhist), President of GCIC are facilitating a biweekly interfaith discussion on the 1st and 3rd Monday of each month beginning Monday, February 1st from 7:00-8:00pm. You are welcome to bring a prayer or reading from your faith tradition to share. The first 40 minutes will be sharing and the last 20 minutes for questions about each other's traditions and discussion. Join at this recurring Zoom link

The Greater Concord Interfaith Council also plans to offer it's annual Lenten Luncheons virtually this year. Stay tuned for details.
Virtual Choir Rehearsals



All are invited

to attend Thursdays at 7:15 pm. We meet via Zoom at this recurring link each week: Meeting ID: 779 7127 5619 Passcode: 9M6QX9

.
Rainbow Yoga
This yoga program on YouTube is for all levels and ages. Please click here.
---
Baked Blueberry French Toast
12 slice bread (whole wheat)
8 large eggs
1 1/2 cup milk
1/4 cup honey
2 teaspoon cinnamon
2 cup blueberries or other berries
For the complete recipe and instructions
click here
---
This Week's Prayer and Scripture
Deuteronomy 18:15-20
A New Prophet Like Moses
The Lord your God will raise up for you a prophet like me from among your own people; you shall heed such a prophet. This is what you requested of the Lord your God at Horeb on the day of the assembly when you said: 'If I hear the voice of the Lord my God any more, or ever again see this great fire, I will die.' Then the Lord replied to me: 'They are right in what they have said. I will raise up for them a prophet like you from among their own people; I will put my words in the mouth of the prophet, who shall speak to them everything that I command. Anyone who does not heed the words that the prophet shall speak in my name, I myself will hold accountable. But any prophet who speaks in the name of other gods, or who presumes to speak in my name a word that I have not commanded the prophet to speak—that prophet shall die.'
This week's Call to worship:

The Wisdom of God calls us to gather:
To learn from Love's teachers, ancient and new.
The Wisdom of God is a companion in discernment:
Our guide through eras painful and distressing.
In community, we seek the knowledge of heaven, that we might:
Be delivered from evil.
Comfort and be comforted.
Practice lasting transformation.
With hope, let us welcome the wisdom of God.
Amen.


Granite District Pre-Lenten Gathering (Virtual)
February 10, 2021 - 6:30 - 8:00 pm
Guest Speaker - Rev. Arun Andrews, Senior Pastor, Trinity UMC New Cumberland, PA - Topic - Feeling the Pulse, Sharing the Pain: Ministering to those who are hurting
All clergy and laity are invited to join in a special time designed to help you center and prepare for the Lenten season. Please join with the following link:
Join Zoom Meeting at this link.
Lay Servant Ministries

Course Planning

The Granite District Lay Servant Ministry team is planning a Basic Course and Advanced Course(s) that will be offered virtually before spring, 2021.
Read more here.
Equalization Members Needed for Annual Conference
The format of this year's annual conference (whether in person or virtual) is not yet certain, but what is certain is that the dates are June 10-12, 2021, and we will need some lay people to serve as District Equalization Members.

We rely on the Local Church Leadership Reports provided in your church conference packets for Equalization Member nominees, and had very few names on this years reports.

If you are interested in being an equalization member please contact Phyllis in the District Office to be added to the list for consideration.
---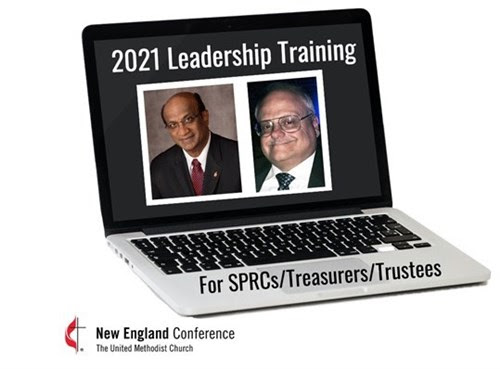 NEAC Church Leadership Training
For: Church Treasurers, and Church Trustees
The New England Conference is offering online leadership training for Church Treasurers, and Church Trustees. Presenters are Conference Treasurer/Director of Administrative Services, John Cardillo (Treasurers and Trustees Workshops). You will have the opportunity to ask questions and join a breakout discussion for your district. The workshops, which will be offered via Zoom, are scheduled for 6:30-8 p.m. on:
Church Treasurers »»» February 3, 2021
Church Trustees »»» February 24, 2021
Click the date above to get more information and the Zoom link.
---
2021 Pilgrimage to Taizé is still on; sign up today
All youth and young adults between the ages of 16 and 30 are invited to join a life-changing pilgrimage to Taizé, France, a place which is filled with deep Christian spirituality and broad ecumenism. This week-long experience will be led by Bishop Sudarshana Devadhar. The 2021 pilgrimage is July 23 to Aug. 2.
COVID-19 Note: We are continuing to accept registrations in anticipation of being allowed to travel this summer. If travel restrictions are not lifted or we determine it would not be safe and have to cancel the pilgrimage, registrants will be notified and receive a full refund.
Registration deadline has been extended to Feb. 15.
Learn more and register today

PLEASE NOTE: WESLEY HAS A LARGE SCHOLARSHIP AVAILABLE TO ASSIST YOUTH OR YOUNG ADULTS INTERESTED IN GOING ON THIS LIFE-CHANGING TRIP! Contact Pastor Cheryl for details.
Pastor Cheryl

is available by phone, Zoom, Facebook messenger, text or email for

pastoral support or to discuss church business. Set a time by emailing her at this link or by calling the church phone 224-7413 which is monitored remotely by our Administrative Assistant, Anne Roberts. If you or someone who you know that needs help would like to apply for assistance from the Pastor's Discretionary fund you can initiate the process by filling out the application at this link. If you know of someone who would like to receive a print version of the eWeekly please let us know by calling 224-7413 or emailing the office.
---
If you'd like to join other
Prayer Messenger
s
please contact coordinator, Norma Kane to volunteer. You may also forward your prayer requests directly to our
prayer chain
coordinator, Laura Fry.
---
AMAZON SMILE
Get 0.5% for Wesley. If you shop on Amazon, please consider naming Wesley UMC as your designated Smile charity. AmazonSmile will donate 0.5% of the purchase price of eligible items purchased. Use this

link

to select Wesley UMC-Concord NH. Detailed instructions are available here. As always you are invited to support Wesley directly by mailing your gift to 79 Clinton Street, Concord NH 03301 or electronically at Concord WUMC.org/donate.