After our In-Gathering for the Alternative High School Program last week, Jane Broadrick reported that the staff at the AHS were beside themselves with gratitude for the food donated. They are planning to put a strong emphasis on community service for their students this year and want very much to be able to help the church in any way possible. They are open to taking their students to people's homes to do outside work--raking, cleanup, snow removal, etc--during school hours, Monday through Friday. It would be a community service so no payment would be involved. They especially spoke about doing this for elderly or handicapped folks. A staff person would always accompany and supervise their students when they are doing community service. Please contact Jane Broadrick at this link if you'd like to take them up on this generous offer.
---
One Planet Peace Forum (OPPF) is pleased to announce the virtual launch of its annual gathering for building a culture of peace online September 25-27. Sponsored by the Abbey of Hope, an interfaith Cooperation Circle of United Religions Initiative (URI), and funded by generous grants from URI and the Maine Humanities Council, One Planet Peace Forum was created as an annual event to offer a universal platform for people of all spiritual and secular expressions to co-create solutions to the most challenging issues facing humanity today. The program, from 3-5:30pm ET Friday, 9/25, Saturday, 9/26, and Sunday, 9/27, will integrate short keynote talks, panels with discussion, contemplative practice, and sacred performance to create a safe place for collaboration by applying universal principles, values, and tools, such as truth telling and unitive justice, to find common ground through interfaith and interdisciplinary dialogue and action. Learn more and register at this link
---
Hurricane Laura struck as a Category 4 hurricane and is now dropping rain inland in places already damaged by multiple spring and summer storms. On its wide and lengthy projected path through the country toward the Northeast, the storm will continue to cause damage and exacerbate living conditions for many as we all contend with staying safe and healthy during the pandemic.
UMCOR-trained volunteers are already preparing to assist people in their community. Your help is needed to provide the tangible items necessary for relief work including personal protection equipment that our volunteers will need to stay healthy.
Please help.

Your gift, today, to U.S. Disaster Response will enable UMCOR to serve people impacted by the catastrophic wind, rain and fire events of this season. We need your help, today.


Please give at this link


or you can send your check to to Wesley UMC with a note that it is for UMCOR.
---
It's Election Season. If you need help voting, please call the office at 224-7413 and we will help you get the information you need to get registered, get your absentee ballot and get it delivered.
---
Here is the current Go Fund Me donation page for Family Promise. At the last Host Coordinator Meeting, it was suggested in light of the Covid-19 situation restricting the ability for congregations to rotate shelter for families, some might be interested in helping this way. We are currently are using funds each month for homeless families to stay at the Rock 'N Birch campground in Henniker. It is $600 per cabin, or $1,200 for our 2 families. This will likely continue through October. These funds are intended to be used for car repairs, registration or other direct family services. If you are interested, please click this GoFundMe link or check out our Facebook page. As always, we can never thank you enough for your help and kindness! Family Promise of Greater Concord
---
Abbot-Downing Ministry News from Norma Kane
The need for disinfecting wipes, Purell, Kleenex tissues are highlighted – possibly masks all due to Covid-19. Janet says "We really appreciate your (Wesley's) willingness to help us out and I think, now more than ever, we can use it."
Perhaps early shoppers will be able to avoid empty shelves. Now is the time to pick up the above items whenever you find them for sale. Keep them at home until these items can be brought to the church for delivery to Abbot Downing, the elementary school a couple of blocks from our church. As in the past, our A-D Team still plans to support the teachers, students and staff at Abbot Downing with the assistance of our congregation. Galatians 6:9 "So let's not get tired of doing what is good. At just the right time we will reap a harvest of blessing if we don't give up."
---
The Concord Homeless Resource Center welcomes the donation of items for immediate use. Here are the top needs:
· Bottles of water (as public water supply is limited and it's getting hot!)
· Paper "to-go" coffee cups (we distribute coffee in disposab
le cups outside)
· $5 Gift Cards to local restaurants or Dunkin' Donuts
· Bug spray ('tis the season)
· Gauze, medical tape and large band-aids
Please contact us ahead of time before dropping items off just email office@concordhomeless.org
---
We know that there are some who need help with this new

virtual world

, setting up computers and phones to remain in contact with our beloved church community. If you NEED help or if you have the gifts TO help, please let the church office know at 224-7413 and we'll begin matching solutions!
This Week's Prayer and Scripture
Galatians 3:23-28
Now before faith came, we were imprisoned and guarded under the law until faith would be revealed. Therefore the law was our disciplinarian until Christ came, so that we might be justified by faith. But now that faith has come, we are no longer subject to a disciplinarian, for in Christ Jesus you are all children of God through faith. As many of you as were baptized into Christ have clothed yourselves with Christ. There is no longer Jew or Greek, there is no longer slave or free, there is no longer male and female; for all of you are one in Christ Jesus.
Hello United Methodist Women of the newly formed Granite District!
We are so excited to share this current Women Who Rock Newsletter with you and to invite you to our Fall Zoom Gathering on

October 3, 2020!

The Theme is "Women Who Rock" ---- "Rock the Vote!"
We would love for you to join us for a day of celebration, learning, fellowship, and worship!
How do you join us? ITS FREE! Just Register!
Email our wonderful Treasurer Mary Jane Anderson at this link
Tell her: Your Name! Your local unit /church name /or district membership! And Your Email!
And NOW Just open this link to learn more about this day and lots of other UMW news!
Each week we'll feature a Wesley Mission, describing what it is we're doing to transform the world with God's love.
---
J

E

R

I

C

H

O


Jericho. One word says it all and captures what this diverse group of Wesley members seeks to do, to break down walls that keep so many individuals from experiencing the love of God and Christ's presence in their lives, from feeling valued, loved, and appreciated as children of God. At Wesley UMC, Jericho has paved the way toward keeping alive Wesley's long-standing commitment to full inclusion for all LGBTQ+ persons in the United Methodist Church and in society. As a member of the Reconciling Ministries Network, Wesley UMC and the members of Jericho feels supported in this important mission and are working to expand the social justice awareness and activism at Wesley.
by Paula Delbonis-Platt
Pastor Cheryl

is available by phone, Zoom, Facebook messenger, text or email for

pastoral support or to discuss church business. Set a time by emailing her at this link or by calling the church phone 224-7413 which is monitored remotely by volunteer Judy King. If you or someone who you know that needs help would like to apply for assistance from the Pastor's Discretionary fund you can initiate the process by filling out the application at this link. If you know of someone who would like to receive a print version of the eWeekly converted by Shoshanna Cone, printed by Judy King and mailed by Jill Savage, please let us know by calling 224-7413 or emailing the office.
---
If you'd like to join other
Prayer Messenger
s
please contact coordinator, Norma Kane to volunteer. You may also forward your prayer requests directly to our
prayer chain
coordinator, Laura Fry.
---
While Wesley UMC is not meeting in person, we will be holding meetings and Bible studies via conference
call and Zoom. Links can be found on our website and Facebook to all of our media. If you need help using any of these programs, please contact Paula Delbonis-Platt.
---
We've d
esigned a plan to keep us in touch with one another. If you're not already connected and would like to hear from your church friends more regularly, please let Jane Broadrick know.
---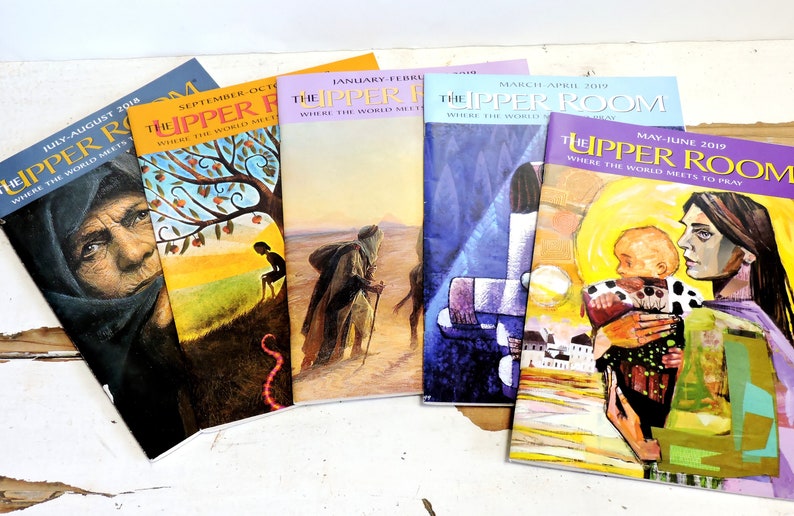 Are you missing The Upper Room?
Let the church office know and we'll make arrangements for you to pick up or have your copy delivered.
Also, Morning Prayer with The Upper Room via Facebook Live, every Monday, Wednesday, and Friday at 11 a.m. (CT). These guided prayer experiences are archived so you may join us at your convenience if you miss it live.
A PDF File of the July/August issue of The Upper Room is available to our standing order churches.
VISITING
Pastor Cheryl has made a variety of special visits where allowed recently. If you'd like a visit, please contact the office at 224-7413 or concordwumc@gmail.com for prayer or to schedule a masked, socially distanced, outdoor visit during this time.
---