The CCEH Corner
CCEH CORNER February 21, 2021
Your donations enable CCEH and the Homeless Resource Center to provide the basic necessities to those who are homeless as they also work to end homelessness in the Concord area. Thank you Wesley!

BLESSING BAGS
Imagine what it might be like to be newly homeless. You wake up on the street with nothing but the clothes on your back. You can't brush your teeth because you have no toothbrush or toothpaste. You can't wash up because you have no soap, razor or deodorant. Now imagine what a blessing it would be if someone gave those items to you…no questions or expectations, just gave you back a bit of dignity and a feeling of being cared for and cared about. That is what a BLESSING BAG is. It is something as simple as a gallon-size Ziploc bag filled with the necessities. During Lent, you are invited to fill one or more Blessing Bags, and as you place each item in the bag, pray for the homeless person who will receive it and offer a prayer of thanks that you do not face the insecurities of being homeless. Perhaps you might want to consider placing one item in the bag each day of Lent as your sacrifice/offering. You may want to begin collecting INDIVIDUAL/TRAVEL SIZE of some or all of these items now: shampoo, conditioner, comb, toothbrush, toothpaste, deodorant, body wash, body wipes (like baby wipes), disposable razor, Chapstick, foot powder, bandaids, Q-tips, tissues, toe/hand warmers, breakfast bar, pack of peanut butter crackers. Your contributions do make a big difference in the lives of those who are homeless. Thank you.

12TH ANNUAL SOUPERFEST (March 20, 2021) Souperfest is an annual event to raise funds to achieve CCEH's vision of Concord as a place where everyone has a safe, decent and affordable place to live. How can Wesley help? We can help sponsor Souperfest. There are several levels of sponsorship: Bronze $250; Silver $500; Platinum $1,000, Gold $2,500 and Paladium $5,000. Which will Wesley be?? Send your donations to Wesley UMC and indicate in the memo line of your check that it is for "Souperfest." If you contribute using PayPal, please send an email to the church treasurer indicating the amount and that it is for Souperfest. This year Souperfest will be different than in past years due to the pandemic. This year eight of Concord's finest eateries are preparing their most popular soup for folks to purchase for take-out. You can pre-order some delicious soup to enjoy yourself and then pick it up on March 20 between 3:00-5:30 PM at White Park, 1 White St., Concord. For more information and to pre- order your soup, SouperFest 2021 – Concord Coalition to End Homelessness. Soup tickets will be limited and must be purchased in advance.
An Update From Family Promise:
A big thank you to First Congregational of Concord and Temple Beth Jacob for their help in providing meals and assistance to our families in recent weeks.

Our Families…

Jane and Emery moved into their apartment in Warner and tell us they love it. We will stay in touch with them to see how they're doing. Bobbi Jo and family are doing well and actively looking for housing. Thanks to so many wonderful donors and the hard work of Rachel, Bobbi Jo now has a reliable and safe car! Davelynn and children Randyn and Grace are settling in at the parsonage. Davelynn is applying for a housing voucher and attending NH Works. Rachel is trying to get childcare for Randyn so Davelynn can work.

Concord Coop and Family Promise

As you may know, Liane was on Nazzy in the morning with Concord Coop! Family Promise is the recipient of this month's "Round-It-Up" Program at the register. Please let your volunteers know and anyone you can think of!
To watch the video clip and share the video.
---
Abbot-Downing February Ingathering Sunday 28, between 1 and 2:30pm in Wesley's Parking lot:
The A-D Team is collecting pencils, erasers, dry erase markers, permanent markers, crayons, colored pencils, markers, tape, glue sticks, two-pocket folders, lined paper, soft tissues, cleaning wipes and hypo-allergenic wipes.

Principal Anthony Blinn and the A-D PTO are working on addressing a need arising from the pandemic: document cameras (see above photo). They can be used to project lessons into the interactive white board to share student writing, drawing for Art, math manipulatives, highlighting in a book to reference for comprehension. Twenty cameras are needed for the whole school. Each document camera costs approximately $200 and any amount contributed by Wesley and identified for this purchase is welcomed.
Our A-D Team says "Thanks for your past generosity" and we hope to see you on Sunday Feb. 28 in Wesley's parking lot.
---
Single Parents Support Group

Please join us for a support group for single parents, organized by Wesley United Methodist Church on Clinton St. in Concord NH. This group will be held on Zoom, Thursday nights from 7 to 8:30 pm beginning March 11th, 2021. This group will meet initially for six weeks. We will address topics like stress management and self care, co-parenting, disciplining with love and coping with loneliness. The goal of this group is to provide a safe and healthy place to discuss the challenges and joys of single parenting. All are welcome! Although this is a church based group and will include some prayer, we embrace all single parents, regardless of faith background or spiritual beliefs.
If you are interested, please call the Wesley Church office at 603 224-7413 by March 4th for more information.
---
"The daily struggle for existence in Palestine and Wesley UMC's response".

Sabeel Wave of Prayer
Thursday 11th February 2021
The Kumi Now Online gathering will take place on Tuesday, the 9th of February, at 6pm(Jerusalem Time) to consider the difficulties Palestinians face in accessing medical care. Particularly those living in Gaza face long delays and administrative hurdles in trying to obtain permits from the Israeli authorities to attend medical appointments outside the enclave.
Lord, we pray that Israel will lift the restrictions on the freedom of movement of Palestinians, particularly those who need medical treatment living in Gaza. Lord, in your mercy…hear our prayer.
Thursday, the 28th of January, marked the 10th day of the hunger strike of two Palestinian brothers, Bassam and Bilal Diab from Kafr Ra'i in the northern part of the West Bank.They were re-arrested at their home on the 19th of January for their opposition to the occupation and incarcerated in Al-Jalama interrogation centre, near Haifa.
Lord, we pray for the health of the Diab brothers and that they may soon be released from prison. We pray for the thousands of Palestinians languishing in Israeli jails because they have expressed their opposition to the occupation. Lord, in your mercy...hear our prayer.
The Israeli army ordered the temporary eviction of five Bedouin families in Masafer Yatta, south of Hebron on Sunday, the 31st of January, to make way for military training exercises in the area. The families were forced to evacuate at short notice and are concerned their land will be unsafe when they are allowed to return.
Lord, we pray for an end to the constant harassment and disruption caused by the Israeli military to the lives of the Bedouin people in the Jordan Valley. Lord, in your mercy...hear our prayer.
Patriarch Michel Sabbah shared his reflections in a film entitled, 'The People's Patriarch' in a livestream on Saturday, the 6th of February. He was the only non-Italian for over 500 years to hold the office of the Latin Patriarch of Jerusalem (1987-2008). He was also one of the prominent Palestinian Christian leaders to introduce the Kairos Document in 2009.
Lord, we thank you for the life and witness of Michel Sabbah and for his courage in continuing to speak out against the injustices of the Israeli occupation of Palestine. Lord, in your mercy...hear our prayer.
Issa Amro is due to appear before an Israeli military judge on Monday, the 8th of February to hear his sentence. He is the founder of Youth Against Settlements and has protested against human rights abuses in a nonviolent way for years. Amnesty International has called on Israel to drop the 'politically motivated' case against Issa, calling the charges against him 'baseless'.
Lord Jesus, our bright morning star, (Rev22:16) guide us through the darkness and light our way when justice is far from us and we walk in the gloom. We pray for Issa and for all Palestinians who protest nonviolently against the Israeli occupation. Lord, in your mercy…hear our prayer.
A large-scale demolition of 28 Palestinian homes and structures was carried out by the Israeli army on Monday, the 1st of February, in Hemsa al-Foqa, east of the city of Tubas in the northern Jordan Valley. This demolition has rendered 85 Palestinians homeless, including 45 children.
Lord, we pray that the demolition of Palestinian homes by the Israeli authorities will cease. We pray that the international community will intervene to prevent the Israeli government from all attempts to displace Palestinians and oust them from the land. Lord, in your mercy…hear our prayer.
On Monday, the 1st of February, Israeli police opened fire in a residential area in Tamra, northern Israel, in an incident involving two masked gunmen. The police killed one suspect and injured another. Several other Palestinians were caught up in the incident. Ahmad Hijazi, a 22-year-old nursing student, was killed and Muhammad Armoush, a 31-year-old doctor, was injured and taken to a hospital in Haifa for treatment. Thousands of Palestinians turned out in four Arab cities in Israel on the following evening to protest the failure of the Israeli police to arrest members of criminal gangs in the Arab-Israeli community and for the lack of gun control.
Lord, we pray for the families of those killed and for the injured victims in the most recent incident in Tamra as they grieve their loss and recover from their wounds. We pray that the cycle of violence in the Arab- Israeli community will be thoroughly investigated and brought under control. Lord, in your mercy...hear our prayer.
The deaths of two prominent Palestinians has just been announced. Alia Nusseibeh spent sixty years of her life championing the cause of education for women and set up the Al Nithamia School for Girls in Jerusalem. She was also an outspoken campaigner against Israeli interference in the Palestinian education system in occupied East Jerusalem.Abdul Sattar Qassam, a Palestinian academic and political activist, died of Covid-19 on Monday, the 1st of February at the age of 72 years. He was the Professor of Political Science at Al-Najah University in Nablus.
We thank you Lord for the way Alia Nusseibeh and Abdul Qassam devoted their lives to the education of young women and men. We thank you also for their courage in speaking out against the injustices of the Israeli occupation. Lord, in your mercy…hear our prayer.
We pray for Margaret Karram, from Haifa, as she becomes the first Arab to lead the Catholic Focolare Movement as president. We pray for God support for Margaret in her tasks, especially during these difficult times. Lord, in your mercy…hear our prayer.
We join the World Council of Churches in their prayers for the countries of Andorra, Italy, Malta, Portugal, San Marino, Spain, and the Vatican City. Lord, in your mercy…hear our prayer.
---
Spiritual Formation and Education
Monday Morning Quarterback Bible Study
Weekly questions from Pastor Cheryl to continue studying Matthew 8:1-4; 16-17 from the worship service at home.
1. Notice that the leper said to Jesus, "If you choose, you can make me clean." Why would Jesus not choose to heal him? Why would Jesus choose to heal him?

2. Leprosy held a social stigma then and is generally contagious among poor people in close quarters now. We're living in a time of fear of the contagion of COVID. In light of God's call for us to be in relationship, what is God seeking for us to do during this socially distant time?
Ms.
Christina's Corner
Director of Children and Youth Ministries
Sunday School Zoom at 10:00 am each week
Join Zoom Meeting at this link
Meeting ID: 726 9853 8230
Passcode: Sunday
Youth Zoom at 1:00 pm each Sunday
Join Zoom Meeting at this link
Meeting ID: 736 0199 3984
Passcode: Youth
---
By now you have received your "Lent paper chain link challenge" activity (how did yesterday's activity go?? )! Just wanted to remind you that you have one link/activity for every day up to Easter except for Sundays (our day of rest!) and to be sure to send in pictures of your chain or of you and your child doing the activity!
---
Save the date! Friday, February 26th, 2021 6:00pm! Our first "Messy Church" is coming to WUMC! Check out this website to see what it's all about! This will be a fun, once-a-month, family fun, fellowship building time for our church and greater Concord community! Meet us on Facebook and YouTube and have some Friday night family fun! Invite and share with your friends, this is for ALL ages! You'll need these materials ready ahead of time:
Baking sheet
Foil
Olive oil
Salt/pepper
1 Zucchini
Sauce
Cheese (mozzarella/parmesan)
Oregano/Italian seasoning
Favorite pizza toppings!
Adult Sunday School Studies A
cts of the Apostles
Newcomers welcome! At 9 a.m. Sunday mornings. No outside reading is required. We will read Acts in class, with discussions guided and informed by the background study of teacher Byron Champlin. If you would like to participate in the study, phone him at 228-0097.
Join Zoom at this link.
Meeting ID: 863 3723 2049 Password: 003935 Phone: 1-646-558-8656
NH Council of Churches ANNUAL MEETING



On Saturday, February 27, the NH Council of Churches will hold its Annual Meeting from 10:00-11:30am. This year, the Annual Meeting will be held online only. Click here to register for this meeting.

Several of you participated in last year's Annual Meeting as Wesley United Methodist Church in Concord. There, we had a dynamic meeting praying and reflecting together on the question, "How can we be the Council of Churches that New Hampshire needs?"

Not long after that meeting, the pandemic crisis hit us, causing us to set aside most of what we discussed. However, our faith communities came together as all of us were affected by the pandemic. Together, we planned how to hold worship, how to share information about the vaccine and much more.

As we come to this year's Annual Meeting, we will:
Introduce Leslie Pendleton of Pendleton Consulting and the fundraising committee that she has formed
Present highlights of the Council's ministry in 2020
Introduce Chaplain Caroline Brown, the new chaplain to the Women's Prison in Concord
Elect Rev. Jim Thomas of Atkinson Congregational Church as our new Vice President
Present our 2021 budget, focusing on long-term, sustainable mission
As friends of the Council, I invite you all to participate in this year's meeting by registering online through Zoom. Further details can be found on our website, where we will soon be posting our annual report and 2021 budget materials.

Mike Ard (Baha'i) and Dori Bongiovanni (Buddhist), President of GCIC are facilitating a biweekly interfaith discussion on the 1st and 3rd Monday of each month from 7:00-8:00pm. You are welcome to bring a prayer or reading from your faith tradition to share. The first 40 minutes will be sharing and the last 20 minutes for questions about each other's traditions and discussion. Join at this recurring Zoom link

The Greater Concord Interfaith Council also plans to offer it's annual Lenten Luncheons virtually this year. Stay tuned for details.
Virtual Choir Rehearsals



All are invited

to attend Thursdays at 7:15 pm. We meet via Zoom at this recurring link each week: Meeting ID: 779 7127 5619 Passcode: 9M6QX9

.
2021 Reading Challenges for All Types of Readers
Here is a great resource to keep you encouraged and accountable for expanding your reading. Not sure where to start? Mind Joggle has suggested some themes:
A book that makes you laugh, or feel cozy, a book about animals, travel adventures or a book that is described as heartwarming.
---
Mediterranean Baked Sweet Potatoes
4 medium (~1/3 lb each) sweet potatoes*
1 15-ounce can chickpeas (rinsed and drained)
1/2 Tbsp olive oil
1/2 tsp each cumin, coriander, cinnamon, smoked (or regular) paprika
1 pinch sea salt or lemon juice (optional
1/4 cup hummus (or tahini)
1/2 medium lemon, juiced (1/2 lemon yields ~1 Tbsp juice)
3/4 – 1 tsp dried dill (or sub 2-3 tsp fresh per 3/4-1 tsp dried)
3 cloves garlic, minced (3 cloves yield ~1 1/2 Tbsp or 9 g)
For cooking instructions visit this website.
---
This Week's Prayer and Scripture
Matthew 8: 1-4; 16-17
Jesus Cleanses a Leper
When Jesus had come down from the mountain, great crowds followed him; and there was a leper who came to him and knelt before him, saying, 'Lord, if you choose, you can make me clean.' He stretched out his hand and touched him, saying, 'I do choose. Be made clean!' Immediately his leprosy was cleansed. Then Jesus said to him, 'See that you say nothing to anyone; but go, show yourself to the priest, and offer the gift that Moses commanded, as a testimony to them.' That evening they brought to him many who were possessed by demons; and he cast out the spirits with a word, and cured all who were sick. This was to fulfil what had been spoken through the prophet Isaiah, 'He took our infirmities and bore our diseases.'

This Week's Prayer

Creator God,
We are bodies fashioned by your hand in your own image,
shapes and colors of diverse and immense beauty.
And yet too often we have ignored the sacred nature of our physical lives.
The Holy Vessels you have fashioned are tired and suffering,
ravaged by months of disrupted rhythms and ailment.
Our fragility has come into full view and we are frightened.
We cannot fathom the proportions of loss and so we look away,
sometimes even from our own needs.

Help us, Healer.
Show us our strength.
Forgive our inertia.
Move us to move
one step at a time toward greater care.


Lay Servant Ministries

Course Planning

The Granite District Lay Servant Ministry team is planning a Basic Course and Advanced Course(s) that will be offered virtually before spring, 2021.
Read more here.
---
2021 Annual Conference Session - Online
From the Conference Office...The health of our members and communities remains our priority, and it is uncertain that we will be able to gather safely in June, so we have made the decision to hold the 2021 Annual Conference Session online. While we would like to meet together, we cannot ensure that we will have access to all the services required for an in-person gathering at that time.

All clergy and lay members should hold June 10-12 for the online session. Tentatively, clergy session will be June 10 with Ordination/Commissioning on June 12 for the classes of 2020 and 2021 (with a limited number of participants). The service would be livestreamed.
More information about registration and a detailed schedule will be announced in March.
---
Equalization Members Needed for Annual Conference
The format of this year's annual conference (whether in person or virtual) is not yet certain, but what is certain is that the dates are June 10-12, 2021, and we will need some lay people to serve as District Equalization Members.

If you are interested in being an equalization member please contact Phyllis in the District Office to be added to the list for consideration.
---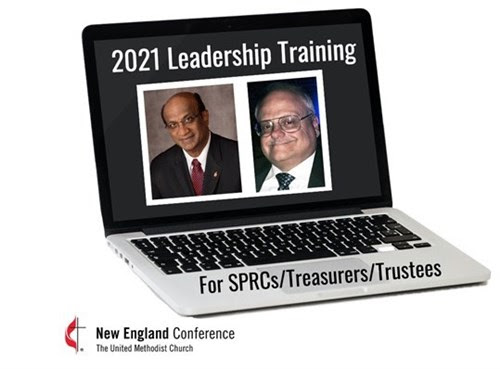 NEAC Church Leadership Training
For: Church Treasurers, and Church Trustees
The New England Conference is offering online leadership training for Church Treasurers, and Church Trustees. Presenters are Conference Treasurer/Director of Administrative Services, John Cardillo (Treasurers and Trustees Workshops). You will have the opportunity to ask questions and join a breakout discussion for your district. The workshops, which will be offered via Zoom, are scheduled for 6:30-8 p.m. on:
Church Trustees »»» February 24, 2021
Click the date above to get more information and the Zoom link.
---
2021 Pilgrimage to Taizé is still on; sign up today
All youth and young adults between the ages of 16 and 30 are invited to join a life-changing pilgrimage to Taizé, France, a place which is filled with deep Christian spirituality and broad ecumenism. This week-long experience will be led by Bishop Sudarshana Devadhar. The 2021 pilgrimage is July 23 to Aug. 2.
COVID-19 Note: We are continuing to accept registrations in anticipation of being allowed to travel this summer. If travel restrictions are not lifted or we determine it would not be safe and have to cancel the pilgrimage, registrants will be notified and receive a full refund.
Registration deadline has been extended to Feb. 15.
Learn more and register today

PLEASE NOTE: WESLEY HAS A LARGE SCHOLARSHIP AVAILABLE TO ASSIST YOUTH OR YOUNG ADULTS INTERESTED IN GOING ON THIS LIFE-CHANGING TRIP! Contact Pastor Cheryl for details.
Pastor Cheryl

is available by phone, Zoom, Facebook messenger, text or email for

pastoral support or to discuss church business. Set a time by emailing her at this link or by calling the church phone 224-7413 which is monitored remotely by our Administrative Assistant, Anne Roberts. If you or someone who you know that needs help would like to apply for assistance from the Pastor's Discretionary fund you can initiate the process by filling out the application at this link. If you know of someone who would like to receive a print version of the eWeekly please let us know by calling 224-7413 or emailing the office.
---
If you'd like to join other
Prayer Messenger
s
please contact coordinator, Norma Kane to volunteer. You may also forward your prayer requests directly to our
prayer chain
coordinator, Laura Fry.
---
AMAZON SMILE
Get 0.5% for Wesley. If you shop on Amazon, please consider naming Wesley UMC as your designated Smile charity. AmazonSmile will donate 0.5% of the purchase price of eligible items purchased. Use this

link

to select Wesley UMC-Concord NH. Detailed instructions are available here. As always you are invited to support Wesley directly by mailing your gift to 79 Clinton Street, Concord NH 03301 or electronically at Concord WUMC.org/donate.