It's almost softball season. If you are interested in playing please contact Norm Lemay.



---
Anne Drewniak of Step Ahead Preschool shares: In lieu of our graduation ceremony, we are
going to have a car parade and sing a long in the parking lot Wednesday, May 20th at 10 am. Our plan is to have families park, and remain in their cars, facing the playground so we can sing a few songs and give a little hooray for our graduates.

We respectfully request that anyone doing church work that day could park in the spots right along Norwich Street since cars parked on that side of the lot could get caught in the parade and end up staying longer than they intended!
Thank you for all your support!
---
---

Concord Hospital is in dire need of cloth masks. Click on this link for their newsletter including directions on how to make the style they need.
---
The Homeless Resource Center has a number of needs. Click on this link to see the list sent
in their recent newsletter to see how you might help with things like paper towels, $5 gift cards, toilet paper, hand soap, hand sanitizer, sleeping bags, insect repellant and more.

---
Family Promise Update

Family Promise continues to host a family of three, the same family who stayed at Wesley in February. Due to the stay-at-home order, they are housed at the day center/parish hall of the IHM church. This week Wesley has been providing them with a few meals along with groceries and restaurant gift cards in order to maintain social distancing. Thank you, Diane McFall, Norma Kane and Lorraine Schindler for providing meals. To our other fabulous cooks, we will look to you next time! Pending the governor's re-opening our upcoming hosting schedule is as follows: June 28-July 5, August 30-September 6, December 27-January 3 and March 28-April 4. Thank-you to our dedicated volunteers. If you would like to be involved in Family Promise, please contact Ruth Engel.
---
We know that there are some who need help with this new

virtual world

, setting up computers and phones to remain in contact with our beloved church community. If you NEED help or if you have the gifts TO help, please let the church office know at 224-7413 and we'll begin matching solutions!
---
Help with Groceries
Nicole Trent has graciously offered to help folks by delivering groceries on the weekend. Contact Nicole at this link.
---
Riverbend Community Mental Health

finds that, because of
the COVID pandemic, many of their clients are in need of food. (One family was down to a box of waffles in their freezer, for example.) You are welcome to donate nonperishable food items, bringing them to 278 Pleasant Street in Concord, and left for Sheryl Putney, who will distribute as needed. Call the church if you'd like help delivering your donations. Pastor Cheryl has also provided several $50 grocery gift cards to these folks from the Pastor's Discretionary Fund to help during this desperate time.
---

Through the COVID-19 Response Fund, UMCOR is committed to:
Reducing food insecurity
Providing water and sanitation facilities
Strengthening health care systems
Responding to economic instability
Your response, today, can make that happen!


Together, we can quickly provide critical and tangible support to those most affected by COVID-19.

If you are able, please give, today through Wesley by indicating "UMCOR COVID-19" on your PayPal donation or check.
---
From Judy King:
Did you hear Queen Elizabeth speak to British citizens last week to commemorate VE Day? She spoke about not being able to have a big public celebration due to the coronavirus pandemic. Her words painted such a beautiful and powerful picture. She said, "We remember from our homes and from our doorsteps. But our streets are not empty. They are filled with the love and care that we have for each other." I think that about our online worship services also. Our church building is not empty. It is filled with the love and care that we have for each other. Thank you for all the extra work you all do to make our online worship services happen each week. They are wonderful.
---
From Nancy Fransen:
Passages from the book, "One Simple Act" Discovering the Power of Generosity by Debbie Macomber-a recommended UMW book

Simple Acts of Hope
Keep cards with pen, stamps, your address book together. Make it Convenient to write to a friend.

The Bible is filled with passages of hope and consolation.
Here are a few of the author's favorites.
You'll want to take time to search for others, since much of the hope we offer will come from the time spent in God's Word.

Jeremiah 32:27 - "I am the Lord, the God of all mankind. Is anything too hard for me?"

Isaiah 54:10 - "Though the mountains be shaken and the hills be removed, yet my unfailing love for you will not be shaken nor my covenant of peace be removed,' says the Lord, who has compassion on you."

Isaiah 46:3-4 - "Listen to me...you whom I have upheld since you were conceived, and have carried since your birth. Even to your old age and gray hairs I am he, I am he who will sustain you. I have made you and I will carry you; I will sustain you and I will rescue you."

Romans 68:38-39 - "For I am convinced that neither death nor life, neither angels nor demons, neither the present nor the future, nor any powers, neither height nor depth, nor anything else in all creation, will be able to separate us from the love of God that is in Christ Jesus our Lord."

Psalm 68:19-20 - "Praise be to the Lord, to God our Savior, who daily bears our burdens. Our God is a God who saves; from the Sovereign Lord comes escape from death."

Isaiah 43:1-2 - "Fear not, for I have redeemed you, I have summoned you by name, you are mine. When you pass through the waters, I will be with you; and when you pass through the rivers, they will not sweep over you. When you walk through the fire, you will not be burned; the flames will not set you ablaze."

1 Peter 5:7 - "Cast all your anxiety on him because he cares for you."

Isaiah 40:28-31 - "The Lord is the everlasting God, the Creator of the ends of the earth. He will not grow tired or weary, and his understanding no one can fathom. He gives strength to the weary and increases the power of the weak. Even youths grow tired and weary, and young men stumble and fall, but those who hope in the Lord will renew their strength. They will soar on wings like eagles, they will run and not grow weary, they will walk and not be faint."

John 1:14 - "The Word became flesh and made his dwelling among us. We have seen his glory,
the glory of the One and Only who came from the Father, full of grace and truth."
---
Another Note from the author is to Recall Memories and shared experiences.
Have you ever noticed how people love to laugh and share stories at funerals?
You know why, don't you? Stories connect us in a deep, personal way. "I'll never forget the time" often ushers in a long-forgotten memory. Knowing that someone is critically ill makes friendship, kinship, and shared experiences all the more precious to us. Don't be afraid to say that. And don't be afraid to spin stories. "I remember when" stories are always welcome, especially the humorous ones. Nothing lightens the load like laughter and recalling happy times.

Focus on Life and Hope
No matter how desperate the situation, there is always hope. Even if physical healing in not likely, we can find eternal hope and eternal healing in the life, death, and resurrection of Jesus Christ. As C.S. Lewis said to a friend, "Christians never say goodbye." There is hope in each new day.........the world is God's and the sun rises each day. Hope springs from such reminders.

Hope is not a gift we have to manufacture ourselves. It is a gift from the God Who delights in giving the best to His children. All we need do to give this gift is invite others to join us in looking to the Giver.
This Week's Prayer and Scripture
Acts 17:22-31
Then Paul stood in front of the Areopagus and said, 'Athenians, I see how extremely religious you are in every way. For as I went through the city and looked carefully at the objects of your worship, I found among them an altar with the inscription, "To an unknown god." What therefore you worship as unknown, this I proclaim to you. The God who made the world and everything in it, he who is Lord of heaven and earth, does not live in shrines made by human hands, nor is he served by human hands, as though he needed anything, since he himself gives to all mortals life and breath and all things. From one ancestor he made all nations to inhabit the whole earth, and he allotted the times of their existence and the boundaries of the places where they would live, so that they would search for God and perhaps grope for him and find him—though indeed he is not far from each one of us. For "In him we live and move and have our being"; as even some of your own poets have said,
"For we too are his offspring."


Since we are God's offspring, we ought not to think that the deity is like gold, or silver, or stone, an image formed by the art and imagination of mortals. While God has overlooked the times of human ignorance, now he commands all people everywhere to repent, because he has fixed a day on which he will have the world judged in righteousness by a man whom he has appointed, and of this he has given assurance to all by raising him from the dead.'
Call to Worship
by Thom Shuman

Come to worship, people of God, with praises on your lips.
Even when we are feeling isolated and fearful,
we can glorify the One who holds our hands in our loneliness.
Come into the presence of the One who makes holy
every place, every space, holy and sacred.
Even where we continue to stay safe in our homes,
the doors of grace are flung wide open for us.
Come and hear the stories of the One who loves you.
In living rooms, on laptops and devices,
We will sing our songs and tell those tales
of the peace and of the hope which is ours.
Amen.
Join us for worship live on our YouTube channel "Concord Wesley UMC (NH)" each Sunday at 10:30am. You can also click here for our virtual welcome clipboard to let us know you joined us to keep in touch throughout the week or connect with us for the first time as a guest.
---
Pastor Cheryl is available

by phone, Zoom, Facebook messenger, text or email for

pastoral support or to discuss church business. Set a time by emailing her at this link.
---
Our Virtual Fellowship on Zoom following worship last week was delightful! Please join us this week to catch up with your church friends, see their wonderful faces and hear how they're doing! Right after Ken's postlude on our YouTube broadcast, grab your coffee and come on over to Zoom at this link or using the credentials below:

Meeting ID: 826-9124-7213, with password: Wesley
Phone: +1 929 205 6099, with numeric password: 570260

You can copy the link in the YouTube chat to be directed to the Zoom fellowship, but be sure to close the YouTube browser to avoid having another service run in the background.
---
Keep up the great work participating as a congregation each week! Thank you so much to those of you who have sent pictures in. The staff invites you to send in photos for the following special upcoming events:

5/17 - Pictures of church, home or sacred wilderness places to demonstrate that God doesn't live in temples made with human hands
5/24 - Pictures with notes about how long you've been at Wesley for Heritage Sunday
5/31 - Pictures of you wearing red for Pentecost or of beautiful geraniums or fire
6/7 - Pictures of our graduates for Graduation Sunday, along with their degree, school colors, school they're graduating, note of future plans like college, military or work.
6/14 - Children's Sunday: pictures of yourself as a child with your name (and which person is you, if many are in the picture)
6/21 - Parent/Child photos to celebrate Father's Day

All of these can be sent to Deborah Venator, our webmaster.
---
Virtual Choir Directions

If you would like to record yourself singing the hymns and Doxology for this Sunday please follow the directions below.
Print the music for each hymn at this link.
For each musical selection you will listen to the recorded organ part to the selected hymn also at this link. Listen to this recording using headphones.
When ready to record yourself listen to the recording of the organ and and at the same time using the voice memos app on your phone record yourself singing.
When you are finished save the voice recording and send it to Choir Director, Ben Greene. Make sure I have your name. Only send one email for each recording.
If you have any questions please don't hesitate to ask and I look forward to having you be part of this ministry.
Take care,
Ben Greene
---
If yo
u'd like to join other
Prayer Messengers
please contact coordinator, Norma Kane to volunteer. You may also forward your prayer requests directly to our prayer chain coordinator, Laura Fry.
---
Join Byron Champlin for virtual

Adult Sunday School

at 9:00 am on Sunday mornings on Zoom at this link. We're studying the Psalms and you can jump in any time. Newcomers welcome!
Meeting ID: 824 9476 3383 Password: 817519 Phone: 1-646-558-8656
---
See our Virtual Children's Time with Miss Christina each week.

Join Sunday School Zoom Sundays from 10:30-11
Meeting ID: 211 945 061 Password: 030905

Join Youth Zoom Sundays from 1:00-1:30

Meeting ID: 306 446 927 Password: 026325

For other children's activities, check out Wanakee's Facebook page where you'll find occasional livestream craft demos and more!
---
While Wesley UMC is closed, we will be holding meetings and Bible studies via conference
call and Zoom. Links can be found on our website and Facebook to all of our media. If you need help using any of these programs, please contact Paula Delbonis-Platt.



ZOOM Note: there will be an upgrade that will be implemented at the end of the month if you haven't done it already. Take a moment to ensure your app is up-to-date to avoid delays getting into your meeting.
---
We've designed a plan to keep us in touch with one another. If you're not already connected and would like to hear from your church friends more regularly, please let Jane Broadrick know. We'd love volunteers to write notes to our homebound members. Find a list of their addresses at this link.

---
Give or tithe online to Wesley's mission and ministries through this secure web page using debit, credit or PayPal. You can also send a check to Wesley UMC, 79 Clinton Street, Concord NH 03301.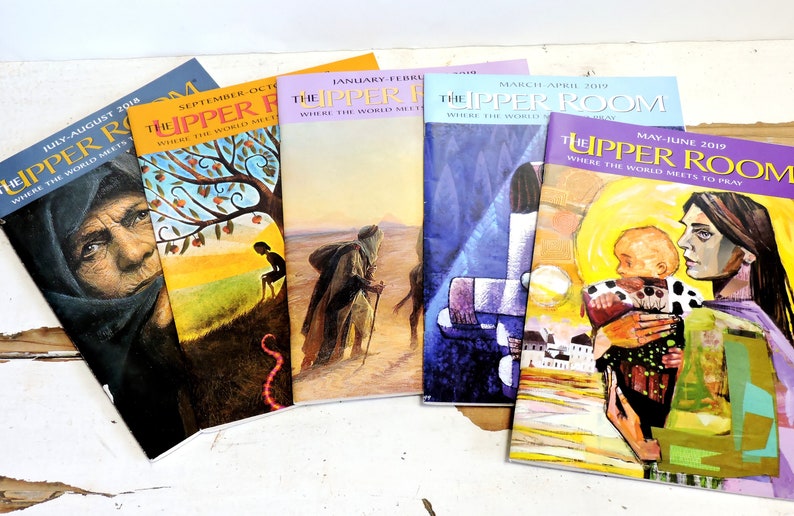 ---
Are you missing The Upper Room?
Let the church office know and we'll make arrangements for you to pick up or have your copy delivered.
VISITING
We have suspended in person visits during this time of contagion. Please

contact Pastor Cheryl

by phone, email or social media for prayer during this time.
---
VIEW SERVICES ON TV OR ONLINE
If you can't be here on Sunday, that doesn't mean you have to miss the service. Concord TV, Channel 22, shows our service during the week:
Sunday 1:30 PM
Monday 10:30 AM
Tuesday 4:30 PM
Wednesday 2:00 PM
Thursday 10:30 AM
Friday 7:00 AM


Or view services at any time at this link.
---