Grace and peace, dear one. Enjoy this blog post from
Beloved Connection
.
Psalm 16
O God, keep me safe— you are my refuge!
I said to YHWH, "You are my God; there is nothing good for me apart from you."
The holy people of my land are wonderful! My greatest pleasure is to be with them. But those who rush after other gods will bring many troubles upon themselves. I will not take part in their sacrifices; I won't even speak the names of their gods.
You, YHWH, are all that I have, you are my food and drink.
My life is safe in your hands.
Within the boundaries you set for me there are nothing but pleasant places!
What a delightful inheritance I have!
I praise YHWH, who guides me; even at night my heart teaches me.
I'm always aware of your presence; you are right by my side, and nothing can shake me.
My heart is happy and my tongue sings for joy; I feel completely safe with you, because you won't abandon me to the Grave; you won't let your loved one see decay.
You show me the path to Life; your presence fills me with joy, and by your side I find enduring pleasure.
Priests for Equality. The Inclusive Bible (Kindle Locations 23676-23690). Sheed & Ward. Kindle Edition.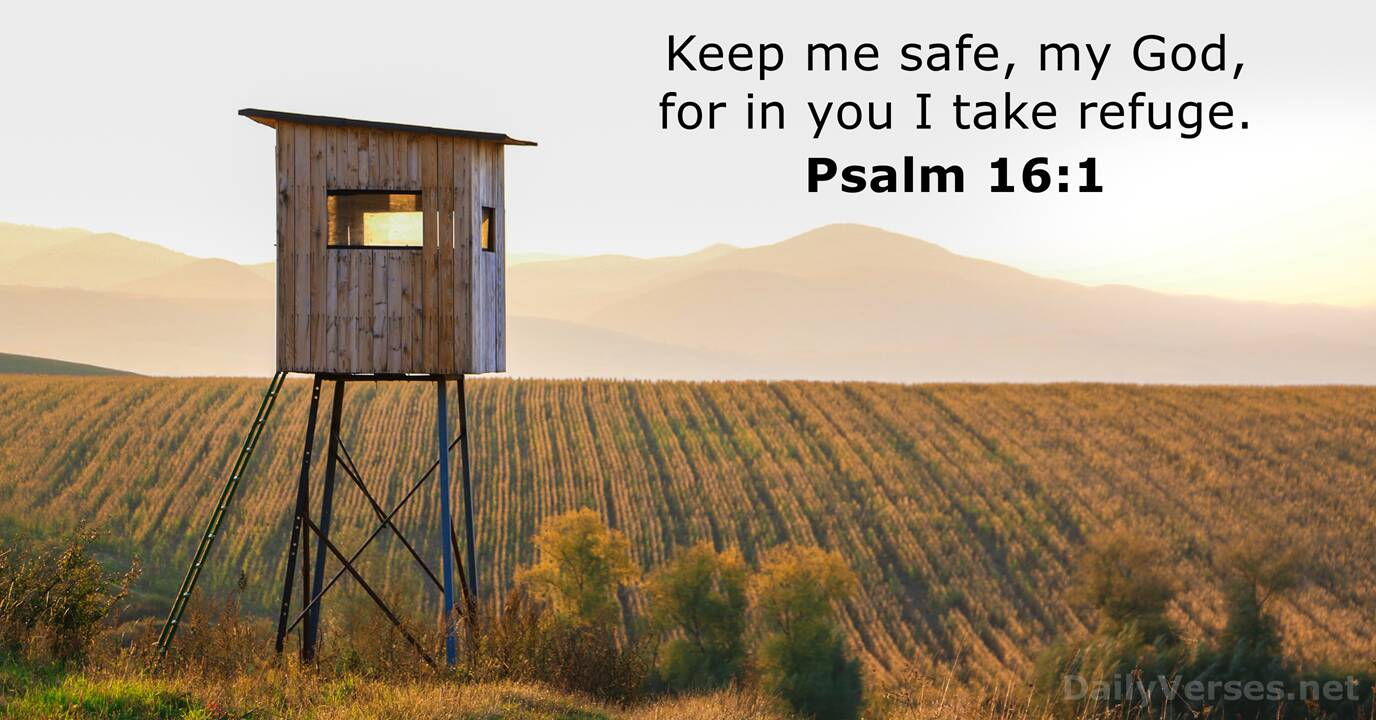 The Psalmist shares a word of comfort in this song of praise,
Keep me safe!
My life is safe in your hands!
I feel completely safe with you!
What images of safety resonate with you?
Your childhood home full of memories, smells, sights?
Your parent, grandparent, spouse, partner, child with open arms and inviting shoulder?
Your bed, safe and warm?
Something else?
What qualities of God invite us to take refuge in God's loving care?
Strength
Love
Creator and Sustainer
Something else
The Psalm itself offers some clues about the nature of safety in God:
We are never apart from God
God is the source of our food and drink
God provides boundaries
God bestows a delightful inheritance
God guides us and resides in our hearts to teach us
God is present, right beside us
God will not abandon us
In the midst of our complicated lives,
in the midst of uncertainty,
in the throes of fear and a sense of powerlessness
Let us pray
to the One who is there for us,
to the One who teaches us,
to the One who guides us,
to the One who will bear us up on eagles' wings
to the One who created us, sustains us and nurtures us
With gratitude
and joy
and delight
and wonder
and pleasure
and confident expectancy
That you, O Lord,
will keep us
safe.
Blessings,
Pastor Cheryl
Find daily inspiration from Pastor Cheryl at
Beloved Connection
.
Miss Christina's Corner
Director of Children and Youth Ministries
For the Sunday School students:
Hello, wonderful families!
Happy happy Easter to you and yours!!
I certainly hope you and your family are finding the inherent joy in this season and in the coming of Easter and all of it's promise on Sunday! I definitely miss seeing everyone in person, but know that it will make our return that much sweeter!
I have uploaded my weekly children's time message
here on YouTube
(and hope you've been able to enjoy! I meant to include in this message that we at Wesley would LOVE to see any pictures or videos of you and your family having some Easter fun!! Are you doing an egg hunt? Dying eggs? Dressing in your Easter best? Enjoying THAT amazing Easter feast? Share it with us!!
It'll help keep us all in the spirit together!
I will also continue to reach out, conducting Sunday school Zoom sessions on Sundays from 10:30-11! (Zoom invite at the end of this message!) This week, obviously, is ALL about Easter and the resurrection!! Join the session and let's have some Easter fun! If you'd like some material to follow along with or do on your own, please
email me at this link
for the "Special" attachments!
I think that's it for now... Again, I VERY much look forward to seeing everyone on Sunday and please do stay connected through e-mail or by sending those pictures as well!
Happy Easter!!
Join Sunday School Zoom
Sundays from 10:30-11
Meeting ID: 211 945 061
Password: 030905
---
For the Youth:
Hello, wonderful youth!
Happy Easter!!
I hope you are finding the joy in this season and the exceptional joy of this holiday! I'm very sad we can't be together in person, but please know, as always, I am here for you in any way you need, including our Zoom meeting on Sundays from 11-11:30! (Invite at the end!)
A few things, as we close in on this auspicious occasion of Easter for you to consider:
Please
email me at this link
for the 3rd video of our "Youth Group at Home" series for us to consider discussing this Easter Sunday (along with exploring the Easter story itself! Just thought you might want
more at this link to think about as well
.
)
Here, please find an important message
from ASP regarding our mission trip for this year...
At this time, based on recommendations from national health officials, ASP has made the difficult decision to suspend our summer volunteer hosting until August 1, 2020.
It is truly unfortunate news, but perhaps we can put our heads together about something else we can do to help the community around us (local, state, country, world, whatever comes to our collective minds!) We can discuss more during Sunday's Zoom session or you can always be in touch by e-mail with your thoughts on this as well.
Take some time to think about all of this and how we can shift our thinking, not stop or eliminate what we've already worked so hard toward, but rather evolve into something different!
I would also like to touch base with you on our 30 Hour Famine work and see how you're feeling about it and if there are any thoughts in how we might now approach this! There was a little bit of talk about this last time, but let's continue! I have some ideas myself.
I look very forward to SEEing you this Sunday! I don't know about you, but I miss my Wesley Youth Crew!
Happy Easter!
Join Youth Zoom
Sundays from 11-11:30
Meeting ID: 306 446 927
Password: 026325
---
Mindful Moments: Responding vs. Reacting in Stressful Times
by Paula Delbonis-Platt
We are indeed living in stressful times with worries about health, employment, and even simply going
out of our homes. We are bombarded with unpleasant stimuli, but we can take time to extend our
awareness to take in the caring and beauty around us, too. It is useful to be aware that people may feel
a strong impulse to react, often negatively in such difficult times; however, mindfulness practitioners
show that we can train ourselves to be less reactive and to respond in ways that support ourselves and
others.

We can hone our Emotional Intelligence by seeing the big picture, showing others how much we value
them and each other, and not taking things personally (QTIP=quit taking it personally). Some people like
to use the acronym STOP in times like this: 1) Stop or pause for a bit, 2) Take a few breaths and also
reappraise the situation, 3) Observe what's going on with you and with others and around you, and 3)
Proceed—responding (instead of reacting via the fight-or-flight response) in a way that is truthful,
useful, compassionate, and mindful.
---
We Need Your Help: Call for Support in Our Online Offering Plate
by Paula DelBonis-Platt, SPRC chairperson

We encourage you to reach out to your Wesley church family during this difficult time if you are in need.

As the chairperson of Wesley UMC's Staff-Parish Relations Committee (SPRC), we are also doing our best
to meet payroll, pay utility bills, and provide vital ministries. The collection plate is not being passed
while the building is closed, but there are many ways to contribute financially. The need for support is
great. Although our building is closed, the pastor and staff are working hard to offer worship, children's
ministries, communication, outreach, and vital care. It's essential to our faith. Our treasurer Dawn
Haynes can help you with online giving, too. It's easy! Please contribute, if at all able, by the following
means:

-Online giving: concordwumc.org/donate
-Check: Mail is secure and being received at 79 Clinton Street, Concord NH 03301
-Contact Treasurer Dawn Haynes
-Text: Plans are being made for you to contribute to Wesley UMC by a simple text. You can get ready to do this by downloading a mobile app and watching a video. You have free access to the GivePlus Mobile application. Download it here for iOS and here for Android. Also, check out this member-facing video on instructions on how to give on GivePlus Mobile. We will publish the number to text to when it is activated
---
Help with Groceries
Nicole Trent has graciously offered to help folks by delivering groceries on the weekend. Contact Nicole at this link.

---
Ways You can Help at Wesley UMC
by Jane Broadrick, co-Lay Leader

 Connect regularly with folks in your Wesley family by phone, text, mail, or social media (A Directory of Active Participants is available by emailing us at this link and will be updated on April 1st)
 Send your pledge or plate offering to the church regularly.
 Consider tithing your government relief check to Wesley.
 Read the e-Weekly to keep up to date with Wesley's response to the Covid-19 pandemic.

 Join your Wesley family at worship on YouTube every Sunday morning at 10:30.
 "Do a good turn daily." (Taken from the Boy Scout Handbook.)
 Pray for one another, your family, friends, community and the world.
John 20:1-18
The Resurrection of Jesus
Early on the first day of the week, while it was still dark, Mary Magdalene came to the tomb and saw that the stone had been removed from the tomb. So she ran and went to Simon Peter and the other disciple, the one whom Jesus loved, and said to them, 'They have taken the Lord out of the tomb, and we do not know where they have laid him.' Then Peter and the other disciple set out and went towards the tomb. The two were running together, but the other disciple outran Peter and reached the tomb first. He bent down to look in and saw the linen wrappings lying there, but he did not go in. Then Simon Peter came, following him, and went into the tomb. He saw the linen wrappings lying there, and the cloth that had been on Jesus' head, not lying with the linen wrappings but rolled up in a place by itself. Then the other disciple, who reached the tomb first, also went in, and he saw and believed; for as yet they did not understand the scripture, that he must rise from the dead. Then the disciples returned to their homes.
Jesus Appears to Mary Magdalene
But Mary stood weeping outside the tomb. As she wept, she bent over to look into the tomb; and she saw two angels in white, sitting where the body of Jesus had been lying, one at the head and the other at the feet. They said to her, 'Woman, why are you weeping?' She said to them, 'They have taken away my Lord, and I do not know where they have laid him.' When she had said this, she turned round and saw Jesus standing there, but she did not know that it was Jesus. Jesus said to her, 'Woman, why are you weeping? For whom are you looking?' Supposing him to be the gardener, she said to him, 'Sir, if you have carried him away, tell me where you have laid him, and I will take him away.' Jesus said to her, 'Mary!' She turned and said to him in Hebrew, 'Rabbouni!' (which means Teacher). Jesus said to her, 'Do not hold on to me, because I have not yet ascended to the Father. But go to my brothers and say to them, "I am ascending to my Father and your Father, to my God and your God." ' Mary Magdalene went and announced to the disciples, 'I have seen the Lord'; and she told them that he had said these things to her.
ALL IN-PERSON EVENTS CANCELED THROUGH AT LEAST MAY 4

Click here to access the church calendar, including future meetings and events.

---


HAPPY BIRTHDAY!
Grant Prouty 04/12
Sharon Gallager 04/14
Betty Strong 04/14
Abigail Meister 04/14
Elaina Buck 04/15
Becca Hey 04/15
Ellen Attorri 04/16
Jericho Espineda 04/16



Lynne's friend, Becky, who has been battling stage 4 colon cancer since December. At this time she is not getting the surgery she needs out of Boston because it's considered nonessential. She is continuing with chemotherapy but at her last 2 appointments she was unable because her white blood cell count was low. She needs our prayers for healing and strength.
For teachers designing and conducting online classes
Our grocers keeping the shelves stocked
Our church staff
Our church members
Our Community
Our world
For all who are affected by coronavirus,
through illness or isolation or anxiety,
For those trapped in abusive relationships at home with their abuser,
For doctors, nurses and medical researchers,
For those who are guiding our nation at this time
For the vulnerable and the fearful,
for the gravely ill and the dying,
It's EASTER SUNDAY!

Our worship services are broadcast at 10:30 am each Sunday on our YouTube channel through at least May 3rd. The participants each record their components separately at their home, including the voices in this week's virtual choir! Deborah Venator then compiles them for us to watch together on Sunday morning. Here's the link to the virtual welcoming clipboard for you to indicate your presence in addition to seeing you if you sign in to the YouTube chat where you can also share your prayer requests.

Ken Gallager will provide music, Deborah Venator will compile the production, Pastor Cheryl will share scripture, sermon and song, Veronica Nugent is our liturgist, Christina Catino will share an energetic children's message and Lynne Lemay has prepared slides with lyrics and prayers for you to follow along at home. Ben Greene and Alan Schulte have prepared music for the anthem and offertory and Ben is compiling audio from choir and congregation members for our first hymn. Laura Fry will record the prayers you type into the chat screen and share them with Pastor Cheryl and our Prayer Chain.

You can still watch Holy Week services on YouTube!

Maundy Thursday
- joint with Bow Mills UMC - at this link
Maundy Thursday
- Havenwood-Heritage Heights - at this link
Good Friday
- Greater Concord Interfaith Clergy - at this link
Good Friday
- NH Council of Churches - Zoom service 4/10 at 6pm - at this link


CCLI License #2293792


You can also check out our archive of this week's service after it is aired, as well as previous services on our YouTube channel.
The labyrinth and trails of Church of the Woods at 92 Foster Road in Canterbury remain open as a place of prayer, and you are welcome here. Though you will find a few buildings here, we think of the 106 acres of woodlands themselves as the church, and we invite you to approach them in that spirit whenever and as often as you are moved to do so.

Walk to clear your head. Walk to find peace, healing, solace and grounding. Walk to move your body and be with the living things of this world. Walk to trust in your own journey, and in the unfolding of our lives together on this great Earth.

If you happen to encounter others, please rigorously respect the guideline of keeping six feet of physical distance.

You will find a book for written prayers by the small bulletin board at the barn, so please add your prayers there. We will post scripture and other resources as fodder for your reflections.

The labyrinth is an ancient symbol of the spiritual journey. Unlike a maze, a labyrinth is a long, circuitous path that winds into the center and then out again. In one moment pulled near to the center and in the next back to the outer rim, a traveller walks forward in trust. Here are guidelines on how to approach it.

1. Quiet your mind: Walking a labyrinth is a contemplative practice. Pause and wait at the entrance, and focus on your breath. You may have a question or intention to release as prayer as you begin.

2. Stay present: Walk purposefully, at a pace that lets you sink into the process. Like in other forms of meditation, acknowledge your thoughts when they come, and then let them go without judgment. You may also wish to focus on a specific prayer and intention throughout your journey. When you reach the center, stay awhile in prayer and meditation. Be attentive on the way out.

3. Exit: Turn and face the entrance. You may give an acknowledgement of completion, such as a bow, word of gratitude or an "Amen."

4. Reflect: After walking the labyrinth, reflect back on your experience. How do you feel in your body, mind and spirit?

5. Walk often: Walking a labyrinth is a mysterious practice, with benefits and discoveries that may not be apparent right away. Return to the journey again and again, and the path through life will open to you.

In a time of deep uncertainty, we are asked to have faith in what we don't understand as we continue to walk the path. Letting go, surrendering to what we cannot control, and trusting in the underlying pattern of our lives are ways through fear, vulnerability and grief.
VISITING
We have suspended in person visits during this time of contagion. Please

contact Pastor Cheryl

by phone, email or social media for prayer during this time.
---
VIEW SERVICES ON TV OR ONLINE
If you can't be here on Sunday, that doesn't mean you have to miss the service. Concord TV, Channel 22, shows our service during the week:
Sunday 1:30 PM
Monday 10:30 AM
Tuesday 4:30 PM
Wednesday 2:00 PM
Thursday 10:30 AM
Friday 7:00 AM


Or view services at any time at this link.
---