The South FIRST FRIDAYS Art Walk invites you to a unique evening of great exhibitions in galleries, museums and art supporting businesses. ArtwalkSJ hours are 5–9pm, free admission, all ages welcome, rain or shine.
---
APRIL EXHIBITIONS
ANNO DOMINI // the second coming of Art & Design – 366 S. First St. map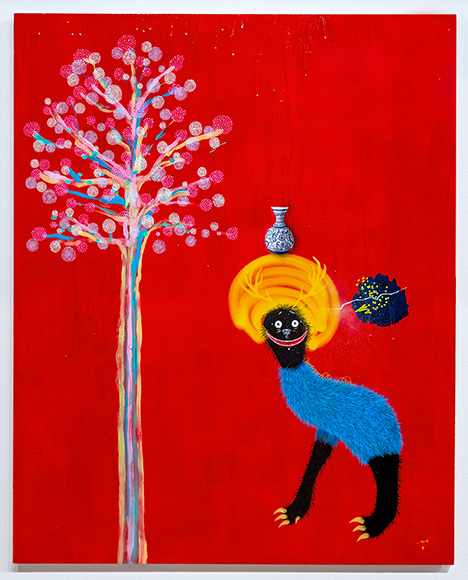 Opening reception in galleryTWO:
"I AM BACK!" Yoshi47 (Japan) solo exhibition
San Jose is the place where I started becoming an artist, showed my works and did live-painting for the first time in this city. This series of my works are all combined old and the latest works together, so that people can at least see my path and process of being where I am now.

Each era has its own story, and the recent concept is about "Texture", "Nature", and "Imperfection". These are the words that I always care about to pursue the way I express the beauty. Texture has its own cultural background and it is sometimes shows us deep inside with a unique balance with colors and design. Nature tells us how severe and sweet the world is. Imperfection shows how lovely the human beings are. These 3 words are the spine of my art inspiration.

About the Artist:
Yoshi47 (born 1981, Gifu Prefecture, Japan)

At the age of twenty, Yoshi47 moved to California, U.S.A. to pursue an art career. He spent four years in the Bay area doing live painting and participating in both solo exhibitions and art events. While living in San Francisco, he discovered a small group of avid bicyclists and became a bike messenger. It was through his experience as a courier that he found his essence of life and the conceptual basis for his art. 

In 2006, he returned to Japan. Initially he lived in Tokyo, where he continued to work as a messenger and became involved in the bicycle industry. He eventually relocated to Kariya City for two and a half years to focus on his artistic and business endeavors. In 2010, he spent eight months in Tochigi and afterward returned to Tokyo. 

He is involved in art curation, graphic design, and collaborative projects with companies such as NIKE, SWATCH, VANS and more. He continues to exhibit his artwork worldwide such as Australia, China, America, Canada, France, Mexico, Sweden, and Taiwan. He currently resides in a country side, Atsumi Peninsula in Japan, where he can bike, surf, fish, camp and snowboard.
---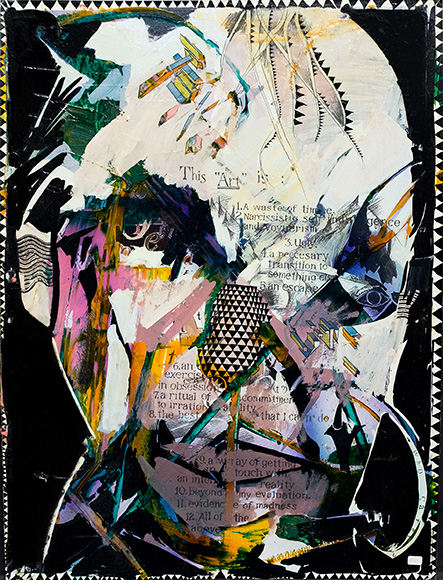 On view in galleryONE: 
"The Illustrious Barron Storey" solo exhibition
Barron Storey returns to Anno Domini for his 8th solo exhibition: "The Illustrious Barron Storey." This survey includes selected commercial illustrations created over a 40 year span as well as personal drawings and paintings from Barron's renowned journals.

Barron Storey (born 1940, Dallas, TX) is an American illustrator, graphic novelist, and educator. He is famous for his accomplishments as an illustrator and fine artist, as well as for his 30+ year career as a teacher.
He trained at Art Center in Los Angeles and under Robert Weaver at the School of Visual Arts in New York. A commercial illustrator since the 1960s, Storey's clients have included major magazines such as "Boys' Life", "Reader's Digest", and "National Geographic." His cover portraits for "Time" of Howard Hughes and Yitzhak Rabin hang in the Smithsonian's National Portrait Gallery. His giant painting of the South American rain forest hangs in New York's American Museum of Natural History, and a 1979 rendering of the space shuttle commissioned by NASA, the first official painting ever done of it, hangs in the Air and Space Museum on the National Mall.
As a book illustrator he has done cover illustrations for the Franklin Library classics, "War and Peace", "The Good Earth "and "Stories by Sinclair Lewis"; as well as the covers of "Fahrenheit 451 "by Ray Bradbury for Del Rey / Ballantine; and, most famously, the 1980 reissue of "Lord of the Flies" by William Golding.
Storey has also published many comics and graphic novels, including "The Marat/Sade Journals" (Tundra), which was nominated for an Eisner Award, Neil Gaiman's "The Sandman: Endless Nights" (DC/Vertigo) which won an Eisner, "Tales from the Edge #1-10," Barron Storey's "WATCH Magazine" (Vanguard), and "Life After Black" (Graphic Novel Art). Not only has he been the teacher of comic giants as Kent Williams and George Pratt, but he was also a key inspiration for artist/illustrators Dave McKean, Bill Sienkiewicz, David Mack and David Choe.
---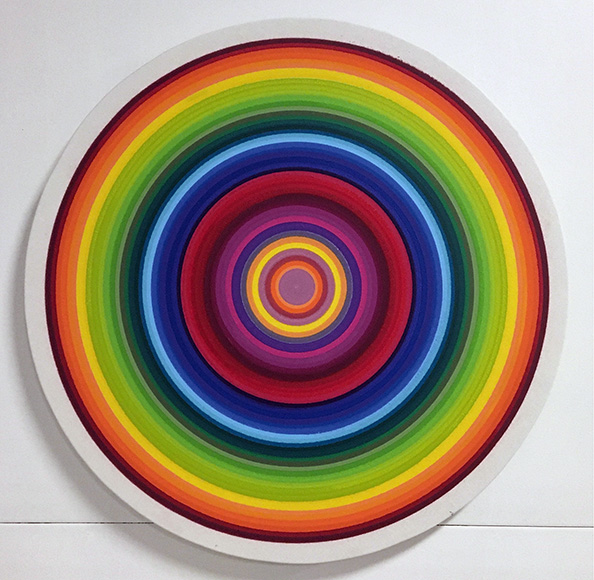 Opening reception:  "Circle: Metaphysical" by Nicholaus James Dalton

An exploration of the Visible Light Region. Vibration forms everything in life.Bend your eyes in the spectrum of vibrational colors. The circle is a universal symbol with extensive meaning. It represents thenotions of totality, wholeness, original perfection, the Self, the infinite,eternity, timelessness, all cyclic movement.
---
FUSE presents at the Citadel Art Gallery- 199 Martha St. map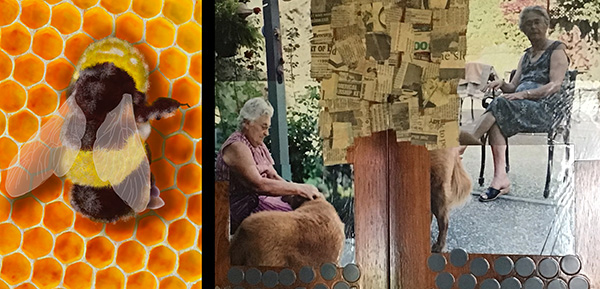 Opening reception "Unplanned Moments" by artists Sylvia De La Garza  and Gianfranco Paolozzi

The show is titled "Unplanned Moments".  The reason behind the name is that neither of us approaches art with a specific plan.  It's more of a "what am I feeling today?" kind of approach.
---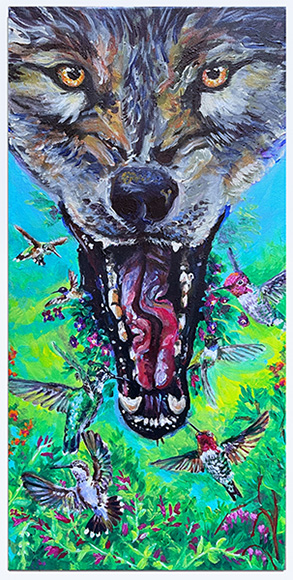 Opening reception:  "Like a dream…" group exhibit & benefit preview for Beagle Freedom Project fundraiser.

Like a dream… a benefit event bringing together like-minded individuals to share in the love for art, animals and the greater community featuring artists: Lisa Goldschmid , Scott Rasmann, Linda Cover, In Honor of Late John Darcy, Tom Halbrook, LeeAnn Jackson 

Like a dream… has been a concept I have been building in my head for the past few years. Although I am not much of an artist myself, I am constantly drawn to art and the amazing humans that create it. I have met so many wonderful people along my journey and I invited all of them to share their art with you.
 
Not only will we be supporting local artists, but all ticket proceeds for the May 14th fundraiser event and a portion of art sales will benefit tBeagle Freedom Project. ~Tracy Pullman / organizer

Beagle Freedom Project is a non-profit animal rescue and advocacy organization and the world's leading organization for rescuing and rehoming animals used in experimental research. BFP is dedicated to the rescue and rehabilitation of animals used in testing and research and subjected to other forms of unique cruelty, abuse and neglect. BFP strives to end this cruelty through its educational programs, campaign initiatives and lobbying efforts to make the world a better, safer and healthier place for both animals and people alike.
---
MACHU PICCHU Gallery of the Americas, Est 1974 – 199 Martha St. map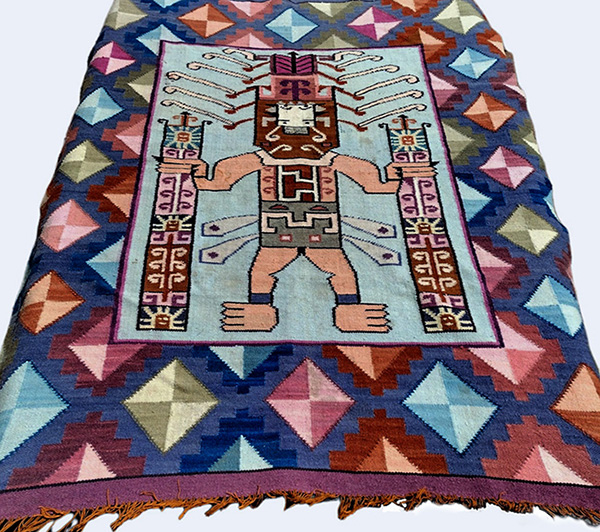 Opening reception:  "Ayacucho Weaving from Peru" featuring work by E. Curi and other Ayacucho weavers
Ayacucho is situated in the Andes of Perú. It is a department or state where the terrorist group Shining Path began in the 70s and ended in the 90s. During this time, the weavers were affected in a very negative way, and many other artisans of the area too.
 
Ayacucho weavings are well known for their intricate techniques inspired by Pre-Columbian designs, and the entirely natural dyes that the artisans create by hand. The most widely used color is acquired from the cochineal (aphid) that grows in the prickly pear cactus producing an intense rich, red wine color. Often, many uses later a rose petal color of the same dye is produced too. The cochineal for the weaver is left to create a textile art from the sheep's wool.

6pm: Talk and demonstration by Olga Enciso Smith

First Friday May 6tht 3–8pm
To enter, text 408 529 2296 or email MachuPicchuGallery@hotmail.com
---
MACLA Movimiento de Arte y Cultura Latino Americana – 510 S. First St. map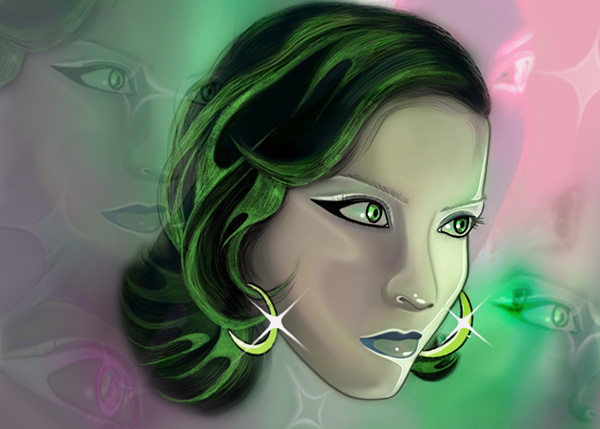 On view: MACLA's 23rd Annual Latinx Art Now! Auction and Exhibition 
View the very best in contemporary Latinx art from the Bay Area and beyond.  
---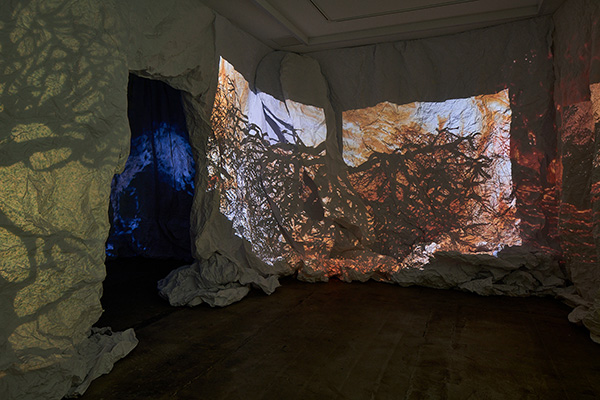 On view: Facing West Shadows: The Endless End 

Facing West Shadows: The Endless End is a cinematic, sculptural installation created by Facing West Shadows at the Institute of Contemporary Art San José. Facing West Shadows: The Endless Endilluminates the perpetuation of extinction and survival; the  disrupted life cycles of native plants and animals, aquatic systems, and fire ecologies as affected by anthropogenic climate change. The viewer's attention is guided through projected moving images, hand-made animation, and cast shadows with a multi-dimensional soundscape.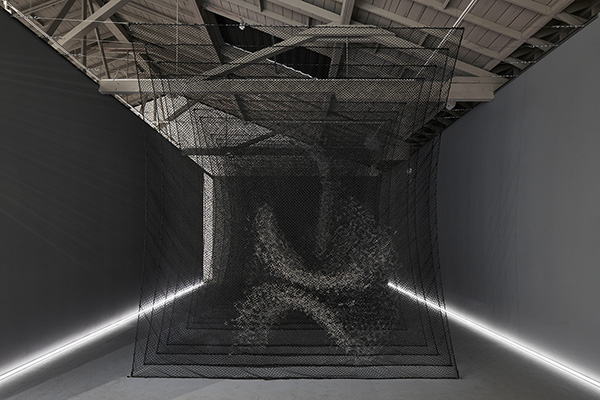 On view: Soo Sunny Park: Viewing Filter (Veil of Vision) 

For Viewing Filter (Veil of Vision), Soo Sunny Park investigates visual perception through the use of reflective surfaces, grids, and variable light conditions. Her large-scale, immersive installation will be built out of retro-reflective paint and nylon netting, stretched into curtain-like forms. Layers of accumulated drawings, on different layers of the netting, will create a sense of amplified depth in a 3-dimensional floating space. Visitors will walk through the gallery and be able to interact with the space using their camera flashes and phone flashlights.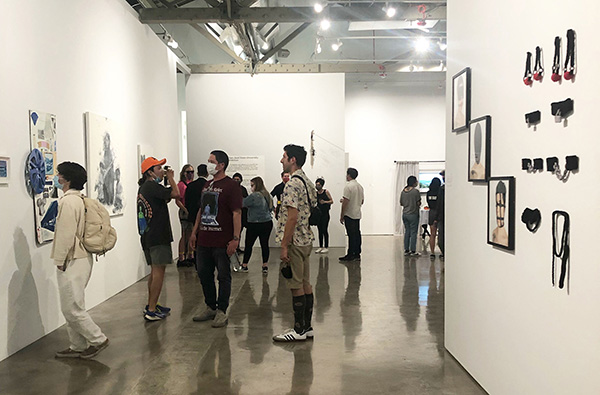 On view: Liftoff: San José State University MFA Thesis ExhibitionFeaturing: Kelcey Bauer, Heather Brown, Jennifer Cannon, John Joseph Contreras Romero, James Jenkins, Oscar Lopez, Peter Moen, Felix Quintana, Jackelin Solorio, Tyler Stannard, Ashley Ann Vaughan, Natalia Vihreva

At the beginning of their final year at San José State University, MFA students in art practice partner with MA students in Art History and Visual Culture to negotiate the strange territory between theoria (thinking), poiesis (making), and praxis (doing). Together, they find their voices through one another's practices. Students at San José State University (SJSU) join a legacy of thinkers, activists, and innovators dedicated to the public good.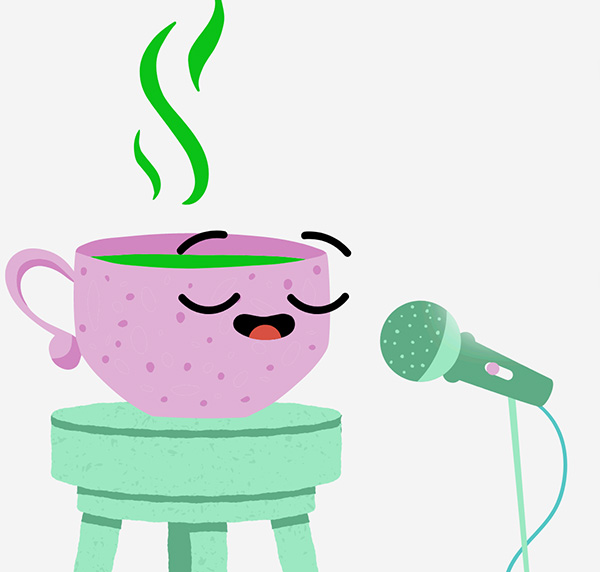 7pm: CreativiTEA Open Mic by Chopsticks Alley Art

Join the ICA and Chopsticks Alley Art for our May 6th Open Mic event for Asian artists of all genres as part of South FIRST FRIDAYS Art Walk!

CreativiTEA is a monthly event created by Chopsticks Alley to feature Asian artists. This month, to celebrate AAPI month, ICA will be hosting the event.

The beauty of the Open Mic is that anyone can come, sign up, and perform original or non-original music, poetry, share visual arts, literature, or upcoming art projects. Let's build a safe community of Asian artists together. Tea and asian snacks will be provided. All are welcome to come and celebrate San José and our community.

This event is FREE and open to the public for all ages. Drop-ins welcome. Masks will be required to enter the space.

About the Chopsticks Alley
Chopsticks Alley Art promotes Southeast Asian cultural heritage through creative expression of art. Chopsticks Alley Art provides support and promotes artists through art exhibits, classes, performances, and events. We celebrate the cultural diversity of Southeast Asian contemporary art to foster greater understanding and connect communities through the arts.
---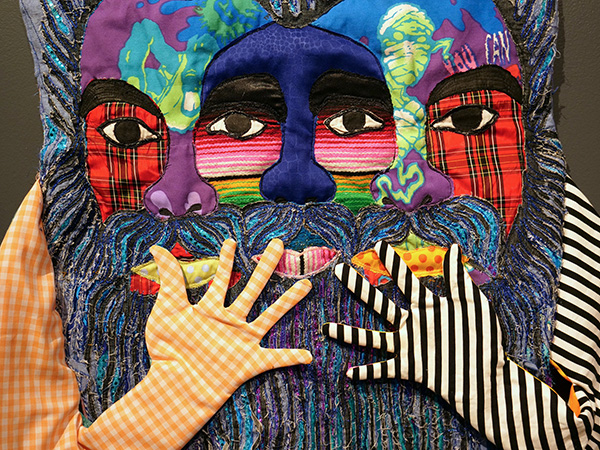 On view: 45th Anniversary Exhibition: New Directions

Join us for First Friday, to experience our new show: 45th Anniversary Exhibition: New Directions. This special anniversary exhibition highlights recent acquisitions at San Jose Museum of Quilts & Textiles in a series of thematic installations spanning three galleries. New Directions also prominently features recent artwork from SJMQT's Artist in Residence program.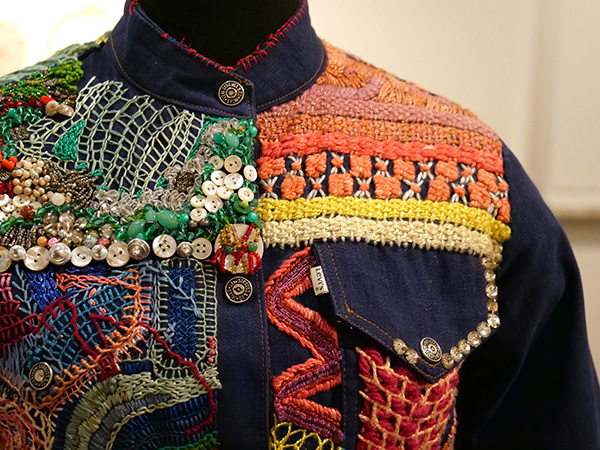 On view: "Coming Together – A Quilt for Healing"
SJMQT and the Kids & Art Foundation celebrate their first collaboration inspired by the historic Gee's Bend Quilts featured in author Tangular A. Irby's children's book "Pearl and her Gee's Bend Quilts". The Kids & Art community project, "Coming Together, a Quilt for Healing," spotlights quilt squares created by pediatric cancer patients during an online art workshop lead by artist Caroline Robins and Tangular Irby. Volunteers and donors also contributed quilt squares as part of the community project in support of the Kids & Art mission to bring the healing power of art to children and families confronting childhood cancer.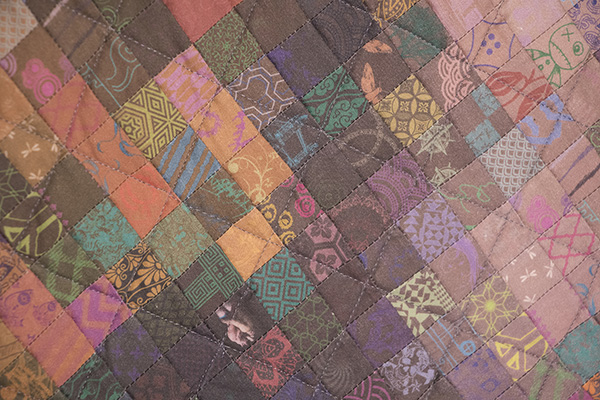 Spring Artist in Residence: Gregory Climer
Gregory Climer's work explores queer identity and focuses on how traditional crafts can be transformed by new technologies in a way that maintains the warmth and value of the handmade.
---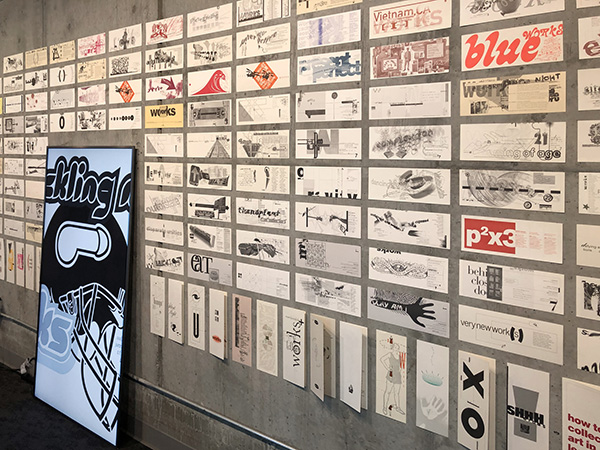 Closing reception: Bleeding Edge: Works at 45

On this South First Fridays art walk Works presents a closing night event for the expanded Bleeding Edge exhibition. This exhibit is a look back at Works' first 45 years and a look ahead at Works' new home under construction for a move this Summer.
 
On display is artwork by Tony May from the original 1977 location of Works, hundreds of exhibition and event announcements by designer Joe Miller, along with hundreds of images and video of the artists and events they represent, and new art commissioned for Works donors by Force129. See images of Works new gallery space now under construction. There will be free souvenirs such as "Works/San José, the First Quarter Century" and artworks by the late great Ray Ashley. If you are an artist, come and talk with us about how you can participate in the new Works/San José! 
---
Join us on Facebook ArtWalkSJ
The South FIRST FRIDAYS Art Walk is produced by CURATUS in collaboration with the participating art venues, local artists, musicians and independent businesses.
South FIRST FRIDAYS ArtWalkSJ (year-round except January & July)
JUNE 3-4, 2022 13th Annual SubZERO Festival
AUGUST 5, 2022 South FIRST FRIDAYS @ArtwalkSJ + STREET MRKT
SEPTEMBER 2, 2022 South FIRST FRIDAYS @ArtwalkSJ + STREET MRKT
OCTOBER 7, 2022 South FIRST FRIDAYS @ArtwalkSJ + STREET MRKT
Read in browser »