The South FIRST FRIDAYS Art Walk invites you to a unique evening of great exhibitions in galleries, museums and art supporting businesses. ArtwalkSJ hours are 5–9pm, free admission, all ages welcome, rain or shine.
---
APRIL EXHIBITIONS
ANNO DOMINI // the second coming of Art & Design – 366 S. First St. map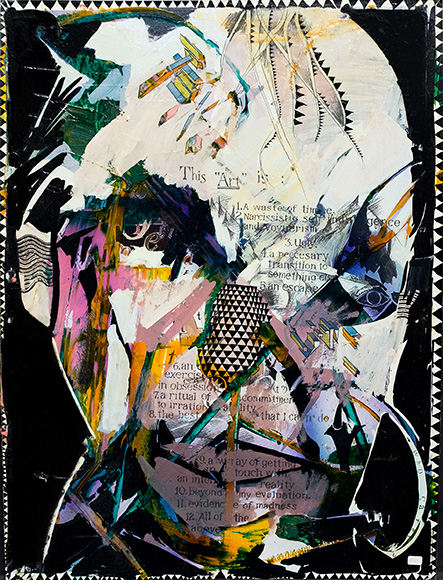 Opening reception in galleryONE:
"The Illustrious Barron Storey" solo exhibition
Barron Storey returns to Anno Domini for his 8th solo exhibition: "The Illustrious Barron Storey." This survey includes selected commercial illustrations created over a 40 year span as well as personal drawings and paintings from Barron's renowned journals.

Barron Storey (born 1940, Dallas, TX) is an American illustrator, graphic novelist, and educator. He is famous for his accomplishments as an illustrator and fine artist, as well as for his 30+ year career as a teacher.
He trained at Art Center in Los Angeles and under Robert Weaver at the School of Visual Arts in New York. A commercial illustrator since the 1960s, Storey's clients have included major magazines such as "Boys' Life", "Reader's Digest", and "National Geographic." His cover portraits for "Time" of Howard Hughes and Yitzhak Rabin hang in the Smithsonian's National Portrait Gallery. His giant painting of the South American rain forest hangs in New York's American Museum of Natural History, and a 1979 rendering of the space shuttle commissioned by NASA, the first official painting ever done of it, hangs in the Air and Space Museum on the National Mall.
As a book illustrator he has done cover illustrations for the Franklin Library classics, "War and Peace", "The Good Earth "and "Stories by Sinclair Lewis"; as well as the covers of "Fahrenheit 451 "by Ray Bradbury for Del Rey / Ballantine; and, most famously, the 1980 reissue of "Lord of the Flies" by William Golding.
Storey has also published many comics and graphic novels, including "The Marat/Sade Journals" (Tundra), which was nominated for an Eisner Award, Neil Gaiman's "The Sandman: Endless Nights" (DC/Vertigo) which won an Eisner, "Tales from the Edge #1-10," Barron Storey's "WATCH Magazine" (Vanguard), and "Life After Black" (Graphic Novel Art). Not only has he been the teacher of comic giants as Kent Williams and George Pratt, but he was also a key inspiration for artist/illustrators Dave McKean, Bill Sienkiewicz, David Mack and David Choe.
---
On view in galleryTWO:
Death, God, Love Mike Egan (OH) solo exhibition
Death, God, and Love are three subjects that have haunted my life and artwork for many years now. Whether it was my short career as an embalmer, growing up in the Catholic Church or marriages and heart break. I wanted to do a show where each subject could shine on their own.
The Death paintings deal with death, dying, funerals, grim reapers and loss.
The God paintings deal with religious icons, devils and prayers, hell and halos.
Finally you have the Love paintings, which deal with true love, hearts, togetherness and broken hearts.
Although the three subjects stand strong on their own, there is a dance where they all dance together throughout in the show.
Death, God, Love is Egan's 4th solo exhibit at Anno Domini.
---
Closing reception:
Pathways: an exhibition about mapping, navigation, wanderlust and borders
Curated by Nanette Wylde and featuring works in artist books, glass, mixed media, painting, performance, printmaking, sculpture, sound, video, and installation by Afatasi The Artist (San Francisco), José Arenas (Davis), Carolina Cuevas (Mountain View), Casey Jay Gardner (Berkeley), Caroline Landau (San Francisco), Kent Manske (Redwood City), Neil Murphy (Burlingame), Melissa West (Watsonville), and Minoosh Zomorodinia (Richmond).
---
FUSE presents at the Citadel Art Gallery- 199 Martha St. map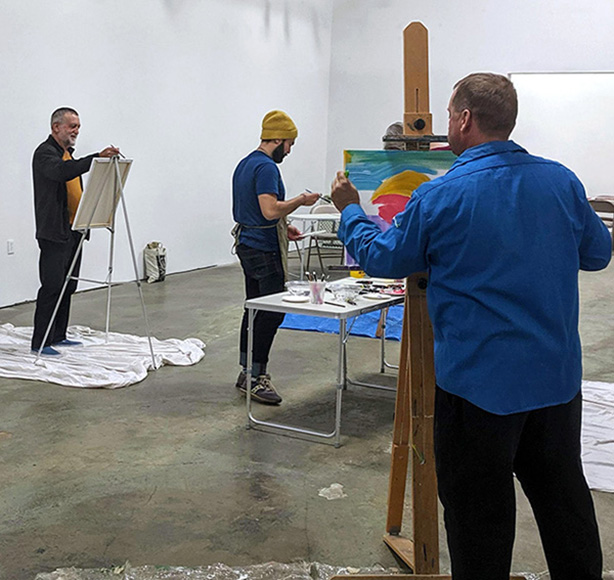 Speed Create featuring FUSE artists.
Speed Creates returns as promised. All ages welcome to come paint with FUSE artists, We provide the media, you bring the creativity and together we will have some fun and create 5 paintings with everyone's input.
---
KALEID Gallery is proud to present two new feature exhibitions with paintings by Julie Bovee, and mosaics by Xuan Ho for the month of April.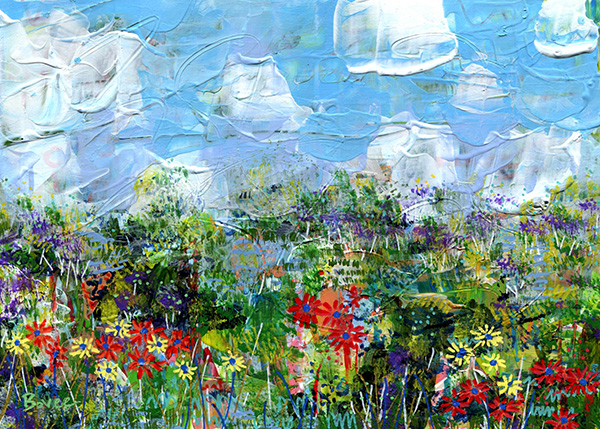 Opening reception:
"A Happier Place" new works by resident artist Julie Bovee.
As a youth, I loved the song "Don't Worry, Be Happy," by Bobby McFerrin. I played that music video again while writing this synopsis, and it's impossible to watch that video, with Robin Williams dancing around being a complete dork, and not smile and forget all about my worries. When I sit in my art studio surrounded by all of my colorful flower fields, a similar feeling envelops me.

2021 was a difficult year for me, and for all of us. That rotten pandemic affected everyone, except maybe those rare few living in isolation atop a remote mountain. We're now seeing a possible light at the end of the COVID tunnel. Mask mandates are gone. Is it for real or will a new variant plague us a few months from now? Maybe, just for now, we can look at pretty things and forget about the pandemic, and find ourselves in "A Happier Place." I'm thrilled to share these paintings with you, and hope that you'll enjoy their cheerful vibe.

About the Artist:
Julie captures the diverse, untamed quality of our natural world in vibrant acrylic paint. She loves sharing the contrasting experiences of viewing her art from a distance versus close-up. From afar, her paintings appear as enticing impressionist-style flower meadows or other scenes. Upon closer inspection, texture, depth, and intriguing details peek through the many layers, prompting further scrutiny and challenging the imagination to fill in what's being represented.
---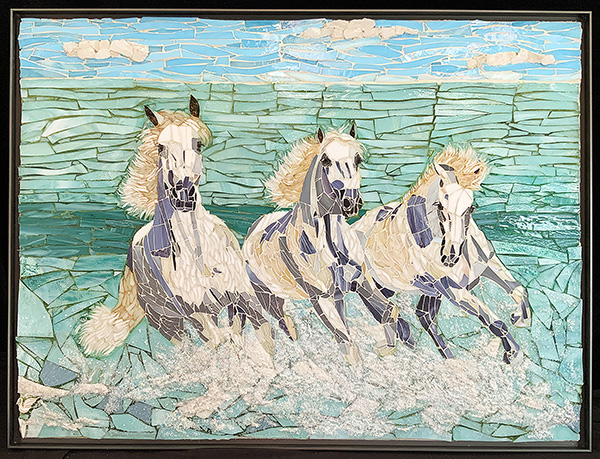 Opening reception:
"The Swanmosic Collection" by resident artist Xuan Ho.
In this exhibition, Xuan includes her mosaic wall hangings and sculptures that represent the array of the styles she has developed over the past 22 years.

The inspiration for her creations comes from what she sees in her daily life and while traveling. Her love of animals, the beauty of both nature and cityscapes, as well as drawings of womens' figures are translated, sometimes in the abstract, in her works. She tries to invoke a story behind the subjects in her mosaics.

Xuan uses traditional mosaic materials of glass, ceramic, and tile, but also collects and adds many unique materials to give her pieces a 3-D look, making her work different from other mosaic styles.
---
MACHU PICCHU Gallery of the Americas, Est 1974 – 199 Martha St. map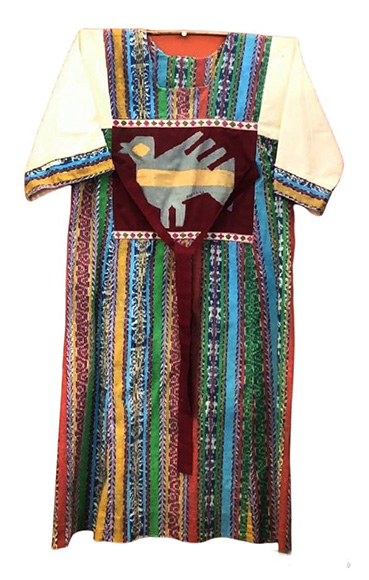 Opening reception: "Bird en Mi Vestido" / Pajaro in My Dress
MOLA inspired, reverse appliqué technique and hand stitched wearable art /dress featuring artists of The Gunas (Panama).

Mola is a textile art made by the Guna (also known as Cuna) ethnic group of Panama. They capture in their art the flora, fauna and all the nature that surrounds them. Some are political statements or identity statements.

Molas are textiles sewn into panels with complex, multi-layered designs using a reverse appliqué (pattern) technique. Molas originated with the Guna women's tradition of painting their bodies with geometric designs, using available natural colors. After the Spanish colonization and subsequent contact with the missionaries, the Gunas began to transfer their traditional geometric designs onto fabrics, first by painting them directly, then using the reverse appliqué technique. It is not known with certainty when this technique was first used.

The oldest molas are assumed to be between 150 and 170 years old. In addition to their geometric inspiration, the Kuna in the last 50 years began to create realistic and abstract designs of flowers, animals, birds and the sea. Depending on the tradition of each Guna Yala island, Guna women start making molas when they reach puberty, some others much earlier. The women of this ethnic group who prefer to dress normally are a minority. The molas are of great importance to the Gunas, as they are one of the main works of art that identify their tradition and culture, as well as being a highly acquired souvenir by visitors to the isthmus.

First Friday April 1st 3–8pm
To enter, text 408 529 2296 or email MachuPicchuGallery@hotmail.com
---
MACLA Movimiento de Arte y Cultura Latino Americana – 510 S. First St. map
Opening reception: MACLA's 23rd Annual Latinx Art Now! Auction and Exhibition
View the very best in contemporary Latinx art from the Bay Area and beyond.
First Friday music by DJ Sin Amores of Chulita Vinyl Club
---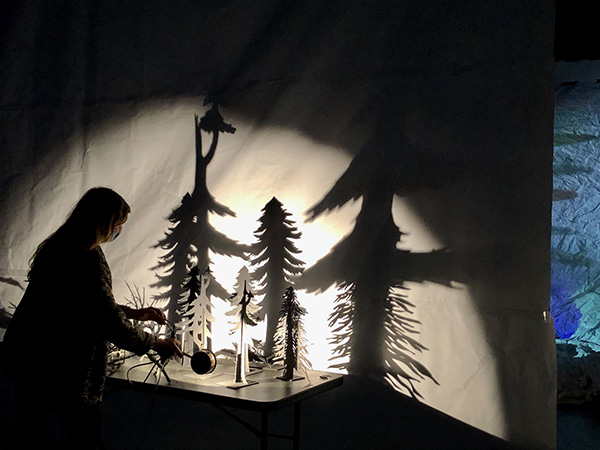 Opening reception: Facing West Shadows: "The Endless End"

Facing West Shadows: The Endless End is a cinematic, sculptural installation created by Facing West Shadows at the Institute of Contemporary Art San José. Facing West Shadows: The Endless Endilluminates the perpetuation of extinction and survival; the disrupted life cycles of native plants and animals, aquatic systems, and fire ecologies as affected by anthropogenic climate change. The viewer's attention is guided throughprojected moving images, hand-made animation, and cast shadows with a multi-dimensional soundscape.

Join the ICA in celebrating the opening of Facing West Shadows: The Endless End, a cinematic, sculptural installation opening Friday, April 1st at 5pm for South FIRST FRIDAYS ArtWalk SJ. Dive into this collaborative and immersive project and let your attention be guided through projected moving images, hand-made animation, and cast shadows with a multi-dimensional soundscape. By weaving multiple moving images of Bay Area ecosystems, artist collective, Facing West Shadows, takes the viewer on a time-based and immersive journey through cycles of ecological and species extinction and sometimes, survival.

In celebration of Facing West Shadows opening night, the ICA will have a hands-on shadow puppet making activity. This event is FREE and open to the public.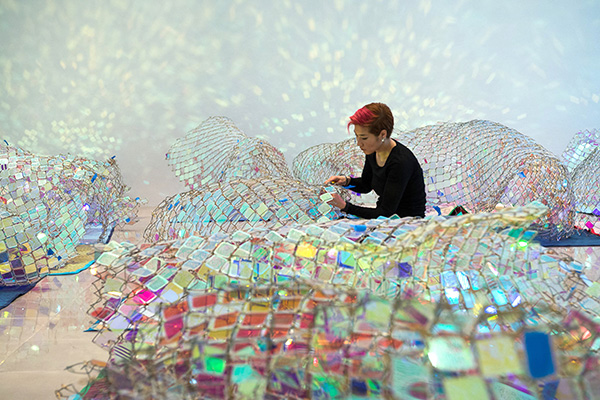 On view: Soo Sunny Park: "Viewing Filter (Veil of Vision)"

For "Viewing Filter (Veil of Vision)", Soo Sunny Park investigates visual perception through the use of reflective surfaces, grids, and variable light conditions. Her large-scale, immersive installation will be built out of retro-reflective paint and nylon netting, stretched into curtain-like forms. Layers of accumulated drawings, on differentlayers of the netting, will create a sense of amplified depth in a 3-dimensional floating space. Visitors will walk through the gallery and be able to interact with the space using their camera flashes and phone flashlights.
---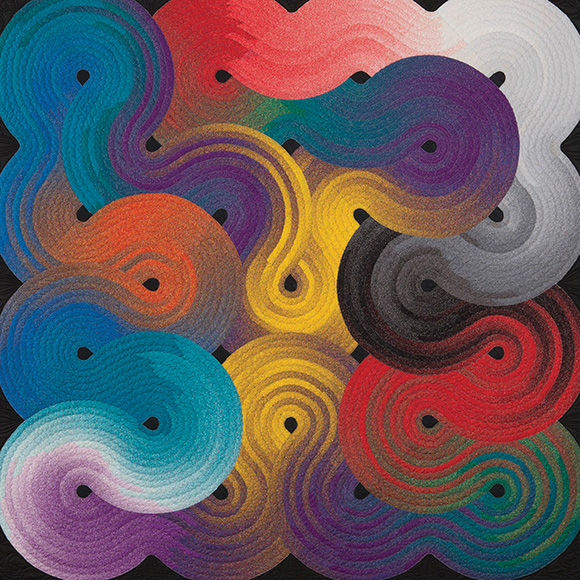 On view:
45th Anniversary Exhibition: New Directions
Join us for First Friday, to experience our new show: 45th Anniversary Exhibition: New Directions. This special anniversary exhibition highlights recent acquisitions at San Jose Museum of Quilts & Textiles in a series of thematic installations spanning three galleries. New Directions also prominently features recent artwork from SJMQT's Artist in Residence program.
We are also pleased to introduce our new Artist in Residence Olivia Ronan. Olivia is an interdisciplinary visual artist and creative mender. She completed her BFA at University of California, Santa Cruz and currently teaches fiber arts and hand sewn repair in Aptos, California. She'll be in her studio during First Friday to talk about her process and her projects during her residency. Pictured artwork: Etsuko Takahashi, Waves #4, 1998
On view: "Coming Together – A Quilt for Healing"SJMQT and the Kids & Art Foundation celebrate their first collaboration inspired by the historic Gee's Bend Quilts featured in author Tangular A. Irby's children's book "Pearl and her Gee's Bend Quilts". The Kids & Art community project, "Coming Together, a Quilt for Healing," spotlights quilt squares created by pediatric cancer patients during an online art workshop lead by artist Caroline Robins and Tangular Irby. Volunteers and donors also contributed quilt squares as part of the community project in support of the Kids & Art mission to bring the healing power of art to children and families confronting childhood cancer.

About Kids & Art Foundation
The Kids & Art Foundation is a national nonprofit organization that provides specialized, hands-on creative arts experiences for children with cancer and their families to help ease the stress, anxiety, and trauma experienced from diagnosis and treatment. Kids & Art programs are provided directly to pediatric patients and families in person and online, as well as through hospitals and treatment centers.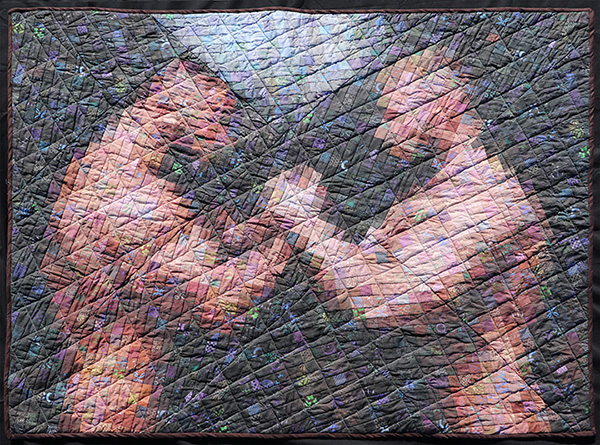 Spring Artist in Residence: Gregory Climer

Gregory Climer's work explores queer identity and focuses on how traditional crafts can be transformed by new technologies in a way that maintains the warmth and value of the handmade.
Climer is the chair of the fashion program at California College of the Arts. He received his MFA in Design + Technology from Parsons School of Design. His textile work has been shown in the Museum of Art and Design (NYC), The Leslie Lohman Museum of Gay and Lesbian Art (NYC), The DeYoung Museum (San Francisco, CA), The Mint Museum of Art (Charlotte, NC), Muskegon Museum of Art (Muskegon, MI), and many galleries. He currently lives in San Francisco.
---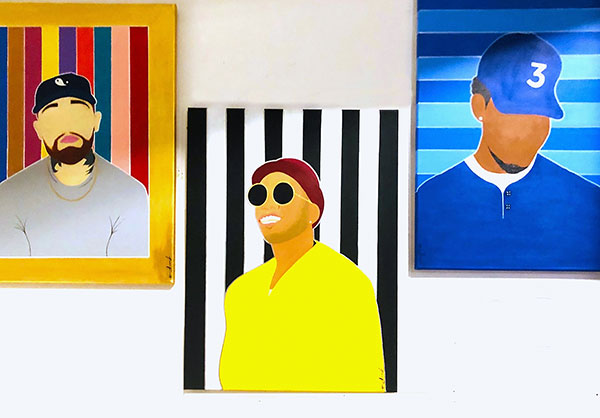 Nostalgia by A Kid At Heart
These pieces were created to not only capture a painting but also to tell a story.
---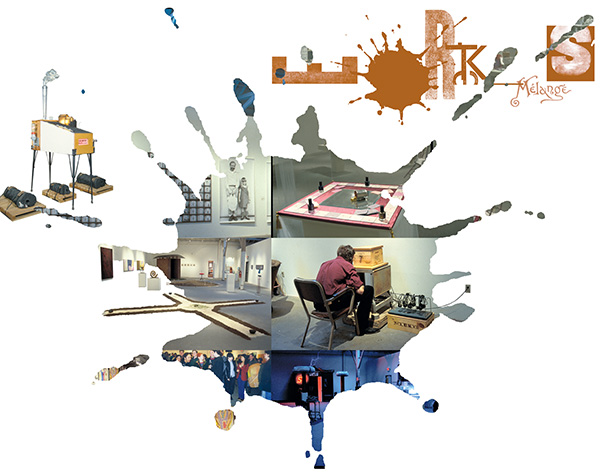 Bleeding Edge: Works at 45

Since its founding by local artists in 1977, Works has practiced various forms of radical inclusion—from sponsoring artists' own concepts for exhibitions to open call shows where any and every artist is included. "Bleeding Edge" will look back at creative risks Works has taken in the past and will look forward to the bold new partnership ahead in Open San José. Augmented copies of "Works/San José: the First Quarter Century" will be available free while they last with a 15 year Bleeding Edge insert. New mini-murals by 18 local artists will be featured along the front of Works. Masks are required while indoors at Works and are available free at the entrance.
---
Join us on Facebook ArtWalkSJ
The South FIRST FRIDAYS Art Walk is produced by CURATUS in collaboration with the participating art venues, local artists, musicians and independent businesses.
South FIRST FRIDAYS ArtWalkSJ (year-round except January & July)
SubZERO Festival (First Friday & Saturday June)
STREET MRKT (First Fridays Aug., Sept. & Oct.)366 S. 1st St.SoFA District in downtown San Jose, CA 95113www.southfirstfridays.com
Read in browser »